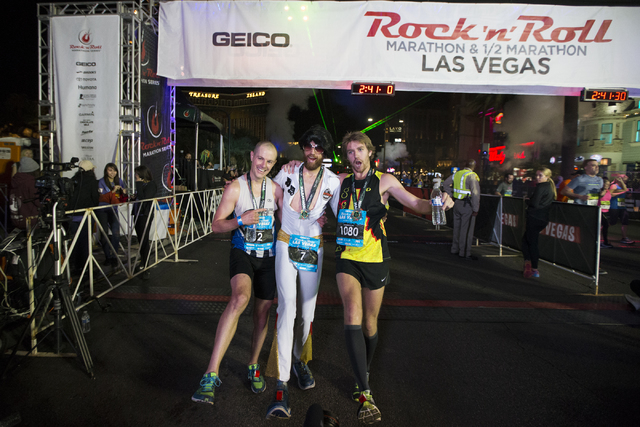 The Rock 'n' Roll Marathon has finalized its route and change of concert venue for next weekend's race, according to routes posted Thursday night on its website.
The start line was moved a mile north from in front of the Mandalay Bay to in front of New York-New York, while the concert was moved from Las Vegas Village — the site of last month's mass shooting — to the Las Vegas Festival Grounds, across from the SLS.
In past years, runners have started on the northbound side of the Strip and run south before making a U-turn near the Welcome to Fabulous Las Vegas sign. This year, marathon runners will run from New York-New York on the southbound side and head around the sign and back north up the Strip into downtown before concluding the race near the Mirage, running as the flow of traffic would run.
Event organizer Dan Cruz said the result will be more mileage on the Strip than before for those running the half-marathon. The marathon cut out part of the route up north to accommodate the new start line.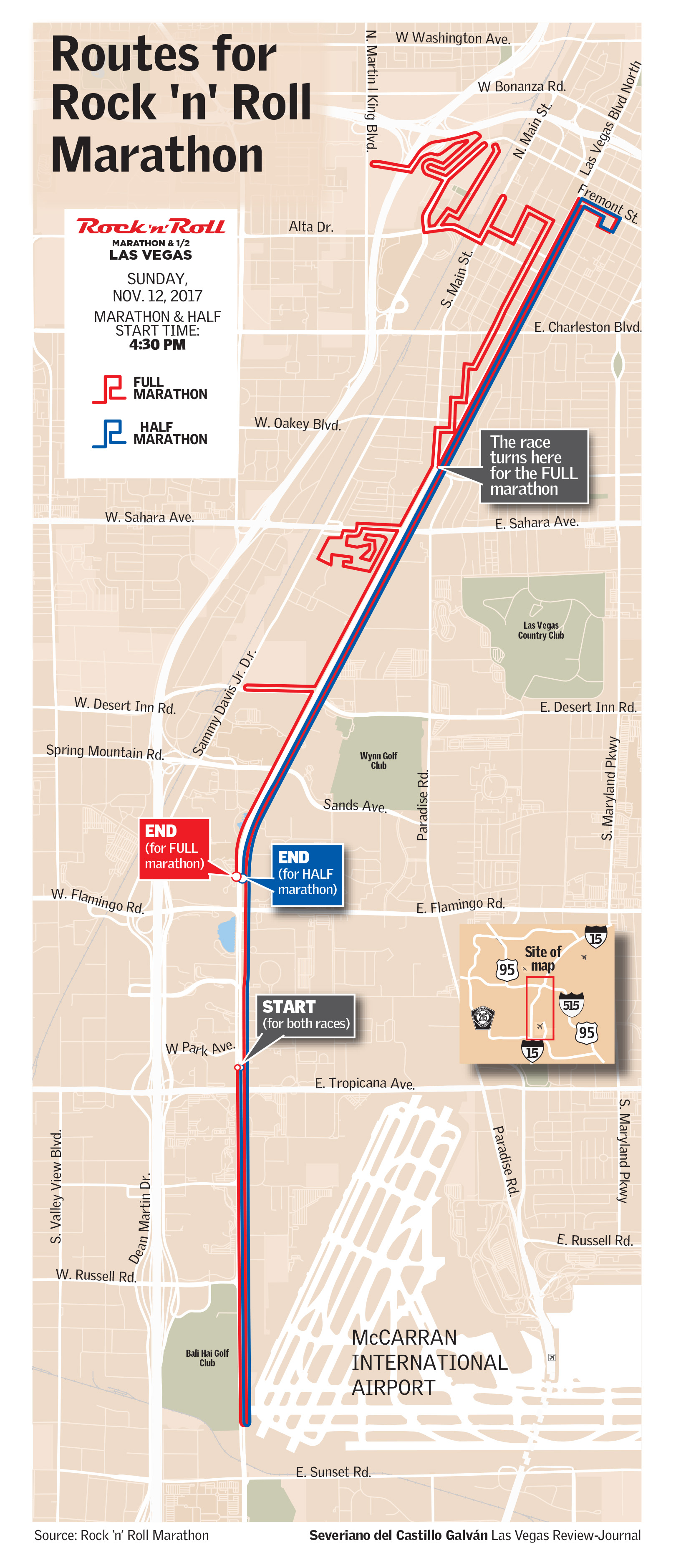 "The changes to the course for the marathon and half-marathon were both minimal, as we did our best with the start line location to keep all of those closures within the same footprint, the existing footprint," Cruz said. "That really helped our team cram what is generally a nine-month process into about 19 days with the community relations, with the certifications, with the placement of the water stations and the bands and the road closures and the alternative access route."
The Nov. 12 marathon and half-marathon will start at 4:30 p.m. preceded by the 10K race, which will start at 3:55 p.m.
The annual concert will be Nov. 11 instead of Nov. 12, while the headliner, the Goo Goo Dolls, remains the same. The concert is scheduled for 7:30-8:45 p.m. following the conclusion of the 5K race, which is scheduled to start at 6 p.m.
Concert entry is free for runners and their friends and families.
"Our goal was to keep as much of our race weekend experience the same following the changes to the start line," Rock 'n' Roll Marathon Series President Josh Furlow said in a release. "By moving to a new night and different venue, all runners, friends and families will be able to attend the concert and celebrate ahead of the big race on Sunday."
Contact Betsy Helfand at bhelfand@reviewjournal.com. Follow @BetsyHelfand on Twitter.