Davis grabs PBR title, $1 million on final day
November 6, 2016 - 11:01 pm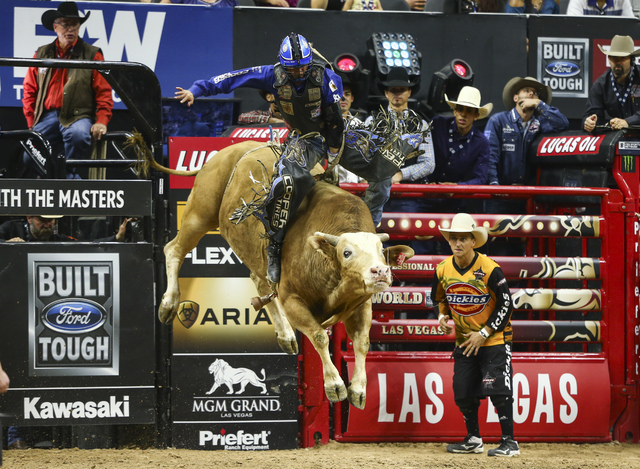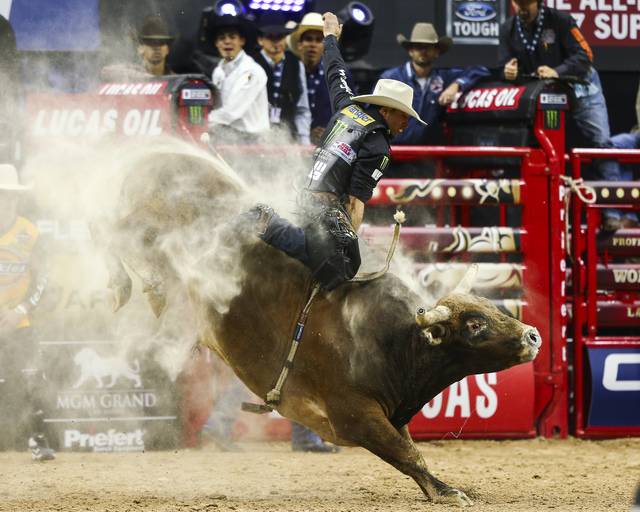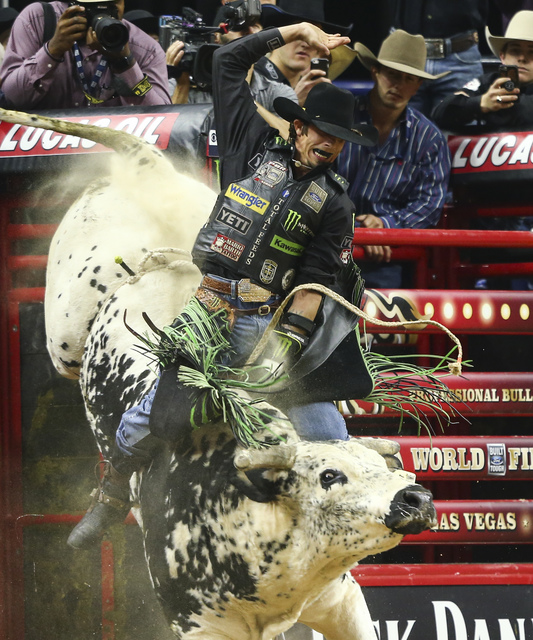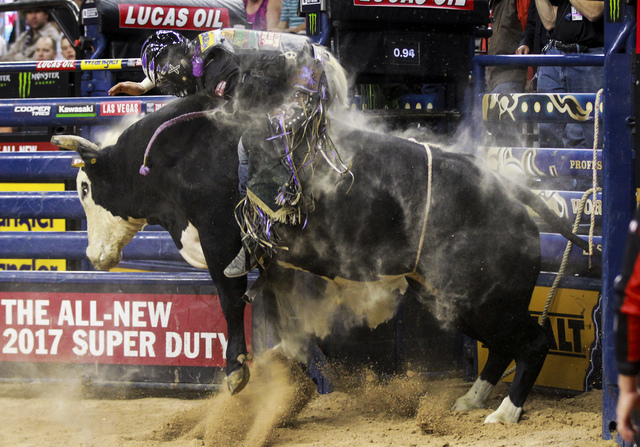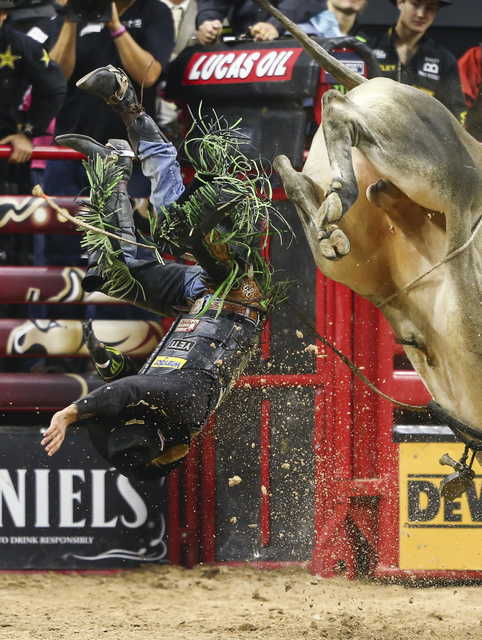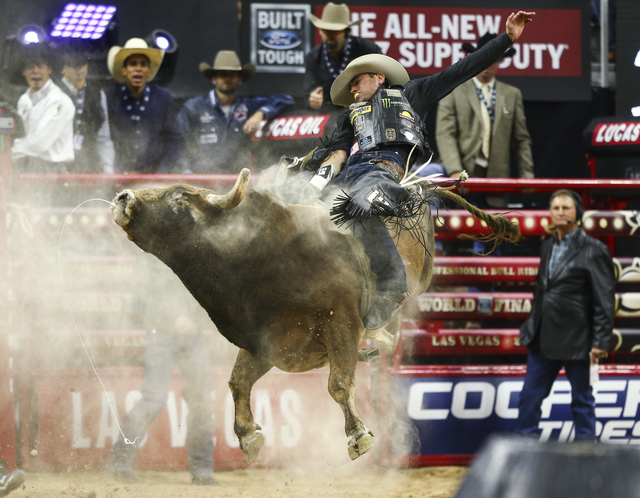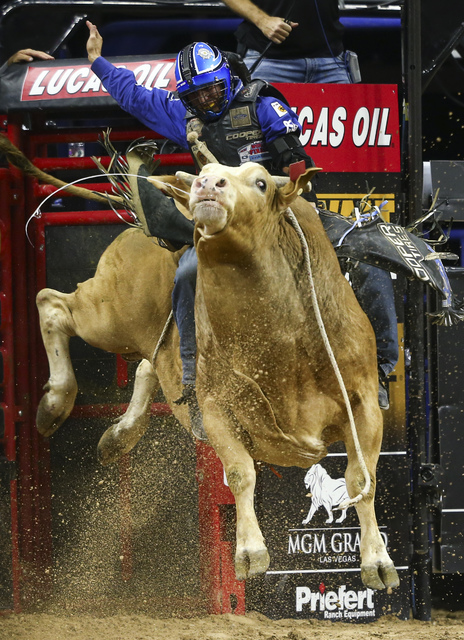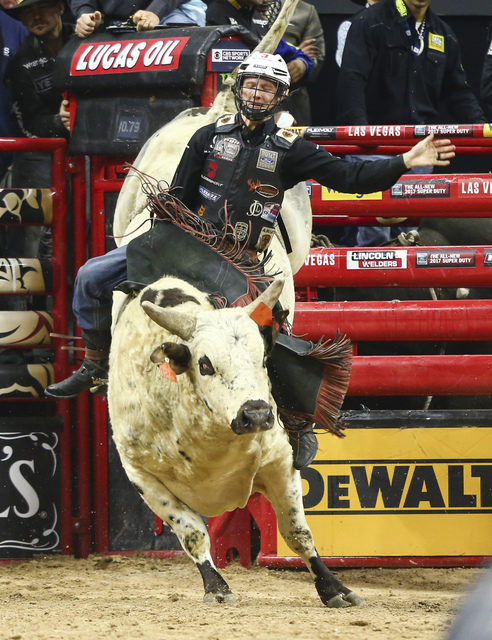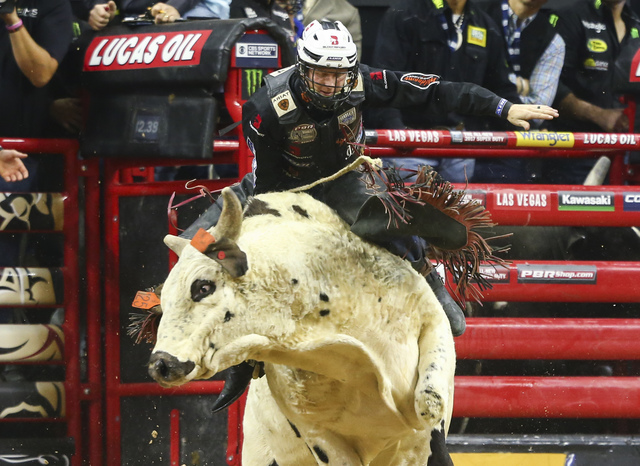 Cooper Davis smiled jubilantly Sunday afternoon at T-Mobile Arena in front of an excited crowd, toting his young son Mackston in his left arm while holding an oversized $1,000,000 check in the other hand.
And the 22-year-old from Jasper, Texas, had every reason to smile, as he had just become the PBR World Champion, overtaking Brazilian Kaique Pacheco on the competition's last day.
"You need to set goals that are realistic and believe in yourself to get it done," Davis said. "I think setting goals is crucial and (I) got it done."
With the standings as tight as they had ever been, this year's PBR World Finals promised plenty of intrigue. PBR CEO Sean Gleason predicted a competition filled with lead changes.
As it turned out, the lead didn't change until the last day. But the last day of the World Finals more than delivered, as Davis surged ahead of Pacheco in the fifth round of competition, riding Catfish John for a 91 to win the round.
Pacheco posted a score riding Crossed Fingers in the fifth round, but didn't receive any points, allowing Davis to take the lead with his 300-point round.
Pacheco came down in the sixth round, sealing the victory for the Davis.
Davis said he was relaxed throughout the day despite the tight standings after putting pressure on himself throughout the week to do well. That strategy seemed to have worked.
"It's the greatest feeling in the world," Davis said. "It's what I've worked so hard for my entire life, especially these last two years. I'm really happy all the hard work has paid off."
Two-time world champion J.B. Mauney finished third in the standings, after getting bucked off in the fifth round and touching the bull with his nonriding hand in the sixth round.
Meanwhile, 27-year-old Ryan Dirteater capped off his best year, winning the World Finals after riding all six of his bulls.
Dirteater, who has battled through numerous injuries over the years, was the only rider to ride all of his bulls. Guilherme Marchi finished second and Davis third in the World Finals.
"I stayed on all my bulls and it's a good place to do it here," Dirteater said. "It's a great feeling, a great accomplishment. It's an honor to be able to ride in this new stadium."
As the winner of the World Finals, he pocketed an extra $250,000.
Prior to this season, Dirteater hadn't won an event since 2011. Now, he's won four, including the biggest one of all this weekend in Las Vegas.
A year ago, this year's World Champion, Davis, won the event.
"It's a great spot to be in," Dirteater said. "I probably hadn't matured. It took me a little longer than Cooper but it feels great to be in this spot."
Other winners included Sweet Pro's Bruiser, and 19-year-old Jess Lockwood, who took home the Rookie of the Year title after finishing eighth in the overall standings.
"That was a big goal of mine for sure," Lockwood said. "Rookie of the Year, you can look back at the guys like J.B. Mauney and Kaique Pacheco have won Rookie of the Year and done well throughout the next years. It's a big accomplishment to me and it means a lot."
Contact Betsy Helfand at bhelfand@reviewjournal.com. Follow on Twitter: @BetsyHelfand