Hall of Famers happy with rodeo's evolution in Vegas
December 9, 2013 - 1:15 pm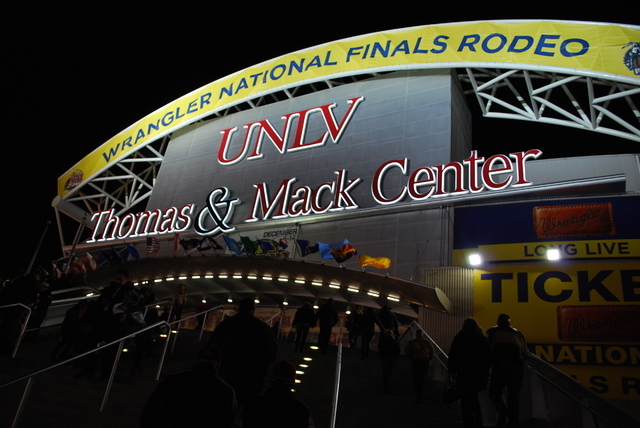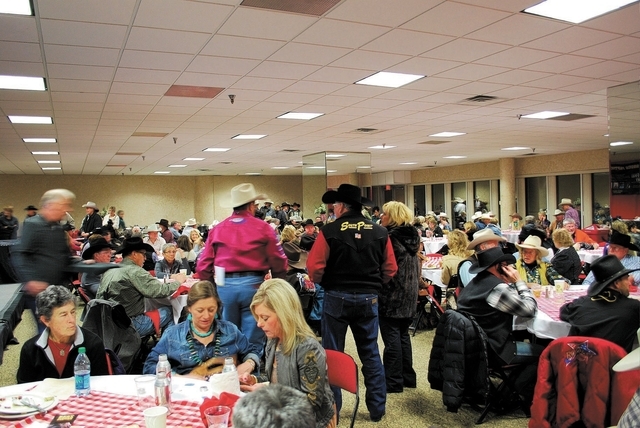 You never know who you might run into in and around the Wrangler National Finals Rodeo Gold Card Room.
The room, which serves as a pre-performance haven for VIPs, Hall of Famers and rodeo royalty at the Thomas &Mack Center, is always buzzing with activity before the rodeo begins each night. It's a great place for longtime friends to reunite, new friends to be made and story after story to be told.
I stopped by the cozy confines before Round 3 on Saturday night to see who I could see and get the thoughts of some Hall of Famers about how the world's richest rodeo has grown through the years. It's always fun to get the living legends' feelings about things, to gauge the pulse of the veteran crowd and even learn a thing or two.
Since the Wrangler NFR moved to Las Vegas in 1985, the total purse has grown from $1.79 million to $6.25 million, with $18,630 paid out each night to every event winner. It has grown steadily every year, and contestants are competing for more money than ever before in 2013.
Add the fact that the best timed-event and bucking stock on the planet are utilized for the rodeo, and it makes the event even more impressive.
"It's great, and (General Manager) Shawn Davis does a first-class job," said 11-time World Champion and Hall of Fame Tie-Down Roper Dean Oliver. "At this rodeo, the money is the big thing, and they've got the best set of calves you've ever seen. There's only two or three calves a night you can't win on, and when I used to go to the Finals, there were only two or three calves you could win on.
"Vegas does a great job and is a great place for (the rodeo). It can't be better."
Oliver would love to run at the money today's contestants compete for each night.
"When I won the Finals in 1961, I won $1,800," said Oliver, who was inducted into the ProRodeo Hall of Fame as part of the inaugural class in 1979. "Now the (event) money each night is $18,000."
For five-time World Champion Saddle Bronc Rider and Hall of Famer Billy Etbauer, seeing every aspect of the rodeo grow has been a thrill.
"There was always a lot to do (around the rodeo), but now there's just more of it," said Etbauer, who had a saddle bronc riding record 21 Wrangler NFR qualifications. "Now, I don't even know if you could walk through all of it in 10 days. It's phenomenal the things that are going on."
Etbauer, who won Wrangler NFR average titles in 1992 and 1996, believes the level of competition at the rodeo is as good as it's ever been.
"It's always been great, and it always will be great," said Etbauer, a 2012 ProRodeo Hall of Fame inductee. "You have the best of the best on both sides, and I don't think you can pick one time (period) over another time. It's just great watching, and there's nothing like being here."
Hall of Fame announcer Bob Tallman, who called the action at a record 25 Wrangler NFRs between 1975-2012, is pleased by the multitude of ways the rodeo has evolved and grown in the "Entertainment Capital of the World."
"The most impressive part is that, if you look through all the glitz and neon and understand the infrastructure has cost millions and millions of dollars to design, Las Vegas Events, all the hotel owners, cab owners, bus owners and entertainment people have made it great," Tallman said. "(Las Vegas properties) needed us when we came here, and we needed them, and we still need them today. Las Vegas just gives, gives, gives and gives."
This is my 10th Wrangler NFR, and I've been delighted to see the casinos and the city of Las Vegas roll out the red carpet for rodeo contestants, staff and fans. Tallman agrees the way the city's businesses have embraced the 10-day event has been special.
"Every year, what they do for us is better," said Tallman, part of the 2004 ProRodeo Hall of Fame class. "They host people equal to Disneyland. Every time we come back here, they give us more bang for our buck than any place we could ever be."
Whether it's entertaining oneself during the day, enjoying the rodeo at night or taking in the nightlife after the performances, Las Vegas has everything a fan of rodeo – or any sport, for that matter – could hope for. I've seen and heard it myself personally and know dozens of people who have been more than impressed by the spectacle that is the Wrangler NFR.
It's more than just a rodeo. It's an entertainment machine that opens its arms to fans and guests alike, and if you can't have a good time at the rodeo, then you're just not trying hard enough.
A freelance writer based in Colorado Springs, Colo., Neal Reid spent six years as editor of the ProRodeo Sports News. His writing has appeared in USA Today, Newsday, Western Horseman, American Cowboy and the Denver Post, among other publications. Follow him on Twitter: @NealReid21.