Animals are athletes, too
December 5, 2007 - 10:00 pm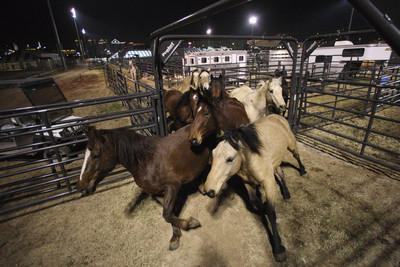 The biggest athletes to compete in the National Finals Rodeo have been exercising naked every day since Thanksgiving near the Thomas & Mack Center.
Before any "buckle bunnies" — those endearing groupies of rodeo cowboys — begin lustily rushing to the scene of the au naturale workouts, it should be noted these rodeo contestants never shave, don't shower and have four legs.
The $5.5 million rodeo opens its 10-day run Thursday night at the Thomas & Mack. The event relies on the health of the country's best 300 bucking horses and bulls, who have been bred to challenge the cowboys who try to ride them for eight seconds.
Since arriving two weeks ago, the bulls and bucking horses for saddle bronc and bareback have been pampered like a Las Vegas high roller and watched more closely by security than a shady character in a casino.
John Barnes of Sutherland, Iowa, is working his fourth NFR. This year he is the assistant livestock supervisor to straw boss Ted Groene, who is originally from Clayton, Calif., and now lives in Pahrump.
Together, they oversee the priceless cache of livestock. They earn around $700 a day, but that's for days that begin by 7 a.m. and end 16 hours later for most of the 30 days they're working in Las Vegas.
"It's not about the money," Barnes said. "It's like a football fan getting a chance to help at the Super Bowl. It's just the love of the sport and being part of its biggest event."
Barnes, 45, arrived in Las Vegas a few days before Thanksgiving to help Groene and a team of around 10 hands transform part of the UNLV campus into a ranch.
The bulls and horses are fed twice a day and precisely to specifications provided by their owners. The menu offers a selection of four Purina feed mixtures, but stock contractors can provide a special diet and request that certain vitamins or additives be added to their animals' troughs.
"We tag each animal so we don't get their requirements mixed up," Barnes said.
A bigger concern is keeping the stock, especially the bulls, penned by herd as directed by owners. The more antisocial bovines are put in solitary.
"When we exercise the bulls each day, we do it one pen at a time," he said. "We can exercise two or three pens of horses together. They seem to get along better than the bulls."
The cost of the penthouse care is paid by the NFR. Being selected by the Professional Rodeo Cowboys Association can be profitable for contractors, who receive around $5,000 for each horse or bull invited to participate in the world's richest rodeo. A $500 bonus and belt buckle goes to the contractor whose animal helps win a roughstock go-round, which pays $16,394 to the two-legged athlete who rides for the highest score.
Barnes and brother Marty Barnes own MJM Rodeos, which had two saddle bronc horses and a bull selected for the Finals.
Their father, Bob Barnes, has one saddle bronc horse in the field. He and Harry Vold are the only contractors to have an entry in each of the 49 NFRs.
The family patriarch started Barnes PRCA Rodeo in 1950 among the cornfields of Iowa.
"When my dad started his rodeo company, people around us didn't know anything about rodeo, or even how to spell it," said John Barnes, in his first year as the stock contractors' representative on the PRCA Board of Directors.
Contact reporter Jeff Wolf at jwolf@reviewjournal.com or (702) 383-0247.
National
Finals RodeoMore Info