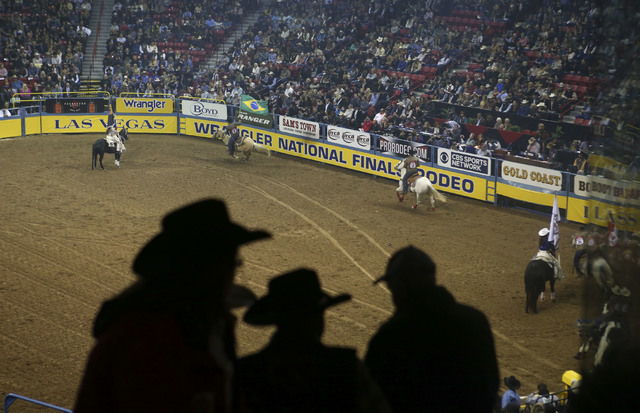 Ryder Wright extends saddle bronc win streak
There was no letup from Ryder Wright on the fourth day of competition at the National Finals Rodeo.
Wright won his fourth consecutive saddle bronc go-round on Sunday night at the Thomas & Mack Center.
The 18-year-old is competing in his first NFR and has gone from 14th place to second. He is now just about $1,000 behind leader Jacobs Crawley after winning $114,923.08 in four days.
Brothers Riley and Brady Minor took first in team roping at 4.40 seconds, a night after they tied for first.
Dustin Bird and Russell Cardoza, two of the leaders in all-around, took fifth while Junior Nogueira and his partner, Kaleb Driggers, had a no-time.
Bird and Cardoza hold the top two places in the all-around with Clayton Hass, Nogueira and Clay Smith rounding out the top five.
J.D. Struxness won the fourth steer wrestling go-round — also a day after he tied for first.
"Last night was the ice-breaker," Struxness said. "The second round the nerves were still there and I was trying to look for my first round win. That didn't happen and I stubbed my toe. After I got the Round 3 win, I got the momentum rolling and I need to keep it rolling."
Marty Yates posted the first sub-7.0-second time of this year's NFR in tie-down roping at 6.80 seconds to win the go-round while Jake Vold took first in bareback riding.
Michele McLeod turned in the fastest 2016 NFR time in the fourth barrel racing go-round at 13.49 seconds a night after finishing last.
Shane Proctor became the only bull rider to go 4-for-4 and finished fourth on the night while Brennon Eldred took first and world leader Sage Kimzey was bucked off to end the night.
Contact Betsy Helfand at bhelfand@reviewjournal.com. Follow on Twitter: @BetsyHelfand
IF YOU GO
What: Wrangler National Finals Rodeo
Where: Thomas & Mack Center
When: Dec. 1-10, 6:45 p.m.
Tickets: Mad Dash (general admission, seat not guaranteed) tickets available by calling Thomas & Mack box office at (702) 739-3267 or www.UNLVtickets.com