Bareback money leader Feild wins opening go-round at National Finals Rodeo
December 1, 2011 - 11:47 pm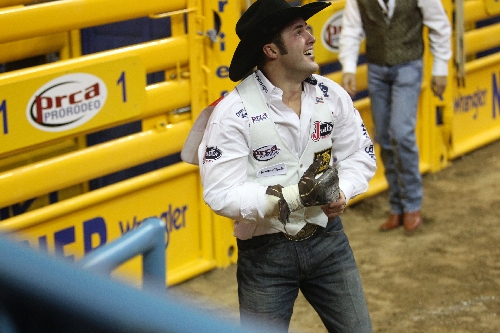 Kaycee Feild remembers his first National Finals Rodeo in 2008. Well, most of it anyway.
The current money leader in the bareback category of the National Finals Rodeo was 21 years old then, and through a smile that could stop a bucking horse in its tracks he admits he might have partied too hardy and too often that year.
"If you have fun outside the arena, it will reflect on what you do inside the arena," he said. "You can't have too much fun in Vegas. The first year I came here, the rodeo part was easy.
"Vegas takes a toll on you if you don't watch yourself."
Feild, now 24, showed he learned the lesson well Thursday on the opening night of the 53rd annual NFR.
Before the first of 10 go-rounds in the $6 million event at the Thomas & Mack Center, Feild vowed to win every round. He's off to a good start after riding Bar T Rodeo's Bitter Robin for 89 points to place first before a crowd of 17,001.
Other winners in the round were: Jason Miller (Lance Creek, Wyo.) and Trevor Knowles (Mount Vernon, Ore.), tied in steer wrestling; Matt Sherwood (Pima, Ariz.) and Cory Petska (Marana, Ariz.), team roping; Wade Sundell (Boxholm, Iowa), saddle bronc riding; Cody Ohl (Hico, Texas), tie-down roping; Lindsay Sears (Nanton, Alberta) and Brittany Pozzi (Victoria, Texas), tied in barrel racing; and Seth Glause (Cheyenne, Wyo.), bull riding.
The $17,884 won by Feild pushed his season total to $158,544 and extended his lead to $20,910 over three-time world champion Will Lowe.
"I've been on that horse twice this season and was 86 and 87 on him those times and won both rodeos," Feild said. "I knew I had a horse that could make a good ride."
And he did it with a clear head.
"This is your job. You can't do it forever," he said.
Despite his Sin City escapades in 2008, he won a go-round and placed in three of 10 rounds to finish eighth in the season standings with $127,904.
Feild is intent on taking his first Professional Rodeo Cowboys Association world championship buckle home to Payson, Utah.
"I'm going out for first place every night. I want to dominate. I want to win everything," he said. "It's been an awesome year. Staying healthy is the main thing in bareback in the NFR for the full 10 days so you can ride to your fullest ability."
If he reaches his goal of winning the ultimate prize, he won't be the first in his family to do it. Lewis Feild, his father, owns two bareback and three all-around world championships and was inducted into the ProRodeo Hall of Fame in 1992.
The younger Feild recalls he was 4 when attended his first NFR, but said he's watched thousands of hours of video showing his father's talent.
"My dad's my hero. He's always a great help," Feild said. "You can get numb when you rodeo all summer and it can be hard to get pumped up and get your motor running and ride. He's told me when you get in the chute, that's the time to turn it on, no matter what."
Feild got his father's motor revving. After the score was posted, Lewis Feild stood and raised his arms as if he were calling a Super Bowl winning touchdown.
"I love seeing that," the younger Feild said. "It's pretty touching to see how excited he gets. It's a lot of fun."
More fun than he had partying hardy four NFRs ago.
Jeff Wolf is a freelance reporter. He can be reached at nitrorodeo@gmail.com or 702-406-8165.