Bareback rider delivering on promise
December 3, 2011 - 11:37 pm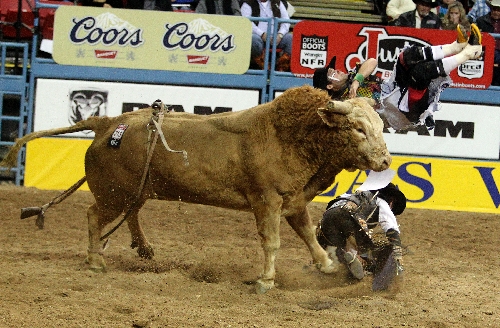 Kaycee Feild sounds like a broken record, and if he keeps going the way he has started the National Finals Rodeo, he might break some records, too.
Feild wasn't joking two nights ago when he said he came to this year's NFR to dominate.
The money leader in bareback riding from Payson, Utah, pulled a hat trick Saturday night at the Thomas & Mack Center when he won his third straight go-round with a score of 90.5 on Mosbrucker Rodeo's Magic Wars.
He is only the second bareback rider in the 53-year history of the NFR to win the first three rounds.
"I'm going to go out there and be as aggressive as I can and give it 110 percent every jump until I hear the whistle," Feild said.
He'll try to make it four in a row today when the rodeo starts at 12:45 p.m., the only daylight performance of the 10-day rodeo.
The $17,884 first-place check pushes his NFR total to $53,653 and his season total to $194,313. He leads second-place Will Lowe of Canyon, Texas, by nearly $50,000.
"I'd like to get this (world championship) wrapped up a few nights before it's over," Feild said. "I'm going to let loose out there anyway, but that would be pretty relieving. My confidence is pretty high. But I know I need to come here tomorrow and not let my confidence take over. I need to come here and go for first every time, like everyone else."
■ STEER WRESTLING — Shawn Greenfield of Lakeview, Ore., stopped Trevor Knowles' two-round winning streak by pinning his steer in 3.5 seconds. Luke Branquinho of Los Alamos, Calif., placed second to earn $14,134 and maintain his money lead for the year.
■ TEAM ROPING — Turtle Powell of Stephenville, Texas, and Jhett Johnson of Casper, Wyo., tied for the round win with Kaleb Driggers of Albany, Ga., and Brad Culpepper of Poulan, Ga. Each team caught its steer in 4.1 seconds.
■ SADDLE BRONC RIDING — Jesse Wright moved closer to being the second member of his Milford, Utah, family to win a world championship. Wright, whose brother Cody owns two season titles, won the round by scoring 88.5 points on Frontier Rodeo's Tip Off.
Jesse Wright pushed his season total to $161,642 and is about $3,000 behind leader Taos Muncy of Corona, N.M. Muncy tied for third with Cody Wright.
Cody DeMoss of Heflin, La., did not compete and will miss today's round after suffering a shoulder injury Friday.
■ TIE-DOWN ROPING — NFR rookie Cory Solomon of Prairie View, Texas, won with a time of 7.6 seconds to earn his first Finals check. The 21-year-old has won six titles this season and has earned $91,606 to be ranked seventh in money won.
■ BARREL RACING — Jane Melby of Backus, Minn., completed the cloverleaf course in 13.83 seconds with the best time in three NFR rounds to post the win.
■ BULL RIDING — Jacob O'Mara of Prairieville, La., became the second consecutive NFR rookie to win a Finals go-round when he covered Four L & Diamond S Rodeo's Big Iron for 88.5 points.
Six of the 15 contestants completed eight-second rides.
Jeff Wolf is a freelance reporter. He can be reached at (702) 406-8165 or nitrorodeo@gmail.com.