Bareback rider O'Connell continues year full of firsts
December 3, 2015 - 10:16 pm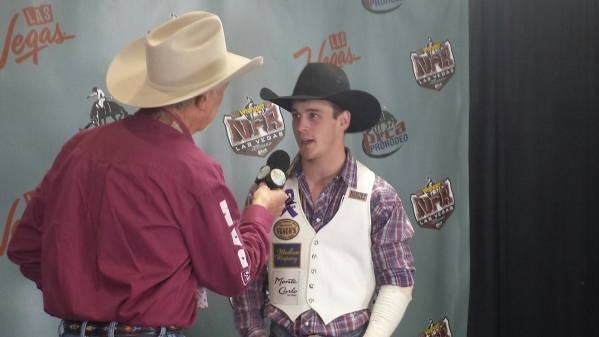 It wasn't just a night of firsts for Tim O'Connell. It's been a year of firsts that keeps getting better all the time.
In Thursday's first go-round of the Wrangler National Finals Rodeo, in the first event on the docket — bareback riding — O'Connell spurred his way to first-place, riding Dilly Bar to 84.5 points before a sold-out Thomas & Mack Center crowd.
And since it's also the first year of a lucrative new contract for the WNFR, O'Connell was the first to benefit from the biggest go-round payment in the event's history. The cowboy from Zwingle, Iowa, pocketed a $26,230 check, vaulting him from seventh in the 2015 world standings all the way up to third, with season earnings of $122,795.
"It's overwhelming. I'm feeling blessed," said the 24-year-old O'Connell, crediting his faith first and foremost as he gushed with excitement, while admitting it was nice to be the first to pocket that big go-round check. "I am very excited about the $26,000 as well, and the go-round buckle, and that we get to do this for nine more rounds."
If all that's happened previously this year is any indication, more firsts are to come.
"It's been great," he said, particularly pointing to getting married to the now Sami O'Connell. "We bought our first home in July. On Oct. 17, we got married. And I literally just graduated college last week, right before Thanksgiving."
Indeed, O'Connell earned his bachelor's degree in public relations, and the smooth speaker showed he can ply that trade as well as he can ride a bucking horse.
"There's been so many big, amazing things in the last few months. I don't want to put the NFR on the back burner, but marrying the woman of my dreams and buying a home, those are kind of bigger life events," he said. "But I do love the NFR."
One could see why after his ride aboard Dilly Bar, a horse he'd never been on before. But after the draw was announced, he looked up the horse's past and got some good advice from fellow cowboys, who told him a good score could be had — but a rough ride would be part of it.
"The good lord blessed me to draw that horse. I'd never seen that horse. I'd never even heard of that horse," O'Connell said. "I'm not gonna lie, that first jump, my legs just felt like Jell-O. … He's a really great built horse. He's jacked. I found out why I heard great things about him. That was a great bucking horse. He's fun."
Even with the winning ride, though, O'Connell found a way to critique his effort.
"There's things in that ride I could've done better," he said. "But I'm not gonna complain about 84.5. It's my second NFR, and it's a blessing I jumped out and won the first round."
Last year, in his NFR debut, O'Connell tied Bobby Mote for first in the fourth go-round and cashed a third-place check in the seventh round en route to finishing the season seventh in the world with $131,240. He's nearly at that amount now.
But he's not taking anything for granted.
"This is a dream come true. Guys would kill to ride here just one night, and I've ridden 11 nights in a row now," he said, while trying to explain the feeling. "If you can imagine the most exhilarating thing. Kind of like a football player going to his first Super Bowl. I've wanted to do this since I was a child. I dreamed of what it would be like to ride bareback horses there. You just have a great sense of accomplishment."
That said, to get that world championship gold buckle will require much more accomplishment, particularly with the record prize money on the table.
"If you win this rodeo, you're gonna win the world championship," he said. "I'm gonna take tomorrow, then one at a time after that. I came here to win this rodeo, and I came here to win a gold buckle."
In a year full of firsts, one more like that would certainly help.
"We have some bills to pay," O'Connell said, "and I have student loans coming up."