Champion continues to ride like one at NFR
December 12, 2014 - 11:07 pm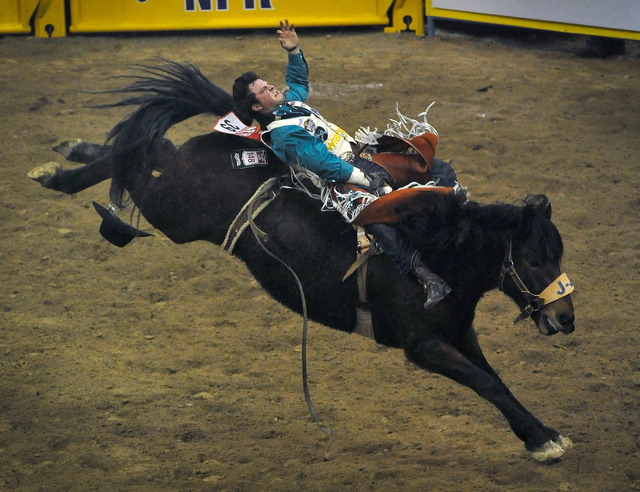 It has been said that champions are made, not born. But Richmond Champion might beg to differ.
Not only was the bareback rider born a Champion, he was born a Rich Champion, though his mother, Lori, jokes that's just his stage name.
"She always calls me Richmond. A friend of hers in college always liked the name Richmond," Champion, 21, said of the origin of his first name. "I've been trying to get better at how I introduce myself. All my buddies call me Richie or Rich."
Champion lived up to his name in March, when he literally became a rich champion by winning $1.1 million at RFD-TV's The American Rodeo at AT&T Stadium in Arlington, Texas.
"It was insane," he said.
The richest one-day rodeo ever featured the top 10 contestants in each event after the PBR World Finals and National Finals Rodeo, along with five qualifiers — of which Champion was one — in each event. Of the $2 million total purse, each event winner made $100,000, with an additional $1 million on the line for any qualifier who could win an event.
If more than one qualifier won, they would split the $1 million, but since Champion was the only qualifier to win, he took it all home.
Shortly thereafter, The Woodlands, Texas, resident deposited the $1.1 million check in his local bank.
"They kind of gave me a look like, 'Where'd you get this, kid?'" he said.
Champion said he took $100,000 and bought an RV and a gun and had some fun, then he turned over the rest of the money to his father, Greg.
"That's all invested. I pretend I don't have it, stay hungry and try to win," Rich Champion said. "People ask me a lot about The American, but that was a goal for the week. My main goal was to make the NFR. That's been a goal of mine for a long time."
The money Champion won at The American didn't count toward his Professional Rodeo Cowboys Association total, but he made almost $90,000 besides that to finish seventh in the bareback riding world standings and qualify for his first NFR.
Champion has performed like one in Las Vegas, winning two rounds and placing in three others. He won the fifth round Monday with an 88.5-point ride on Pete Carr Pro Rodeo's Dirty Jacket and took the seventh round Wednesday with an 86-point ride on Three Hills Rodeo's Angel Eyes.
He placed third Thursday and tied for third Friday, scoring 83 points on J Bar J's Painted Brush before a sellout crowd of 18,083 at the Thomas &Mack Center.
With earnings of more than $60,000 in Las Vegas, Champion has climbed to fourth in the world ($150,466) and is second in average with 729.5 points on nine head.
He said having a positive attitude has been the key to his success in Las Vegas.
"If it doesn't go the way I hope, I know I've gotta drop it and I've got another one the next day," he said. "Just stay positive and don't worry about it. I'm trying to enjoy it and have fun."
On the subject of champions, Kaycee Feild is poised to win the bareback riding world title and NFR average title for the fourth straight year. Feild won the ninth round with an 85.5-point ride on J Bar J's Dirty Rags to take the lead in the average with 732.5 points on nine head. He leads the world standings by more than $46,000 over Austin Foss heading into today's 10th and final round.
■ NOTES — Steer wrestler Dakota Eldridge, an Elko native, won the ninth round with a time of 3.30 seconds to ascend to sixth in the world standings ($105,464) and third in the average with a 50.7-second time on nine head. … Barring a miss in the final round, Luke Branquinho appears headed for his fifth steer wrestling world title. He leads the standings by almost $20,000 over Trevor Knowles and leads the average with 36.60 seconds on nine head. …
Trevor Brazile tied for first in tie-down roping (7.60 seconds) to stay within striking distance of Tuf Cooper in the battle for the gold buckle and his quest for his third Triple Crown. On Thursday, Brazile, the 21-time world champ, won in tie-down and team roping to become the first competitor in 13 years to win a round in two events on the same night. The team roping win moved Brazile and partner Travis Graves into second in the world standings, $660 behind leaders Clay Tryan and Jade Corkill. But Brazile and Graves missed Friday, all but assuring Tryan and Corkill — the two-time defending champ from Fallon — the gold buckle. …
Bull rider Sage Kimzey tied an NFR record with his fourth round win with an 87.5-point ride on Stace Smith Pro Rodeo's Foolish Man. The 20-year-old also clinched the average crown, with 671 points on eight head, and the Top Gun Award for the most money won in one event ($126,733). On Thursday, Kimzey became only the second rookie bull rider to clinch a world title. …
Two-time saddle bronc riding world champ Cody Wright sat out for the second straight night after suffering a dislocated left (riding) shoulder Wednesday. … San Francisco Giants ace Madison Bumgarner was in the crowd, and Washington Nationals star Bryce Harper and former Colorado Rockies star Todd Helton also have attended the NFR, as has Arnold Schwarzenegger.
Contact reporter Todd Dewey at tdewey@reviewjournal.com or 702-383-0354. Follow him on Twitter: @tdewey33.