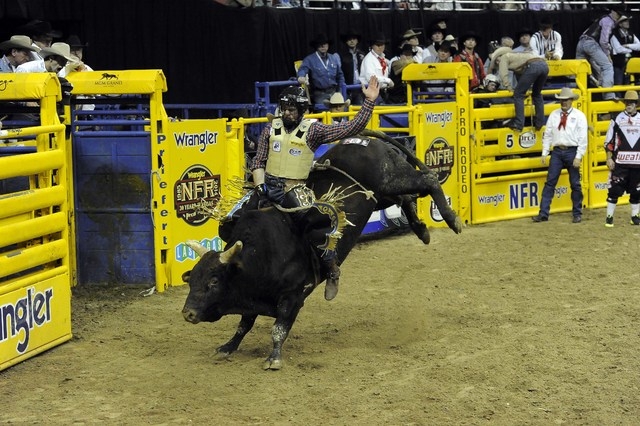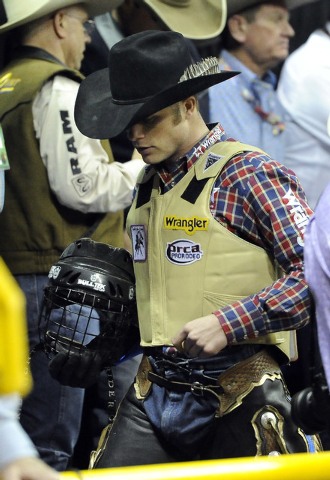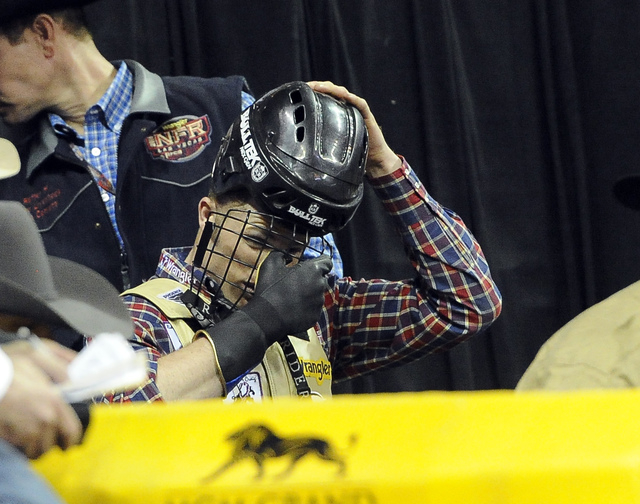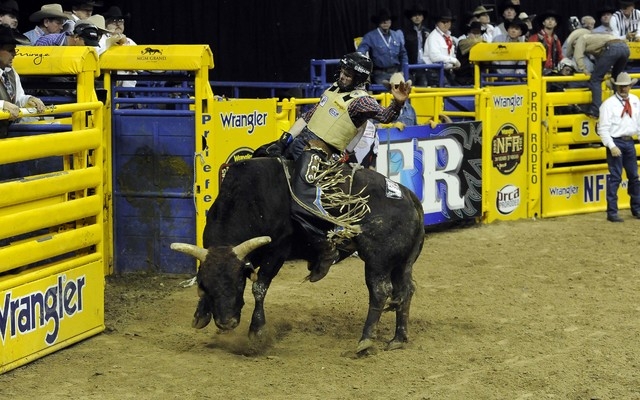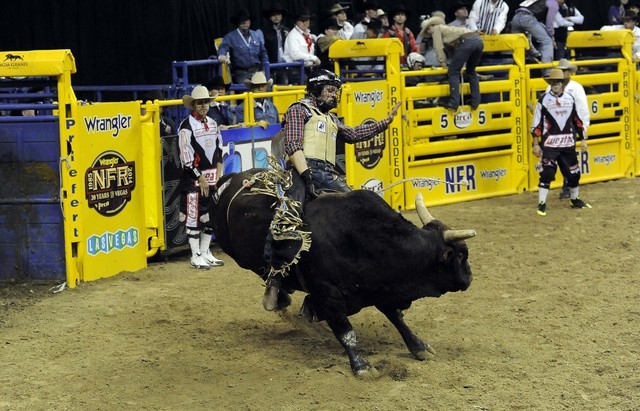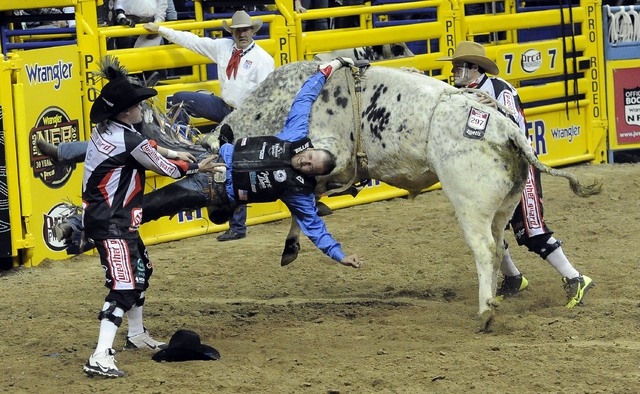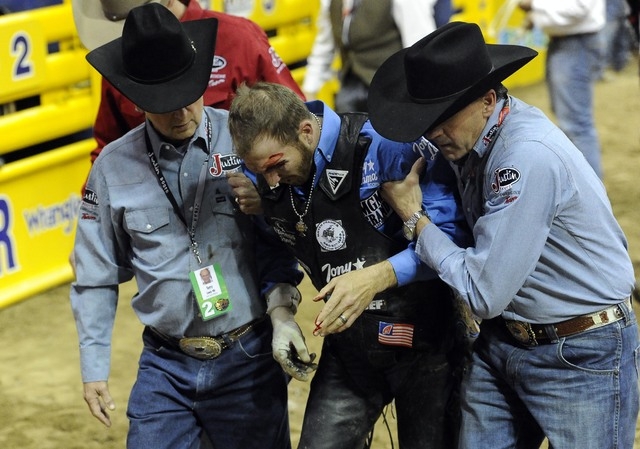 Before each round of the National Finals Rodeo, rookie bull rider Joe Frost has called his college coach — nine-time NFR qualifier Craig Latham — who has been battling cancer since 2011.
"Just hearing his voice, being somewhere for my first time like this where he came nine times, it's more of a comfort deal for me," said Frost, a senior at Oklahoma Panhandle State who this year won the bull riding title at the College NFR.
Latham, who has multiple myeloma/plasmacytoma — an incurable but treatable form of bone cancer — has been receiving treatment in Georgia. Unbeknownst to Frost, his coach decided to make a surprise appearance Monday in Las Vegas.
"He called me about noon and told me he was here,'" Frost said. "He said, 'I didn't have good phone reception in Georgia.' We had an extra ticket, and he came with my parents. It meant a lot to me."
Wearing patches with the words "Riding for Craig," Frost won Monday night's fifth round with an 89-point ride on Corey &Lange Rodeo's Bottle Rocket. After the victory, Frost tapped his hand on one of the patches, pointed at Latham and said, "This one's for you!"
"I was really focused that night. Everything just fell into place," Frost said. "It was a pretty emotional night for me."
After leaving the Thomas &Mack Center in tears after his victory, Frost gave his go-round buckle to Latham during the nightly buckle presentation at South Point.
"I've learned so much being around him," said Frost, 22. "I've learned a lot about rodeoing, but even more about the type of person I want to be and how having good character is more important than winning.
"It goes a lot further, because when you're done rodeoing, all you've got is a pile of hardware and the friends you've made."
One could make a case that Frost was born to ride bulls. His second cousin is Lane Frost, the 1987 world champion bull rider who was immortalized in the 1994 rodeo movie "8 Seconds."
Lane Frost died after a 91-point ride on a bull named Takin' Care of Business at the 1989 Cheyenne Frontier Days. After Frost dismounted, the bull gored him in the side, breaking several ribs. Frost got to his feet but then fell back to the ground, and his broken ribs punctured his heart and lungs. Lane Frost died at 25.
"You grow up a Frost, we all ride bulls. My dad and Lane, my brothers. That's all we talk about," Joe said. "That's all we play as little kids. Riding bulls."
Joe Frost — whose grandfather and Lane's father, Clyde Frost, are brothers — said he learned how to ride bulls by watching his legendary cousin's instructional video, "Lane Frost Bull Talk."
"That's the basis of my riding," he said. "I started watching that when I was 4 or 5 years old. Before I came out here (to the NFR), I watched it every day.
"Every little kid wants to be like Lane Frost. There isn't a bull rider in the world who doesn't want to be like Lane Frost. He's the ultimate."
With Lane Frost's parents, Clyde and Elsie, in attendance at the T&M, Joe Frost won the first round Dec. 4 with an 85.5-point ride on Pete Carr's Classic Pro Rodeo's Rattler.
"I put my rope on and Clyde and Elsie were there," Joe said. "They sit in the second row behind the chutes. I waved at them."
Lane's parents also attended both of Joe's buckle presentations with his parents, Shane and Lisa. Joe gave his first go-round buckle to his father.
"I've been very lucky to have so many great people around, a lot of great mentors," Joe said. "To have my parents here, that's what means the most to me. My dad has been the biggest mentor and role model for me my whole life. He taught me everything I know."
Joe Frost, who also placed in two other rounds, rode his Powder River Rodeo's Artic Monkey for 78 points Thursday night but didn't place in the eighth round before a sellout crowd of 17,811 at the T&M.
He's second in average with 407 points on five bulls and fourth in the world with $123,500 in earnings after making almost $54,000 in Las Vegas.
But Frost no longer is in contention for a gold buckle. Sage Kimzey clinched the bull riding world title Thursday with an 84.5-point ride on Silver Creek Rodeo's Guns &Donuts that was good for third place.
Kimzey, who has won almost $108,000 in Las Vegas to run his rookie record earnings total to almost $251,000, is the second rookie bull rider to win a world title.
That means Frost will be wearing his college national title belt buckle for at least another year.
"I only wear my national championship belt buckle," he said. "When I won the junior high (national title), I wore it from 2007 to 2010, when I won the high school final. I wore the high school (buckle) until this summer, when I won the college (title), and I'll wear this one until I win a gold buckle."
The rodeo world would expect nothing less from a Frost.
Contact reporter Todd Dewey at tdewey@reviewjournal.com or 702-383-0354. Follow him on Twitter: @tdewey33.