'Hot Sauce' burns for first gold buckle
December 15, 2012 - 12:34 am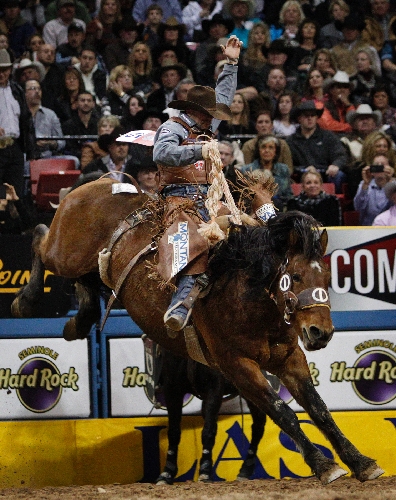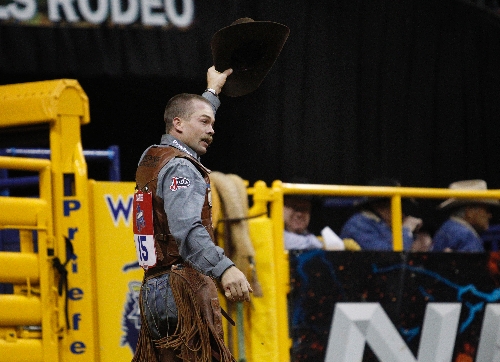 He already owns arguably the best nickname and best mustache of any competitor at the National Finals Rodeo.
What the colorful Cody "Hot Sauce" DeMoss doesn't have is a world title.
The veteran saddle bronc rider has finished second in the world four times, but has never claimed the coveted gold buckle or won the NFR average title.
That could change tonight, when champions will be crowned in seven events following the 10th and final round of the 54th NFR at the Thomas & Mack Center.
The only saddle bronc rider to make qualified rides in each of the first nine rounds, DeMoss, 31, leads the average, or aggregate score, entering today and has an outside shot at winning his first world title.
This might explain why the cowboy from Heflin, La., declined to speak with the media after Friday's round, when he placed second with an 83-point ride aboard Multi-Chem Frustrated Fletch. Taos Muncy of Corona, N.M., won the round with an 84-point ride on Awesome.
Aside from an interview about an opening prayer being included at this year's NFR, DeMoss hasn't spoken to the media during the 10-day event and didn't stray from his routine on Friday.
"He's worked at it real hard for a long time. Hopefully, he gets that one cover tomorrow," Muncy said. "If you're superstitious, you've gotta do what you've gotta do. Heck, I hope it all works out. There's a lot of pressure and everything. It's part of rodeo. You dream of it. Tenth round. Ride a horse."
DeMoss, who has compiled 712.5 points on nine head, simply needs to make one more qualified ride to clinch his first NFR average title and earn a $46,820.91 bonus.
He'll need some help to win his first world title. In third place – less than $2,500 behind Wade Sundell – DeMoss trails leader Jesse Wright of Milford, Utah, by more than $48,000 heading into the final round.
"I'm just glad to be here to witness everything," Muncy said. "It's amazing. You rodeo all year long and then it comes down to one ride."
DeMoss, who sports a handlebar mustache, got his nickname in college because he used to pour hot sauce on everything he ate in the school cafeteria to make it taste better. If he wins the title tonight, he won't need Tabasco or anything else to make his food taste good.
Wright had a comfortable lead heading into the eighth round, but he gave DeMoss and Sundell an opening when he was bucked off Get Smart and suffered a concussion. Wright, also gunning for his first gold buckle, bounced back to place sixth Friday, scoring 75.5 points on Cimmaron Jack. He is in seventh place in the average.
Trevor Brazile, who on Monday set records with his seventh straight and 10th overall all-around title, is the only contestant thus far to clinch a championship at this year's NFR, which features a record $6.125 million purse.
While the race for the gold buckle in most events remains muddied, two are clear: bareback riding and barrel racing.
Kaycee Feild and Mary Walker need only make qualified rides today in their respective events to be crowned world champion.
If Feild succeeds, he'd become the first bareback rider to win back-to-back titles since Will Lowe won his second straight in 2007.
A win by Walker, an NFR rookie at age 53, would cap an incredible comeback from serious injuries she suffered in a fall during a 2011 barrel race that left her confined to a wheelchair for four months. The fall took place less than two months after she lost her only child, 21-year-old Professional Rodeo Cowboys Association steer wrestler Reagon Walker, who was killed in a car accident.
Contact reporter Todd Dewey at tdewey@reviewjournal.com or 702-383-0354.
54th National Finals Rodeo
WHAT: 10th round
WHEN: 6:45 p.m. today
WHERE: Thomas & Mack Center
TV: GAC (374)