If NFR leaves Las Vegas, team roping will stay
December 24, 2013 - 9:59 pm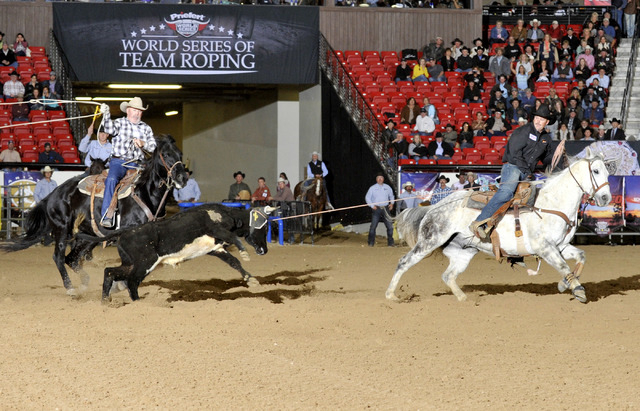 Even if the National Finals Rodeo leaves Las Vegas for Central Florida after 2014, there still will be plenty of cowboys and fans who will continue to come to Sin City in December.
That's because the World Series of Team Roping, held annually at the South Point Arena and Equestrian Center during the 10-day NFR event, has pledged to make Las Vegas its home for the foreseeable future.
"It was built specifically for Las Vegas," said Denny Gentry, founder of the World Series of Team Roping, based in Albuquerque, N.M.
The World Series of Team Roping used to be a side attraction to the NFR in December. But the growth of its prize money in recent years has made the team roping event a standalone draw, Gentry said. It just completed its eighth year in Las Vegas.
Gentry said his event distributes $7.2 million to its contestants, while the NFR — the Super Bowl of rodeos — doles out a $6.2 million purse.
Gentry said 10,000 to 15,000 contestants, fans and family members attend the World Series of Team Roping. He figures that translated into 20,000 to 40,000 tickets bought by World Series of Team Roping participants and fans to attend the NFR, which is held at the Thomas and Mack Center at UNLV.
So if the NFR's sanctioning body — the Professional Rodeo Cowboys Association — decides to move the NFR to Florida starting in 2015, a strong ticket base of fans and competitors from the World Series of Team Roping would remain and potentially attend a new alternative rodeo event in Las Vegas, Gentry said.
Las Vegas Events, which partners with the PRCA to put on the National Finals Rodeo, has said it will launch a new rodeo if the PRCA moves the NFR to Osceola County, Fla., after next year.
On Dec. 15, the PRCA board rejected Las Vegas' offer to stay in Sin City for 10 years — the same day that Osceola County commissioners approved an NFR offer that included $16 million in prize money, a new 24,000-seat arena and millions of dollars in marketing for 20 years in hopes of luring the prize event to the Orlando market. The NFR just completed its 29th year in Las Vegas and pumps $60 million in new spending into the local market at a slow time of the year on the Strip and downtown.
PRCA Commissioner Karl Stressman said he will present a counter offer to Las Vegas before the end of the year to stay in Sin City.
The World Series of Team Roping is able to pay $7 million in prize money because it attracted 2,272 teams, with each team paying a $4,000 entry fee, Gentry said. He noted 338 teams in five divisions — or 14 percent of all the competing teams — received a check, ranging from $6,000 to $250,000.
Admission is free at South Point's equestrian facility to watch the team roping, which attracts a wide variety of recreational team ropers, ranchers, farmers, stunt men, country music singers, barrel racers and former NFR cowboys, Gentry said.
"The big draw is the money," Gentry said.
Fans literally come in waves to watch different heats of team roping competition throughout the day, he said. About 9,000 to 12,000 fans come and go to watch the action on a typical day from 8 a.m. to 7 p.m.
South Point is building another 100,000 square feet of arena space so Gentry can continue growing the World Series of Team Roping, said Steve Stallworth, general manager of the South Point Arena and Equestrian Center.
Stallworth said the World Series of Team Roping, which was an NFR spin-off at one time, has grown so big that it now spins off other roping events around Clark County. Laughlin even hosts a team roping event on the weekend before the World Series of Team Roping to tap into the team roping crowd in Southern Nevada in early December, Stallworth said.
Alan Snel can be contacted at asnel@reviewjournal.com or 702-387-5273. Follow Snel on Twitter at @BicycleManSnel.