NFR cowboys attend 'Grant A Gift' event for autistic kids
December 8, 2018 - 5:01 pm
Updated December 8, 2018 - 5:18 pm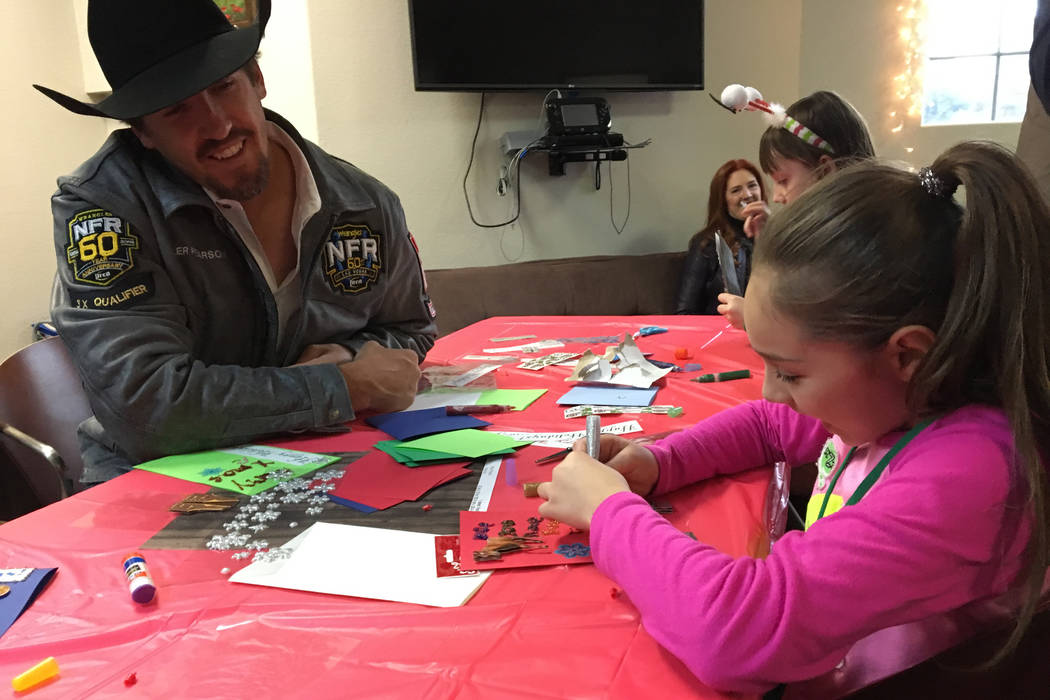 Anybody who's bandied about on Twitter or watched any number of entertainment or sporting events the past couple years has inevitably seen the hashtag #AutismSpeaks.
Well, indeed, autism speaks. And during the Wrangler National Finals Rodeo, some of the top cowboys and cowgirls in the world show that they know the language.
Friday afternoon, reigning world champions Tyler Pearson (steer wrestling) and Tim O'Connell (bareback riding) turned out for one of the newest events on the Wrangler NFR calendar, visiting the Grant a Gift Autism Foundation in Las Vegas. The event is in its third year, and it's becoming one of the more memorable moments of the week away from the rodeo itself.
Kids across the autism spectrum, some very young, some in their teens, get the opportunity to have a very different experience from their regular therapy sessions at Grant a Gift. And the world-class rodeo athletes can sense the importance of that experience.
"This means everything," Pearson said. "It just makes you sit down and think. With our lives going so fast, it's OK to just sit down and watch, and interact with these kids. To see these kids' faces light up, it means the world."
Pearson worked with a couple of children creating Christmas cards, including 11-year-old Brazil Calderon, who not only enjoyed meeting and interacting with the cowboys, but with a pair of horses supplied by barrel racer Tilly Jenski.
"It was special for us because we got to see somebody riding a horse, and we got the experience of sitting on a horse. It was amazing," Brazil said, before giving a tip of the Resistol to Pearson. "The best part was making Christmas cards with him."
It's a joyful but lump-in-the-throat moment for parents, as Brazil's mother Leticia Nava could certainly attest.
"I'm just so proud of her because in these moments, I see the imagination she has," Nava said. "She has the facility for writing and decorating. These moments are amazing."
That's been the goal all three years at Grant a Gift. Terri Janison, president and CEO of the foundation, said different children and families have participated each year, and the event has evolved to include something new and different each year, so everybody gets that amazing moment. For children with autism, a key component of therapy is to get them involved and interacting in experiences that reach beyond the world of their normal sessions at the center.
Cowboys and horses certainly help do that, proving therapeutic in their own unique way.
"What I love about this year is that we brought the horses in," Janison said from the foundation's parking lot, blocked off so that the children could get up close and personal with the animals. "I don't know if these children ever had an opportunity to sit on a horse or pet a horse. But I also love the cowboys being here. Children realize being a cowboy is a job, and that could be a job opportunity.
"That's one of the things Grant a Gift is working on. We've got a vocational training program with internships, with the ultimate goal of employment in the community. We want to show that children on the autism spectrum can do anything they want."
The visit certainly made an impression on 5-year-old Grayson Sandoval. At first, he was a bit timid of the horses, but ultimately warmed up to them, and he took a real shine to Pearson and O'Connell.
"I love cowboys," he said with a big grin.
Much like Nava with her daughter Brazil, Grayson's parents were thrilled with – and grateful for – the opportunity to expand their autistic son's horizons.
"It's nice to see him exposed to different social interactions. We only have the resources to expose him to so much," said Bo Calderon, Grayson's father. "He reads books about cowboys and rodeos, but it's nice for him to see this in person. Particularly with elite athletes, I understand how busy they are, training and competing. For them to take a couple hours for this is pretty special."
Added Grayson's mother, Amanda Sandoval: "Clearly he has a little fear, so I think it's good to push him outside his comfort zone a little bit. And that's what he's doing today. He's very interested. It'll be an experience he'll always remember. I think it's amazing when anybody gives time back for what I think is a great cause."
Jenski wouldn't argue with that, in fact finding it all she could do to keep her emotions in check, as kids lit up like Christmas trees around her two horses.
"I think God puts us on Earth to help others and share experiences," Jenski said. "It's all about sharing what God has given us in our life."
Here's the kicker: the sharing is really a two-way street. The youngsters share their world and life experiences with Jenski, Pearson and O'Connell, as they did with the cowboys and cowgirls who attended this event the previous two years.
"We just want to help the community understand what autism is," Janison said. "Just like you and I do, we're trying to work with these kids on social engagement. That's part of autism therapy. How fabulous is it that the cowboys and cowgirls are excited and wanting to be here?"
Indeed. Pearson is in the midst of 10 nights of rodeo, trying to defend his world title, a critically important point of his season and perhaps his career. Yet here he was, under threatening rainy skies outdoors helping autistic kids climb aboard a horse, then indoors helping the children create holiday memories they'll never forget.
"This is life-changing," Pearson said. "That 10 rounds of rodeo will be gone just like that. I'd turn out for 10 rounds of this anytime, to help the kids. This will stay with these kids forever."