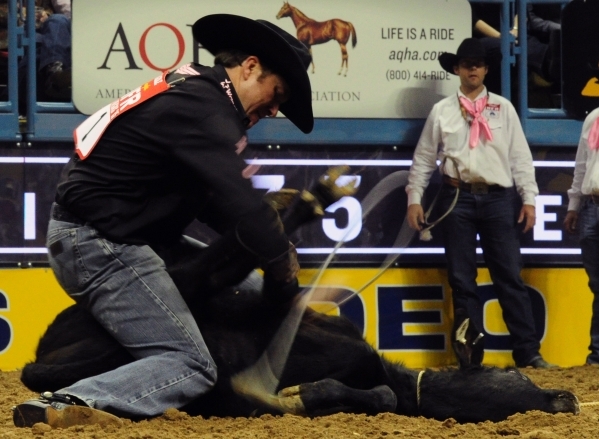 Besides Trevor Brazile clinching his 13th all-around gold buckle, nothing has been decided yet in the way of world championships at the National Finals Rodeo.
With three rounds remaining at the Super Bowl of rodeo at the Thomas & Mack Center, only one round win — and, in some cases, only a few dollars — separates the leaders in the world standings in five of the seven events.
In tie-down roping, defending champion Tuf Cooper leads Marty Yates by a mere $3, but Brazile is lurking less than $9,000 behind in third place and is ahead of Cooper and Yates in the average race.
In barrel racing, first-time NFR qualifier Sarah Rose McDonald leads Lisa Lockhart by $214 after winning Wednesday's seventh round with a run of 13.67 seconds. McDonald is third in the average and Lockhart is fourth.
In saddle bronc riding, five-time world runner-up Cody DeMoss reclaimed the world standings lead Wednesday by $8,420 over Jacobs Crawley with a second-place finish. But Crawley leads the average race and DeMoss is in fourth, a difference of more than $35,000.
In team roping, seven-time world champ Clay O'Brien Cooper and partner Derrick Begay are clinging to a lead of more than $11,000 over two-time defending world champs Jade Corkill of Fallon and Clay Tryan.
In steer wrestling, where the lead has changed hands several times in the first seven rounds, the top four contestants are separated by a little more than $11,000. Clayton Hass leads K.C. Jones by $5,580, with Hunter Cure and Ty Erickson sitting in the next two spots. Seth Brockman, in fifth place, and Elko native Dakota Eldridge, in sixth place, are still in striking distance as Brockman leads the average and Eldridge is in second.
In bareback riding, four-time defending world champ and four-time defending average champ Kaycee Feild opened up a lead of more than $34,000 over Steven Peebles with his third round win in four nights Wednesday, but Peebles still leads the average over Feild.
In bull riding, Sage Kimzey has the largest lead in any event with a cushion of more than $44,000 over Cody Teel, but Teel leads the average over Kimzey.