NFR rider back in saddle thanks to crisis fund
December 9, 2014 - 6:43 pm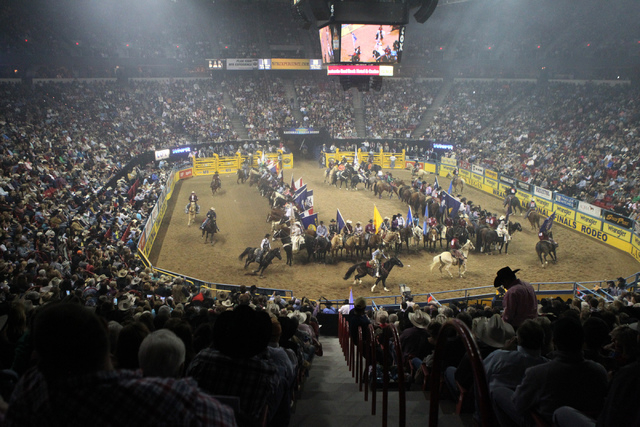 Unlike many pro athletes, members of the Professional Rodeo Cowboys Association don't receive a guaranteed salary. They need to compete often — and fare well — to earn a living in the sport.
"If we're not nodding our head, we're not getting paid," PRCA bareback rider Tilden Hooper said.
When a cowboy suffers an injury in the dangerous sport of rodeo, he can't be placed on injured reserve and he certaintly can't claim workers' compensation. He must find a way to make ends meet until he can get back on the PRCA trail, if he ever does.
Hundreds of rodeo athletes have persevered through tough times with the help of the Justin Cowboy Crisis Fund, a nonprofit organization that lends a hand to pro rodeo cowboys and their families in the event of serious injuries.
Since 1989, the JCCF — which has Baseball Hall of Famer Nolan Ryan and country music singer Charlie Daniels on its board of directors — has disbursed more than $6 million in financial assistance to more than 900 injured rodeo athletes and their families.
"I've had neck surgery and a couple other surgeries. Without those guys I wouldn't still be riding," said Hooper, who competes in rodeo's most physically demanding event. "They pay your living expenses every month. I've received at least a year's worth of that from them. They were a huge help.
"It would've been pretty much impossible to come back and rodeo and travel, and compete at the level I'm competing at without them."
Hooper, 26, will try to give back to the JCCF during his fourth appearance at the National Finals Rodeo. For each 90-point ride recorded by Hooper and saddle bronc rider Tyler Corrington — his Crown Royal Riders teammate — Crown Royal will donate $1,000 to the JCCF.
"I'm hoping I get 90-point rides and they get $1,000 and maybe I get $20,000 (for winning a round)," said Hooper, who tied a world record in 2010 with a 94-point ride on Classic Pro Rodeo's Big Tex at the Wild, Wild West Pro Rodeo in Silver City, N.M.
Neither rider has scored 90 points through the NFR's first four rounds at the Thomas &Mack Center. Hooper scored 83 points on Flying U Rodeo's Lil Red Hawk on Sunday to tie for third place before a sellout crowd of 17,600.
Hooper, who hails from Carthage, Texas, had a memorable year in 2007, when he was crowned the College National Finals Rodeo bareback riding champion and also earned the PRCA bareback riding Rookie of the Year award.
"It was awesome. Those were my first real big goals I reached," he said. "That was a huge confidence booster to get me to where I am today."
He hit the road hard in 2008, when he competed in 113 PRCA rodeos en route to qualifying for his first NFR, and he also qualified for Las Vegas in 2009 and 2011.
Along the way, Hooper began to experience pain in his neck that led to numbness and weakness in his right arm. Things came to a head in August 2012, when during a bareback riding competition in Seattle, he lost all feeling in his right hand.
"It was like dead," he said.
Hooper was diagnosed with a herniated disc with compression of the spinal cord and nerves. Severe cases of the condition can cause paralysis.
In October 2012, Hooper had a successful single-level cervical fusion surgery that gave him immediate relief from his symptoms. He was sidelined for almost a year, when the JCCF covered his living expenses.
Hooper, who also has had plates inserted in his left and right collarbones, returned to action in the summer of 2013 and entered this year's NFR in 13th place ($65,779).
He's earned $12,719 in the first four rounds here and said he feels better than ever.
"I'm more healthier than I've ever been in my life," he said. "I'm real excited to be out here again. I can't explain the feeling. I've been hurt every other year that I've been out here.
"This deal with my neck is something that bothered me for a long time. To be healthy is like no feeling I've had."
■ NOTES — Spencer Wright, one of the first quartet of brothers ever to qualify for the NFR, won the fourth round with an 84-point ride on Calgary Stampede's Mata Fact. Wright, 23, has won $40,150 here and leads the average with 323 points. … Bareback rider Steven Peebles had his sixth straight NFR appearance cut short by a broken back (mid-thoracic spine compression fracture). Peebles, who was second in the world standings and won the second round, suffered the injury in Saturday's third round on Powder River Rodeo's Craig at Midnight. "That horse, when they opened the gate, he kind of reared back into him and then compressed him back up against the back of the chute gate," said Rick Foster, program director of the Justin Sportsmedicine Team, which is a mobile sports medicine system fully funded by the Justin Boot Company. "The bottom line is because of a fracture, he's not going to be full strength, and it would be foolish to try."
Contact reporter Todd Dewey at tdewey@reviewjournal.com or 702-383-0354. Follow him on Twitter: @tdewey33.