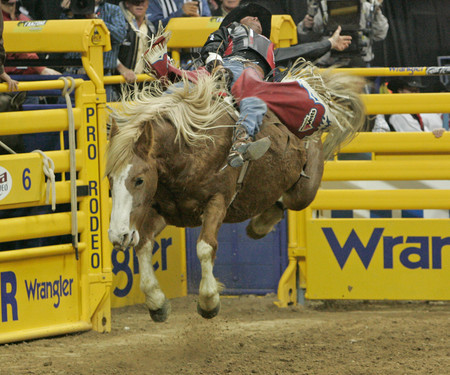 Rodeo rookies usually range from their late teens to early 20s.
In bareback, money leader Clint Cannon is 21 and riding in his first National Finals Rodeo. Another first-year qualifier in the event is 20-year-old Steven Peebles.
Another bareback rookie is D.V. Fennell.
But while Cannon and Peebles are still a little wet behind the ears, Fennell, at 36, has hair growing out of his.
"Yeah, it's there already," Fennell said of the injustice of aging when hair growth shifts to other regions of the head.
Fennell, a Utah native living in Neosho, Mo., is one of three bareback riders among the 15 competitors here in their 30s.
"I'm just happy to be here," he said.
Fennell won eight rodeos this year and started the Finals ranked 10th with $69,929 in earnings. He tied for second Friday to win $11,887, which pushed his career-best season earnings to $81,816.
He completed his eight-second ride Sunday night before a crowd of 17,069 at the Thomas & Mack Center, but placed ninth and out of the money in the fourth go-round.
He said he was happy to do his best and is as eager as someone half his age for the start of tonight's fifth go-round, which is scheduled to start at 6:45 p.m.
"One year you got broke bones then another year you got a broke checkbook," Fennell said.
By 2004, pain and disappointment was enough to make him quit. But a young rider he befriended a few years earlier urged Fennell to hit the road with him in 2005.
That young cowboy is reigning world champion Justin McDaniel.
But a year later a rotator cuff that had plagued Fennell for six years finally tore completely. He had major surgery in 2006 on his free arm and rehabilitated it the following year before returning part time in 2008.
He's nearing the end of his most successful year and said he owes the motivation to McDaniel.
"A year ago I watched my best friend and little brother win a (world champion's) gold buckle," he said of McDaniel, whom he is not related to. "That made me bring my 'A' game into this year."
When he arrived at the Thomas & Mack for Thursday's opening round, a rocking chair was awaiting in the locker room.
"I took it as a compliment," he said of the gift from fellow rider Heath Ford. "It was like Heath saying, 'Yeah, you're a little long in the tooth but you deserve to be here.' "
Fennell already has proven that and the Finals won't reach the halfway point until tonight.
In the fourth-go round, winners were: Royce Ford (Briggsdale, Colo.), bareback riding; Lee Graves (Calgary, Alberta), steer wrestling; Travis Tryan (Billings, Mont.) and Michael Jones (Stephenville, Texas) tied with Nick Sartain (Yukon, Okla.) and Kollin VonAhm (Durant, Okla.), team roping; Jesse Kruse (Great Falls, Mont.), saddle bronc; Cody Ohl (Hico, Texas), calf roping; Cassie Moseley (Farwell, Texas), barrel racing; and Bobby Welsh (Gillette, Wyo.), bull riding.
• NOTES — Ohl's winning time of 6.6 seconds in calf roping was one-tenth of a second off the arena record he set in 2003. … Reigning world champion bull rider J.W. Harris missed the last two go-rounds with a fractured hand but plans to compete tonight.
View the slide show