NFR safety pioneer now eschews helmet
December 11, 2012 - 2:03 am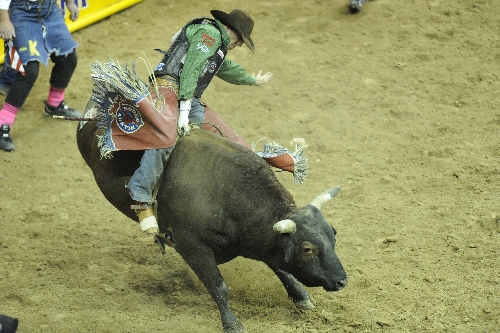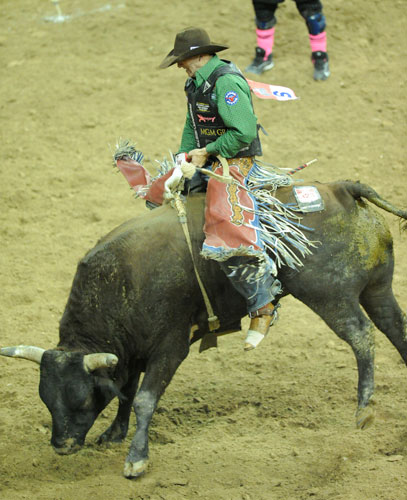 Bull riders, like their bruise-inducing brethren in hockey, were slow to warm to the idea of wearing helmets.
J.W. Harris' success wearing a helmet and a growing awareness of the dangers of concussions helped convince more and more riders to don the protective gear. A record 13 of the 15 bull riders at the National Finals Rodeo wear them.
But Harris is no longer among them.
The manufacturer that produced his helmet doesn't make that model anymore, and he said the new kind is too heavy and uncomfortable.
Besides, the 26-year-old Texan said, he has suffered concussions even while wearing helmets.
"It's not going to prevent you from getting knocked out," he said. "It won't prevent you from having concussions. I mean, it's just not going to happen."
Harris is trying to win his fourth bull riding championship, which would give him four titles in five years. Harris is eying the record eight set by his close friend, Don Gay, in the 1970s and 1980s.
"I consider him one of the greatest bull riders who ever climbed on the back of a bull," Harris said. "If you're going to do it, you don't want to be good at it, you want to be great. That's what I strive for is to be great riding bulls. So there's always something I can do better, so I set my goals high and reach for them."
He's in good position to leave Las Vegas with another title. Harris enters today's sixth go-round at the Thomas & Mack Center in first place.
But it's close.
A little more than $7,000 separates Harris from second-place Cody Teel.
Winning the championship would make the trials of last year not as painful for Harris, who endured back, knee and foot injuries.
"It was aggravating because I went so long without being hurt," he said. "And then it was like one thing after another after another. But then you sit back and realize you're riding the rankest bulls in the world, so something's got to give. I got it all fixed, and now I feel good."
He wound up second last season, but wasn't pleased with his NFR showing.
"Last year, I rode terrible out here," Harris said. "So that kind of lit a fire underneath me and gave me some more drive."
Harris will take that over the 2008 season, when he won the first of his world titles but suffered through five concussions, prompting him to go to the helmet during the season.
He then became the second bull rider to win the championship with a helmet. BJ Schumacher in 2006 was the first.
Now many others have followed, something that doesn't surprise Harris.
He noted it's Texas law for any bull rider younger than 18 to wear a helmet, so a younger generation of riders is growing up with it as the norm.
Awareness of the seriousness of head injuries has increased dramatically in recent years. Many athletes, especially football players, suffer a form of dementia long after their playing days end.
But Harris also competes in a dangerous sport, and he is well-aware of the risks that come with it.
"Football players know just as well as we do that's part of the game," Harris said. "Yeah, it's not a good thing to get a concussion, but if you're going to ride bulls or even play football, it's something you're going to deal with.
"It's in our sport. There's nothing we can do about it. I don't care what kind of helmet they design, they're not going to stop concussions. It's just part of it."
■ NOTES – Trevor Brazile clinched his seventh consecutive all-around title and 10th overall, both records. … Monday's announced crowd of 17,473 was just 18 short of the fifth go-round record, which was set in 1990. The first four days of this year's NFR set records.
Contact reporter Mark Anderson at manderson@review journal.com or 702-387-2914. Follow him on Twitter: @markanderson65.
54th National Finals Rodeo
WHAT: Sixth round
WHEN: 6:45 p.m. today
WHERE: Thomas & Mack Center
TV: GAC (374)