NFR SIXTH GO-ROUND SUMMARY
December 10, 2008 - 10:00 pm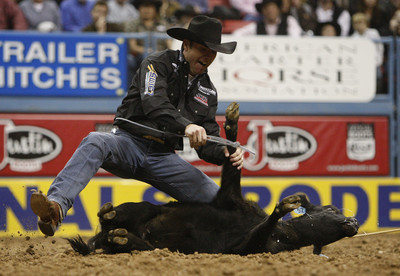 Trevor Brazile needed little more than half of the Nationals Finals Rodeo to clinch his sixth all-around world championship in the Professional Rodeo Cowboys Association.
The roper from Hico, Texas, locked up his third consecutive championship when he won Tuesday's calf roping go-round to earn $16,676 for a season total of $325,757.
Bareback rider Steve Dent, of Mullen, Neb., was the last man with a remote chance of catching Brazile, but Dent placed out of the money in his go-round. Dent's earnings are $182,111.
Brazile joins Larry Mahan and Tom Ferguson as six-time all-around world champions and is within one of the all-time mark of seven by Ty Murray.
"I had clinched one (all-around title) before the NFR was over in the past, and it's an awesome feeling," said Brazile, of Decatur, Texas.
"You've got Ty Murray, Larry Mahan and Tom Ferguson, and that says enough right there. It's not the championships, it's the guys who've been there who make (the championships) special."
Brazile, the only NFR contestant competing in two events, also passed Joe Beaver as the PRCA's all-time money winner with a career total of $2,933,428, about $4,000 more than Beaver.
"It shows how far rodeo has come," said Beaver, an eight-time champion who is working the Finals as an ESPN analyst. "It took me 20 years to win that much, it's taken Trevor 10 years and it should take the next guy five years."
BAREBACK RIDING
NFR rookie Kaycee Feild, of Elk Ridge, Utah, won the go-round. The world standings didn't change because Dent, the money leader, and Bobby Mote, placed out of the money. Mote trails Dent by $11,300.
STEER WRESTLING
Beau Franzen, of Sidney, Mont., rallied after recording a no-time the night before to win the sixth go-round with a time of 3.8 seconds.
"I had a pretty good steer that they didn't do well on the first time it was out, but they said he was really good," said Franzen, who is using 2005 world champion steer wrestler Lee Graves for his hazer. "I didn't make a great run, but it was good enough."
Money leader Luke Branquinho placed out of the money and leads third-ranked bulldogger Dean Gorsuch by $40,000.
Wade Sumpter, who was the money leader when the Finals began, has officially withdrawn from the event due to an injury. He tore a pectoral muscle in the second round.
TEAM ROPING
Matt Funk, of Hermiston, Ore., and Bucky Campbell, of Benton City, Wash., won their second go-round of the Finals when they caught their steer in 3.7 seconds.
Two runs in the 20-second range have put them out of the championship race.
Heeler Michael Jones and partner Chad Masters placed third to win $10,006. That extended Jones' season lead to $11,000 over Logandale's Randon Adams, who did not earn a check as a heeler.
SADDLE BRONC RIDING
Five-time world champion Billy Etbauer, 45, won his 48th NFR go-round by being scored for 88 points on Burns Rodeo's Fu Man Chu.
It is the South Dakota native's second round win and fourth top-four finish this year, which has moved him to a $28,000 lead over regular-season money leader Cody Wright of Milford, Utah.
CALF ROPING
Brazile won his first go-round of the Finals by tying his calf in 7.7 seconds. The victory moved him to third in the world standings, $14,200 behind leader Josh Peek.
It's the third time in four rounds Brazile has placed in the money.
"It takes a load off," he said of clinching the all-around title, "but there are two other world championships here to win."
BARREL RACING
Money leader Lindsay Sears, of Nanton, Alberta, completed the cloverleaf course in 13.68 seconds to win her second round in four nights. She also stopped a two-round winning streak by Brittany Pozzi-Pharr, who ranks second.
Pozzi-Pharr, the reigning world champion, placed second in the round but trails Sears by $45,000.
BULL RIDING
NFR rookie Shawn Proctor, of Tooele, Utah, won his first go-round with an 89-point ride on Calgary Stampede's Speed Dial.
He was one of only four of the 15 riders to complete eight-second rides.
INJURY REPORT
Bareback rider Josi Young's status is uncertain for tonight. He sat out Tuesday with a strained pelvis. … Las Vegan Colin McTaggart suffered a lacerated chin Tuesday but is expected to compete tonight.
JEFF WOLF/LAS VEGAS REVIEW-JOURNAL