Roper Brazile has firm grip on all-around title
December 6, 2007 - 10:00 pm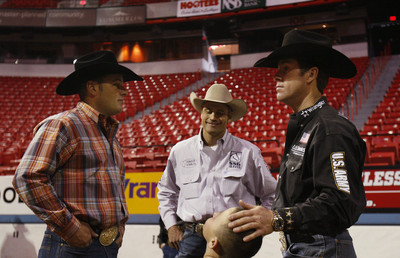 One needs to look no further than calf roping to find the last eight all-around world title winners in the Professional Rodeo Cowboys Association.
That won't change when the 49th annual National Finals Rodeo begins its 10-day run tonight at the Thomas & Mack Center.
Roping wizard Trevor Brazile leads the all-around with $285,412 and is seeking his second straight title and fifth in six years. His streak was broken two years ago by Ryan Jarrett, a calf roper and steer wrestler.
Before Brazile began his reign, Cody Ohl (2001), Joe Beaver (2000) and Fred Whitfield (1999) won rodeo's ultimate prize. Calf roping was among their events.
This year, only Brazile and NFR rookie Josh Peek qualified in two events — almost a requirement to win the all-around title.
Brazile won this year's National Steer Roping championship, leads in calf roping and qualified 10th as a header in team roping.
Peek, who trails Brazile by about $145,000, will compete in steer wrestling and, of course, calf roping.
"If you can have calf roping success in the arena, then your mental focus makes it easier to pick up a second or third event," said Peek, a 28-year-old from Pueblo, Colo.
Roper Cash Myers is third in all-around, followed by bucking horse rider Cody DeMoss and Jesse Bail, who competed in saddle bronc and bull riding.
The last nonroper to win the all-around was rodeo legend Ty Murray, who won the last of his seven titles in 1998. He competed in the roughstock events — bareback, saddle bronc and bull riding.
Bail is the last roughstock cowboy to come close to matching Murray's feat.
Bail competed at the NFR in saddle bronc and bull riding from 2001 to 2003 but made it to Las Vegas this year in only saddle bronc. He returned to full-time bull riding this year after being hampered by injuries the past two years.
Roughstock athletes do not have to incur the cost of transporting their horses to and from events as ropers do, but they do pay a high price in the arena.
"They (ropers) don't get hurt as much as we do in roughstock," Bail said. "And they have four events to pick from."
Neither Beaver, 42, nor Whitfield, 40, qualified for the NFR after having surgery and missing most of the year. Whitfield had damage to his neck and right rotator cuff repaired, and Beaver had his hip rebuilt.
But Peek is set on challenging Brazile for roping supremacy. The rookie is developing skills in steer roping, which is not contested at the NFR but is an event in which Brazile won $88,953.
"My goal this year was to get my first NFR under my belt," Peek said. "Now I'm learning how to 'trip' (steer rope). A guy has to be in more than two events to compete with Trevor for the all-around."
Contact reporter Jeff Wolf at jwolf@reviewjournal.com or (702) 383-0247.
National
Finals RodeoMore Info
49TH ANNUAL NFR
WHAT: $5.5 million National Finals Rodeo
WHERE: Thomas & Mack Center
WHEN: Tonight through Dec. 15; starting times 6:45 p.m. weekdays, 5:45 p.m. weekends
INFORMATION: Review-Journal's NFR Special Section inside today's newspaper, lvrj.com, NFRexperience.com or ProRodeo.com