Tuf Cooper wins All-Around, gets engaged at NFR
December 16, 2017 - 11:23 pm
Updated December 17, 2017 - 12:25 am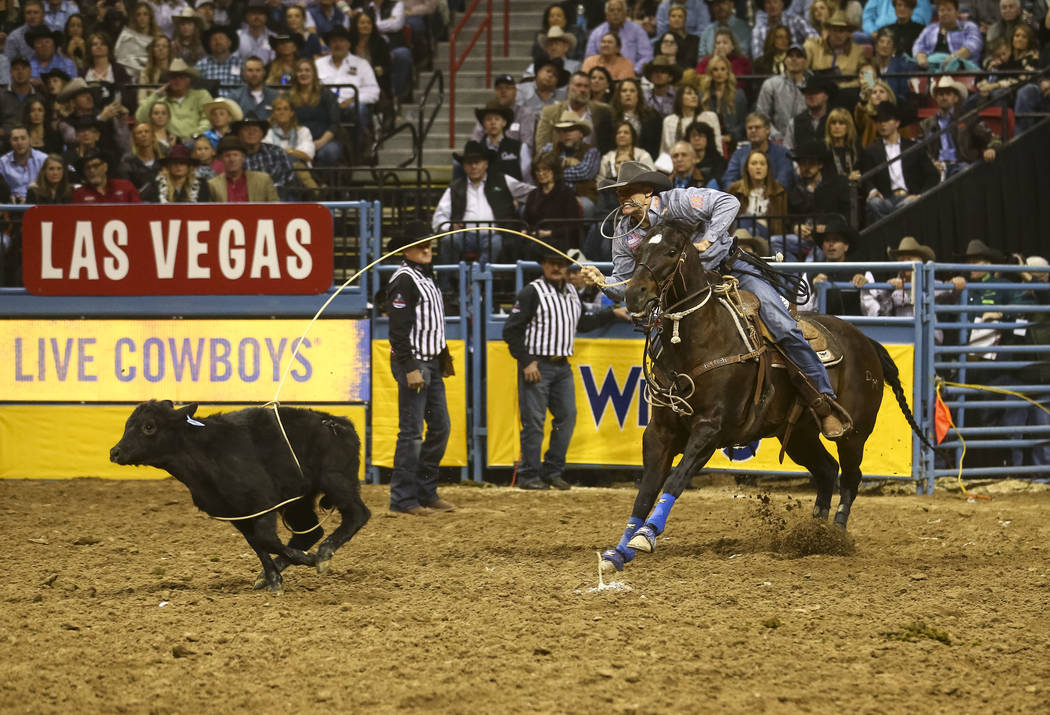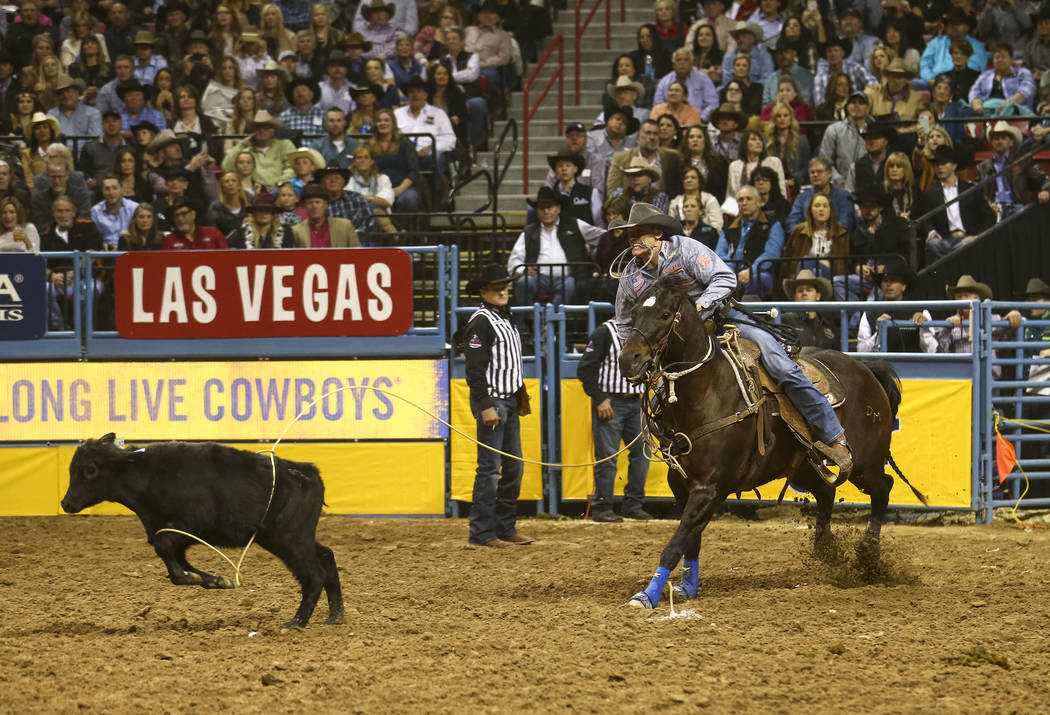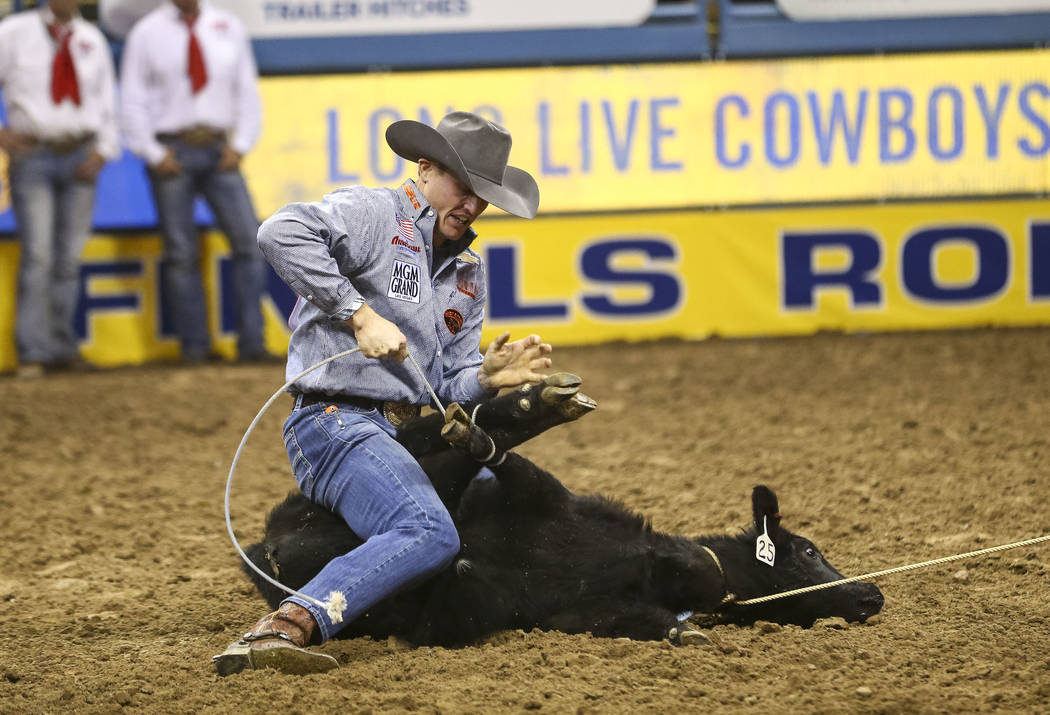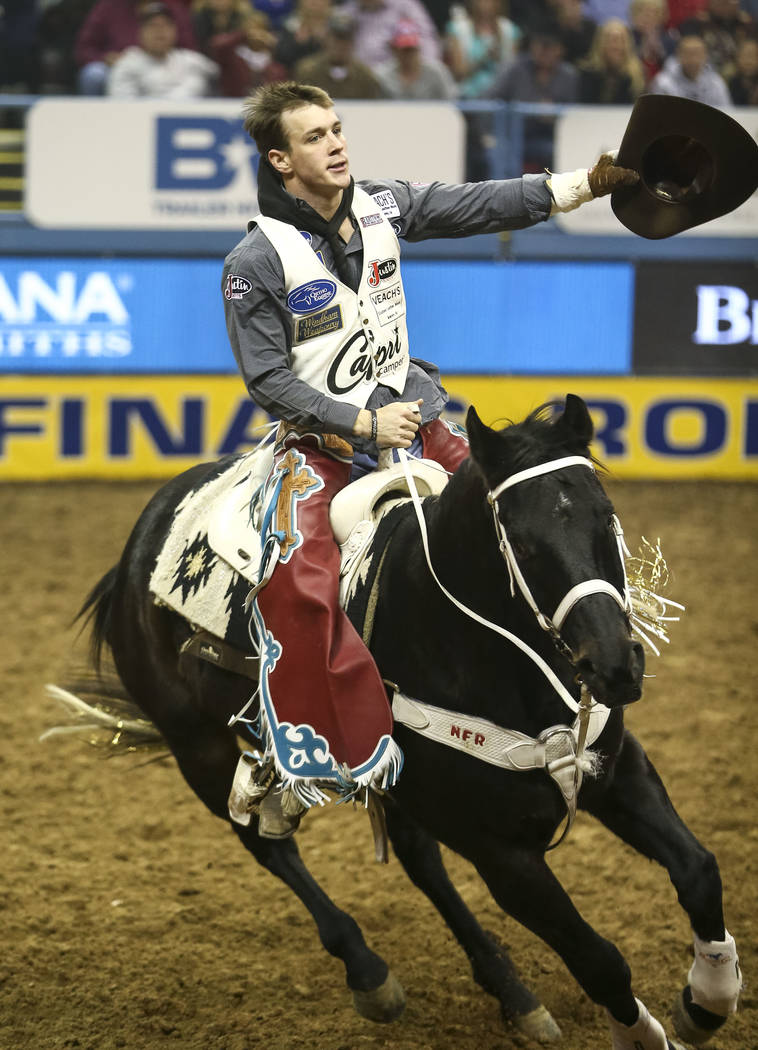 It was midsummer when Tuf Cooper started realizing he had a chance to win the all-around title at the National Finals Rodeo.
That was the same time he started formulating a top-secret plan.
If he won, he'd propose to his girlfriend, Tiffany McGhan. He didn't tell a single person over the latter half of the year.
It's safe to say Cooper is leaving Las Vegas a happy guy.
The 27-year-old sealed his first NFR all-around title on Saturday night at the Thomas & Mack Center.
When he got his gold buckle, he got down on one knee and proposed.
McGhan said yes.
"I'm going to have to call her dad here in a minute," Cooper said with a smile.
Cooper's night didn't go as well as it could have — he just missed out on the tie-down roping world title, overtaken on the final night by Marcos Costa — but you won't find him complaining.
"This is the only one that says 'Cowboy,' on it," he said, pointing to his new, shiny gold buckle.
To win it, Cooper had to move past his brother-in-law, Trevor Brazile, 41, who has 13 all-around titles to his name.
Brazile, who had the lead heading into the final night, hasn't walked away from an NFR that he has competed in without an all-around gold buckle since 2006.
He didn't compete last year, but before that, he had won the all-around from 2006-15. And before that, 2002-04. His reign was halted by Cooper, who finished with $22,223.27 more than him, thanks to Cooper's high placing in the aggregate standings.
"The sport has a great all-around world champion. He's the one that I want my kids looking up to," Brazile said. "And that's who I want in that position for the sport, and so it's left in good hands, that's for sure."
Cooper wasn't the only one who jumped into first place on the final night.
Barrel racer, Nellie Miller, who went to UNLV for two years, moved past Tiany Schuster on the final night after finishing first in the aggregate standings.
She entered $119,841 behind Schuster, making that up and more over the course of 10 nights.
"It's overwhelming because you just never know how life is going to turn out, and I'm just so happy to be here right now," Miller said.
Saddle bronc rider Ryder Wright, all of 19 years old, moved from eighth place to first over the course of 10 days, taking home his first world title.
Wright did so by placing first in four different go-rounds. The race turned tight as Wright didn't place in the final go-round and slipped in the aggregate standings. But he still edged Brody Cress by $2,651.77.
"The world title is won by pennies. It's crazy," Wright said. "I don't even know what to say, but it's a dream come true. I could sit and stare at it (the buckle) all day."
Steer wrestling was similarly close with Tyler Pearson moving into first place on the last night of competition, picking up his first gold buckle after jumping past Ty Erickson.
Pearson did so by finishing second in the aggregate standings. He edged Erickson by $2,189.70.
Team roping pairing Erich Rogers and Cory Petska also jumped into first place on the final day.
Rogers, a header, was third while Petska, a heeler, was second coming into Saturday. Like Pearson, they also finished second in the aggregate standings to move into first.
Bareback rider Tim O'Connell picked up his second consecutive world title, pocketing $371,415.80 in earnings this season.
"To do it back-to-back, to have both of these buckles sitting in my hands again going back to Iowa, what a blessing," O'Connell said. "It was harder this year, way harder this year than it was last year."
He wasn't the only one to repeat as bull rider Sage Kimzey ended the 10 nights of competition by picking up his fourth consecutive world title in as many years.
"Each one of them is a step on the way up the mountain, and each is special because the road is so different each year," Kimzey said.
Contact Betsy Helfand at bhelfand@reviewjournal.com. Follow @BetsyHelfand on Twitter.
Gold buckle winners
All-Around: Tuf Cooper
Bareback riding: Tim O'Connell
Steer wrestling: Tyler Pearson
Team roping: Erich Rogers, Cory Petska
Saddle bronc riding: Ryder Wright
Tie-down roping: Marcos Costa
Barrel racing: Nellie Miller
Bull riding: Sage Kimzey