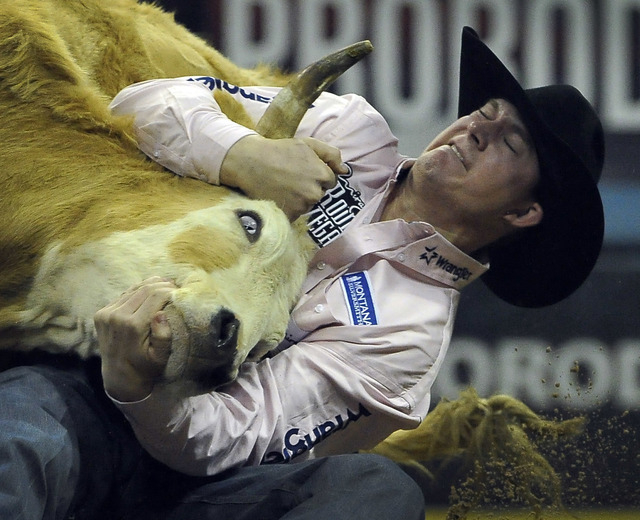 With a record $10 million prize purse at the National Finals Rodeo, no lead in the world standings is safe.
Despite the high stakes — each round winner pockets $26,230.77 — there was only one change atop the leaderboard following Thursday's first round before a crowd of 16,793 at the Thomas & Mack Center.
Not surprisingly, the shuffle took place in steer wrestling, which featured the tightest title race entering the world's richest rodeo, with a little more than $30,000 separating leader Clayton Hass and 15th-place qualifier Blake Knowles.
Ty Erickson placed third with a time of 3.6 seconds to take over the top spot from Hass, his traveling partner. Hass didn't place and fell to fourth in the world, a little more than $10,000 behind Erickson.
Veteran steer wrestler K.C. Jones won his fourth round at the NFR with a time of 3.4 seconds.
"It's so exciting this year with $10 million," Jones said. "There are a lot of people who worked hard to get that purse up there for us contestants and we're really thankful for them and it makes it really exciting when you win $26,000 in 3.5 seconds."
Saddle bronc rider Wade Sundell won the first round with an 86.5-point ride on Andrews Rodeo's Fire Lane to move from fifth to second in the world standings, less than $6,000 behind leader Cody DeMoss, who finished fifth with an 82-point ride on Pete Carr's Classic Pro Rodeo's Manhattan Moon.
Sundell has drawn Frontier Rodeo's Tip Off for today's second round.
"I'll come gassin' and I'm due to ride him," Sundell said of his strategy. "I've been on him three times for a total of about eight seconds."
Bull rider Parker Breding moved within one round win of defending world champion and standings leader Sage Kimzey by winning the first round with an 86.5-point ride on Smith Harper & Morgan's Magic Bullet. But Breding paid the price for the victory, getting gored by the bull's horns under his protective vest.
"I've had cracked ribs before, but I've never had a bull's horn get up in my vest like that," the 23-year-old from Edgar, Mont., said. "It's a scary deal, because people have been killed that way before. I was dang sure blessed tonight, that the bull didn't stay with me too long."
Kimzey was bucked off, allowing Breding to cut his deficit in half, to about $26,000. But Breding is questionable to compete in today's second round and beyond.
"He's OK right now; we're keeping an eye on him," said Dr. Tandy Freeman of the Justin Sportsmedicine team. "He's got some abdominal tenderness, but not anything to suggest he's got a major injury. He's probably got a couple of fractured ribs. He'll probably end up getting some X-rays, and we'll see how he's doing (today)."
Major injury or not, Breding was in some major pain after his ride.
"It hurts a lot just to lay here," he said. "It hurts to take breaths. It hurts some to talk."
Despite the injury, Breding plans to compete today.
"I don't know what it'll feel, but I'm dang sure going to try," he said. "This rodeo is as big as it gets, so I'm going to try."