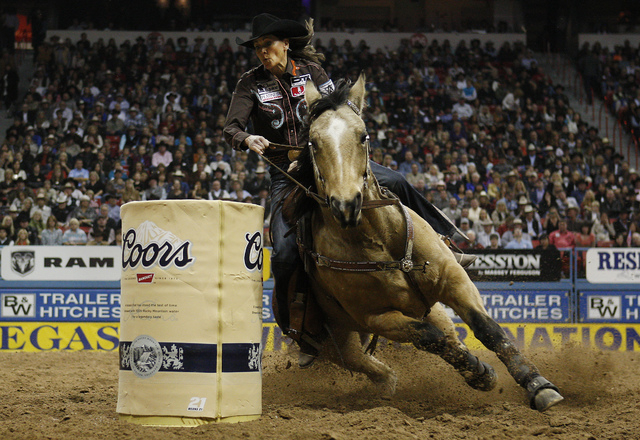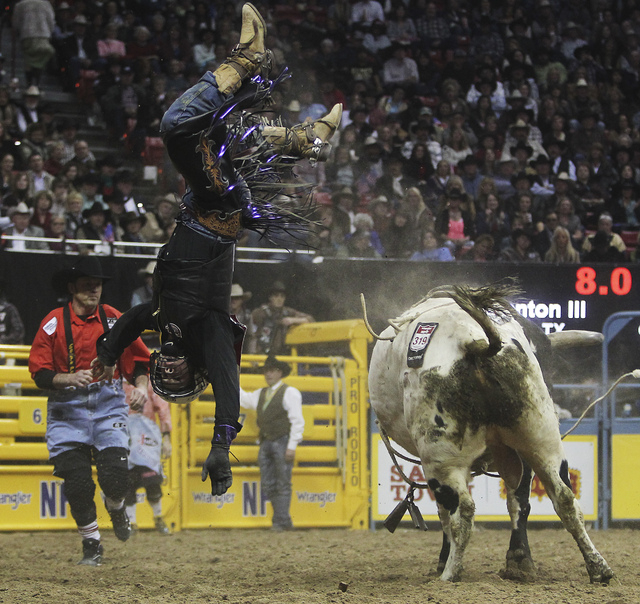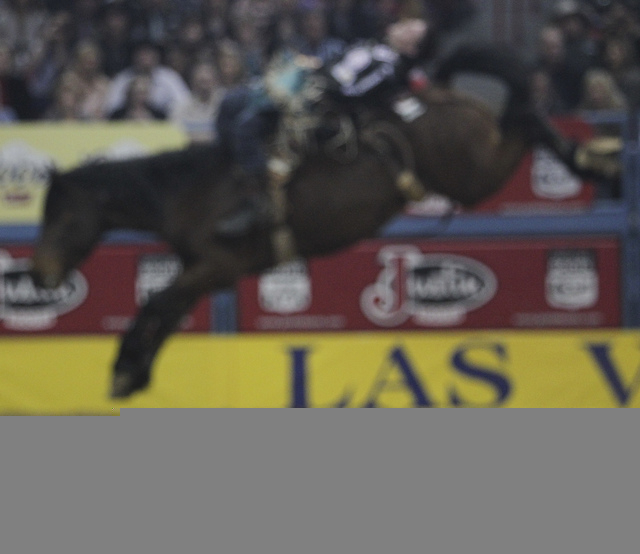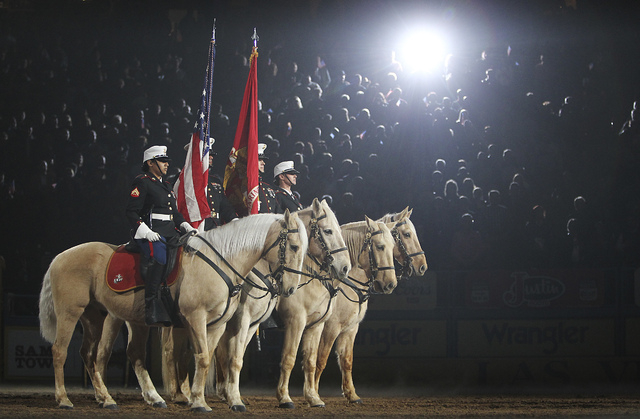 The National Finals Rodeo plans to stay at UNLV's Thomas & Mack Center for another decade rather than move to the MGM Resorts International/AEG arena being built on the Strip, Las Vegas Events President Pat Christenson said Monday.
The 10-year agreement is expected to be signed before the 10-day rodeo opens on Dec. 4, Christenson said. The current lease is set to expire this year, he said. Las Vegas Events promotes the popular National Finals Rodeo, which celebrates its 30th year in Las Vegas this year.
Christenson and he and NFR General Manager Shawn Davis took a very preliminary look at the MGM Resorts/Anschutz Entertainment Group arena behind New York-New York near the Monte Carlo entrance. But Christenson said the $375 million venue scheduled to open in spring 2016 is not ideally suited for the rodeo because it has only one tunnel, while Thomas & Mack has two.
"From a production standpoint, it doesn't work," Christenson said. "We need two tunnels."
Thomas & Mack has two symmetrical tunnels, one on the Cox Pavilion side of the arena and the other on the building's opposite side. The second tunnel, built in 1999, allows Thomas & Mack to efficiently handle timed rodeo events such as steer wrestling and team roping, Christenson said.
The National Finals Rodeo is the Super Bowl of the sport, where the top 15 cowboys in seven rodeo events will compete for $6.375 million in prize money this year. The prize money will bump to $10 million in 2015 under a new agreement between Las Vegas Events, and Professional Rodeo Cowboys Association, the NFR's sanctioning body.
About 180,000 fans attend the NFR at Thomas & Mack, while thousands more fans visit and attend in-town watch parties at sponsor hotels. The NFR had an economic impact of $87.9 million of non-gaming spending in the region in 2013, said Las Vegas Events spokesman Michael Mack, citing data from the Las Vegas Convention and Visitors Authority. Las Vegas Events is the LVCVA's promotional arm.
Rodeo animals such as horses and bulls are housed in pens on campus intramural fields at the University of Nevada, Las Vegas, and are funneled to the Thomas & Mack entry tunnel across an 80-foot stretch of parking lot.
Mike Newcomb, Thomas & Mack executive director, declined to comment until the new arena lease is signed.
"They have a draft from us in their hands," Newcomb said Monday.
Christenson said Thomas & Mack was designed for basketball and not a rodeo, but he said improvements through the years, such as adding a second tunnel, now make it an excellent venue for the NFR. Thomas & Mack has excellent sight-lines for a rodeo, he said.
"They molded it into a rodeo venue." Christenson said.
Thomas & Mack is also a neutral-site arena for NFR fans who stay at a variety of Vegas hotels owned by both MGM Resorts and non-MGM hotel companies, he noted.
MGM Resort officials "are not interested in poaching Thomas & Mack events," Christenson said.
He noted the Thomas & Mack lease included language that allowed Las Vegas Events to opt out of the deal to pursue another arena with more seats.
Contact reporter Alan Snel at asnel@reviewjournal.com or 702-387-5273. Follow @BicycleManSnel on Twitter.