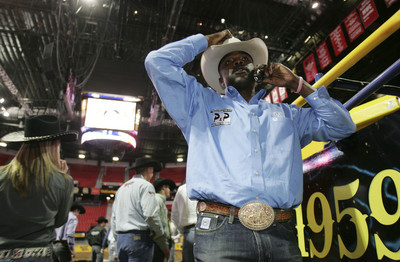 Fred Whitfield was enjoying Wednesday afternoon's mundane rehearsal for tonight's first of 10 opening ceremonies of the National Finals Rodeo.
And he really was enjoying it.
Parading on horseback into the Thomas & Mack Center three times and preparing for the nightly grand entry with 118 other NFR contestants is a necessary evil, usually enjoyed only by rookies.
For Whitfield, it is the 18th year he's gone through these preparations, but he savored Wednesday's warm-up like it was his first.
The eyes of the eight-time Professional Rodeo Cowboys Association world champion had the gleam of a newcomer to the world's biggest rodeo, which begins at 6:45 p.m. today.
His smile reflected what is in his heart.
The 41-year-old calf roper from Hockley, Texas, had not missed an NFR for 17 consecutive years until surgeries on his right shoulder and neck in January 2007 kept him off the circuit for six months. He wasn't able to win enough prize money the rest of the season to qualify for last year's NFR.
"I'm just happy to be here," he said. "I really am. Honest. I really am.
"I'm just pumped up. I'm excited about everything."
This year, the 1999 all-around world champion won five PRCA event titles and tied for another. He'll start the NFR ranked eighth with $72,647 earned, about $81,000 behind leader Josh Peek of Pueblo, Colo.
But $210,669 can be won in the NFR in each of eight categories, and Peek knows he's a long way from winning his first world title.
"I'm right in the middle of the pack," Whitfield said of the calf roping field that includes reigning champion Trevor Brazile and five-time champion Cody Ohl of Hico, Texas.
"There's not a lot of pressure," Whitfield said. "I don't have a lot to prove; just go out and rope and have fun. See what happens."
Brazile is ranked third in calf roping with $117,624 and is poised to win his sixth all-around championship. The roper from Decatur, Texas, qualified for team roping and is the only contestant who will compete in two events during the NFR. His total earnings of $270,770 is $104,000 better than Peek, his closest challenger.
Brazile's presence is another reason calf roping is expected to be the most closely watched event at the NFR.
Last year, that's all Whitfield could do — watch, and he didn't like the vantage point.
"I had to come out here and sit and watch, but it probably did me some good," he said. "I feel rejuvenated."
Whitfield said he's in great shape and that last year's layoff was worthwhile. He first had his rotator cuff fixed, then a month later had surgery to repair damaged vertebrae.
"I spent a lot of time at home and got to do a lot of things with my (daughters, Savannah and Sydney)," he said. "That was the longest I had been home for one stretch in 18 years."
Contact reporter Jeff Wolf at jwolf@reviewjournal.com or 702-383-0247. For more on the National Finals Rodeo, go to lvrj.com/rodeo.
NFR MOMENTS IN HISTORY Members of the rodeo community have helped select the 10 most memorable events of the past 49 National Finals Rodeos. The countdown to No. 1 begins today. No. 101959, Dallas This wasn't just the first NFR, but it marked the last time Hall of Famers Casey Tibbs and Jim Shoulders won world championships. For more details on the first NFR, go to Jeff Wolf's Rodeo Blog at lvrj.com/rodeo.