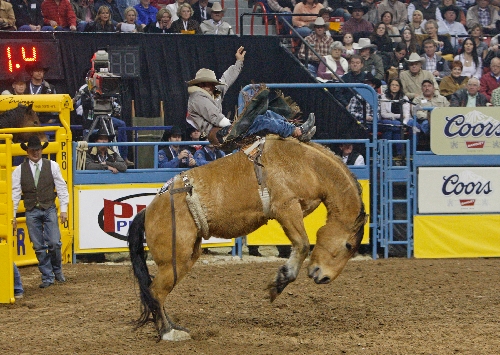 Jesse Wright missed qualifying for the National Finals Rodeo by $468, but he received the last spot three weeks ago after ninth-ranked Rod Hay withdrew with an injury.
Then in Thursday's opening round, Wright, 21, of Milford, Utah, was bucked off and suffered a fracture and severe ankle sprain to his left foot.
Yet the NFR rookie has not only competed in every saddle bronc ride at the Thomas & Mack Center, he has finished fourth or better in each of the last four go-rounds, including a win Monday before a crowd of 17,008.
He won $56,908 in the regular season and has nearly matched that in four nights by winning $50,841 in the Finals. With five nights to go, he has moved to fifth in the world standings.
"It is still sinking in," he said after scoring 89.5 points on Burch Rodeo's Lunitic Fringe, the best score of the 52nd annual NFR.
"This feels really good."
Certainly better than his ankle. On Saturday, he had to hop off the dirt on his right foot, though that has now progressed to a limp.
"It just hurts when I have to put pressure on the ball of my foot and the bottom of my foot," he said. "When it's in the stirrup, it doesn't hurt that bad."
Older brother Cody Wright, 33, was bucked off in the fifth go-round. The 2008 world champion still leads the world standings and remained first in the NFR aggregate, with two go-round victories.
■ DOUBLE WINNERS — Calf roper Cody Ohl of Hico, Texas, steer wrestler Ethen Thouvenell of Napa, Calif., barrel racer Lisa Lockhart of Oelrichs, S.D., and bull rider J.W. Harris of Mullin, Texas, each won or shared first place in the fifth go-round to join saddle bronc rider Cody Wright, bull rider Kanin Asay and bareback rider Kaycee Feild as double-round winners at this year's NFR.
■ MORE WINNERS — Other winners in the fifth go-round: Will Lowe of Canyon, Texas, in bareback; and JoJo LeMond of Andrews, Texas and Cory Petska of Marana, Ariz., in team roping.
■ BRAZILE STILL HOT — Trevor Brazile clinched his eighth all-around championship Friday but hasn't let up. He shared first in calf roping with Ohl and placed third with teammate Patrick Smith in team roping.
Brazile has won $73,578 in the Finals and is first in the Top Gun Award for most money won in the event.
Contact reporter Jeff Wolf at jwolf@reviewjournal.com or 702-383-0247.
2010 National Finals Rodeo Round 5