Rookie Monacelli makes history with Senior U.S. Open crown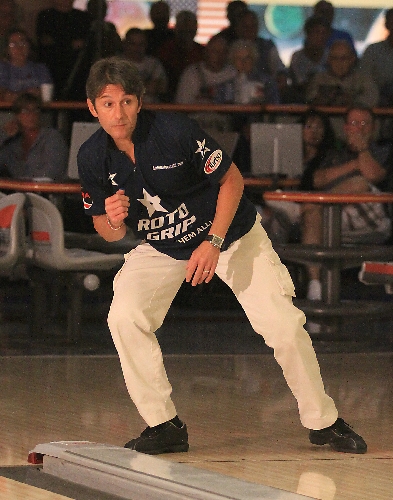 Amleto Monacelli is a Professional Bowlers Association Hall of Famer, but he's still in his "rookie" season on the PBA Senior Tour.
It's becoming a campaign to remember for the 50-year-old Venezuelan.
Monacelli edged friend and fellow Hall of Famer Walter Ray Williams Jr. 255-247 in the championship match of the Etonic PBA Senior U.S. Open on Friday at the Suncoast Bowling Center.
"I really am happy for two reasons," Monacelli said. "First of all, because it's the (Senior) U.S. Open. I always wanted to win this tournament. But second, to go up against an unbelievable field like this, it's even better.
"I beat Walter Ray, the best bowler in the world. Are you kidding me? I mean, this is unbelievable, I'm so happy, so thrilled and so thankful."
Monacelli had another reason to be happy: a $15,000 check.
Williams, the PBA Tour's all-time leader with 47 titles, could have won with two strikes in the 10th frame of the championship. He struck on the first ball but left a 10-pin on his second shot.
It's the second consecutive year that Williams was the top qualifier for the Senior U.S. Open stepladder finals only to lose in the championship match.
"The only guy who's really, really happy is the guy who wins," said Williams, who won $8,000. "The sad part is, this is my fourth major tournament in the seniors and it's my fourth second (place). I've led this tournament two years in a row and lost in the title match both times."
Monacelli is the first international player to win a PBA Senior Tour title.
"I feel like I'm the pioneer of the international players," said Monacelli, the first international player inducted in the PBA Hall of Fame in 1997. "I don't know how to explain it, but I want to make a path for all international players who want to come one day. If I can do it, I want to let them know that anyone who has the same dream like I had, they're able to do it."
Williams was pleased to be the top qualifier for the stepladder finals after being only 35 pins above the cut after the third qualifying round.
"To come back from where I was, so far behind all these guys when the scores were as high as they were to get where I was, I would have bet a lot of money against that happening," Williams said.
Monacelli reached the final by beating Mike Edwards 235-225 in the semifinals.
Edwards defeated Wayne Webb
268-244 in the first stepladder match.
Las Vegas players Joe Salvemini and Terry Leong finished 17th and 21st, respectively.
Contact reporter Tristan Aird at taird@reviewjournal.com or 702-387-5203. Follow him on Twitter: @tristanaird.