Run game slows Saints, Giants
November 28, 2011 - 2:00 am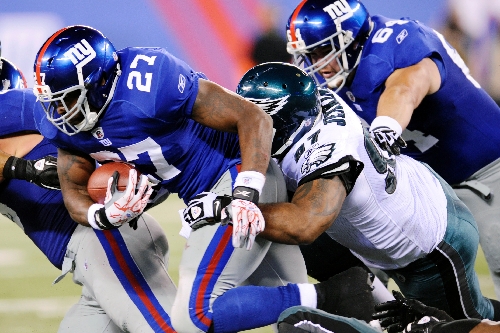 NEW ORLEANS — Drew Brees and Eli Manning have racked up elite passing numbers this season by picking up the slack when their clubs' running games struggled.
That could be the case again when New Orleans (7-3) hosts the New York Giants (6-4) tonight, yet both teams have emphasized the importance of running the ball more this week in hopes of improving balance and becoming less predictable.
"Being able to run the ball and being able to stop the run is vital to winning," Brees said. "We want to be able to run the ball better."
Although the Saints are in the top half of the NFL — 13th with 117.5 yards per game — consistency has been a problem. New Orleans gained 41 yards on the ground in its game at Atlanta but got away with it by pulling out a 26-23 win in overtime.
The Giants were even worse in a home loss to Philadelphia last week, managing 29 yards on the ground while falling to 31st in the NFL in rushing with an average of 83.2 yards, the club's lowest figure since the 1940s.
While the urgency to address the running game might be greater for the Giants, the solutions are less apparent with leading rusher Ahmad Bradshaw sidelined by a right foot injury. D.J. Ware, meanwhile, is trying to recover from a concussion, although it appears he'll be available to back up Brandon Jacobs after practicing fully during the latter part of the past week.
New York also will shuffle its offensive line because left tackle Will Beatty needed surgery to repair a detached retina.
Complicating matters even more is the fact the Giants will be playing in the Mercedes-Benz Superdome, where noise has been known to hinder communication for opposing offenses at the line of scrimmage.
That could be a factor, given that Manning, when asked about ways to improve the running game, stressed the need for communication in the time between a run is called in the huddle and the snap of the ball.
"We just have to try to get into some things where we get 3 and 4 yards a carry," Manning said. "There is just too many times where we are losing 2 yards. When you are playing in second-and-12, it makes for a long day."
Despite the lack of a credible running threat, Manning is averaging 295.2 yards per game.
"Two big allies to the quarterback are good defense and the ability to run the football," Saints coach Sean Payton said. "What has been impressive about (Manning's) season to date is despite them not having the same (rushing) numbers that they would like, he has been very consistent and productive and a big reason why they are having success this year."
Still, Payton said he does not expect the Giants to abandon the running game, which would be out of character for coach Tom Coughlin.
"Their run numbers aren't really what you might be accustomed to," Payton said. "Clearly that's something they'll look to correct as they come into our game just like we had done the same thing."
NEW YORK VS. NEW ORLEANS
■ WHEN: 5:30 p.m. today
■ WHERE: Mercedes-Benz Superdome, New Orleans
■ TV/RADIO: ESPN (30), KWWN (1100 AM, 98.9 FM)
■ LINE: Saints -7 1/2; total 51