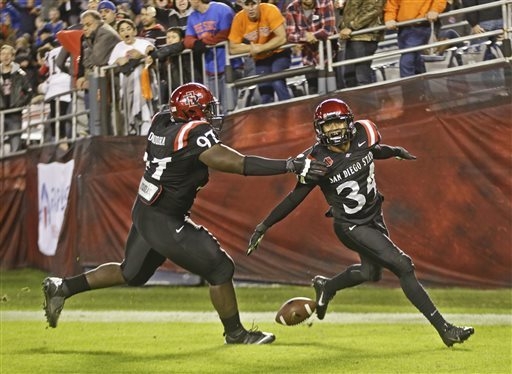 UNLV has its own share of comebacks this football season, but the Rebels are getting ready to face the masters of finding ways to turn losses into victories.
San Diego State is almost never out of a game, having executed a best-in-the-nation five fourth-quarter comeback wins. The Aztecs enter Saturday's 7:30 p.m. game against UNLV at Sam Boyd Stadium having pulled off three such rallies in a row, coming from 11 points down to beat San Jose State and seven down to defeat both Hawaii and Boise State.
They also are coming off back-to-back overtime victories and have played in four extra-session games overall, going 3-1. The Aztecs tied the national record set by three other teams for most overtime games in a season.
And San Diego State comes to Las Vegas having played in seven consecutive games decided by a touchdown or less, winning six of them. The loss was 35-28 in overtime to Fresno State, and the Aztecs would have won if not for a blocked 37-yard field goal on the final play of regulation.
"I think I've been around several seasons like this, but to be able to win most of them, now that's different," Aztecs coach Rocky Long said.
He said the players' ability to perform under such adverse circumstances is a process that has been years in the making. San Diego State will finish with a winning record for the fourth consecutive season.
"The thing I'm going to remember about this year is the senior class," Long said. "The majority of these guys came into this program five years ago and were recruited off a program that hadn't won many games in several years. They came in with the faith and the work ethic that gave them a chance to be successful, and they've had some success before this year.
"It's nice to see people get their just due. Those kids have worked extremely hard since they got here. That's why this game is a special game because, guess what, the seniors at UNLV have done the exact same thing."
THREE-STEP DROP
■ UNLV quarterback Caleb Herring has passed for 2,252 yards this season, and with Saturday's game and a probable bowl trip, he should surpass Nick Sherry's 2,544 yards from last year. Sherry's total was the best at UNLV since Jon Denton threw for 2,586 yards in 1997. If Herring matches the 204.7-yard average in the next two games that he carries into this weekend, his total will be the best since Denton posted 3,591 yards in 1996.
■ The Rebels went 3-2 on the road this season, their first winning record away from home since the 2003 team went 4-2. They entered the season dreadful on the road, but on Sept. 28 at New Mexico, the Rebels snapped a 23-game away skid.
■ Until this season, the Rebels had appeared on ESPNU just twice — at UNR in 2005 and at Idaho in 2010. They are getting ready to make their third consecutive appearance on that network.
FOR THE RECORD
■ When running back Tim Cornett (1,190) and wide receiver Devante Davis (1,023) became the first Rebels to record 1,000-yard rushing and receiving seasons at the same time, it was appropriate they reached that accomplishment together. They also were teammates at Houston's North Shore High School. Cornett, who became UNLV's all-time leading rusher this season, jumped three spots on the Mountain West's career rushing list to second with 3,639 yards after his 220-yard performance last Thursday at Air Force. New Mexico's DonTrell Moore rushed for 4,973 yards from 2002 to 2005.
■ The secondary has been a UNLV weakness for several years but not so much this season. The Rebels have 48 pass breakups, their highest since recording 50 in 2000. Cornerbacks Kenneth Penny (13) and Tajh Hasson (11) have the most pass breakups since Mil'Von James totaled 19 in 2007.
■ Marcus Sullivan's 26.7-yard career average on kickoff returns is tops in UNLV history. Second-place Duane James in 1998 and 1999 averaged 24.4 yards.
Contact reporter Mark Anderson at manderson@reviewjournal.com or 702-387-2914. Follow him on Twitter: @markanderson65.