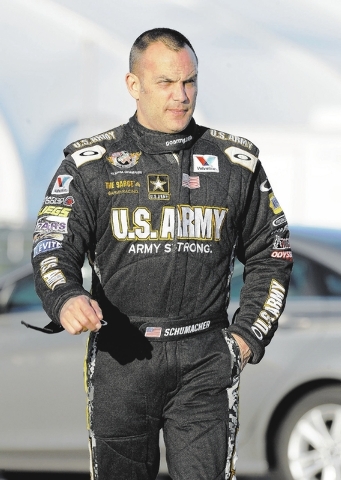 Tony Schumacher needs a spark, and he's come the right place.
If anyone knows how to win at The Strip at Las Vegas Motor Speedway, it's Schumacher, having gone home with the Top Fuel trophy a track-record seven times, including last year's spring event.
Now he's trying to break out of an early season funk, and Friday's qualifying in the SummitRacing.com NHRA Nationals offered encouragement Schumacher will be able to carry some momentum out of Las Vegas.
He finished fifth in qualifying, running 3.816 seconds and 322.96 mph in the second session. Schumacher went 3.837 and 322.11 earlier in the day, which was second in that session and, to him, a more impressive performance.
"The run tonight was just fine, but the first run today was outstanding," Schumacher said. "I think on Sunday we'll be running in conditions closer to what we saw in the first session because it's going to be hot and windy. You have guys that are going to struggle tomorrow trying to improve, and we've got a good tune-up for the heat. If we can keep running in the (3.80s) we'll be just fine."
Schumacher, 44, can't pinpoint why Las Vegas has been such a favorable track, but noted he tends to race best at the early and late-season events "probably because it's a high-pressured time."
"We're a high-pressured team," he said. "We need that pressure. We need that bottom of the ninth, bases loaded, full count. That's what we're the best at."
Excelling during both times of the year is a key reason Schumacher has captured seven series championships, including six a row from 2004 to 2009. His other title came in 1999.
But this season isn't off to the best of starts for Schumacher, who was born on Christmas Day in 1969. He is eighth in points, coming of a quarterfinals loss March 16 to Don Schumacher Racing teammate Antron Brown in Gainesville, Fla.
That performance at the Gatornationals was the furthest his team has advanced this season. Schumacher lost in the first round in two other events, and has been hearing about it in his own home.
"We're looking to move to Austin, Texas, and (his kids) keep going, 'Dad, we need a smaller house because you can't win a race anymore,' " said Schumacher, who lives in Chicago. "They're a little cocky, 8, 10 and 12, but they're funny. They know how to put the pressure on me."
No matter what happens this weekend, Schumacher will continue his process of testing Monday, the day after the competition. He always has the big picture in mind, and perform well or poorly, is constantly pushing forward.
"We've got to get ahead because we're not here to win one or two races," Schumacher said. "We're here to dominate. We've got to test. We've got to find it. All cars are fast now. It makes you have to be great from the beginning."
Schumacher knows what it's like to win championships, and even before Friday's promising qualifying, wasn't overly concerned about where the season was heading.
"We know how to win," he said. "We're not, 'Oh my God, we'll never win again.' That's not it. We're just trying some extreme things, and maybe it's time to get back to the basics."
Steve Torrence of Kilgore, Texas, leads qualifying in Top Fuel with a best time of 3.779 seconds (322.27 mph).
Matt Hagan of Christiansburg, Va., heads into today first in Funny Car, having run a top time of 4.063 seconds (317.05 mph). Defending Las Vegas spring champion Cruz Pedregon of Brownsburg, Ind., was 11th at 4.122 seconds (293.03).
Jeg Coughlin of Delaware, Ohio, was first in Pro Stock after putting together a best time of 6.625 seconds (209.17 mph). Last year's winner, Allen Johnson of Greeneville, Tenn., was sixth at 6.632 seconds (208.94).
The final round of qualifying begins at 1 p.m. today.
Contact reporter Mark Anderson at manderson@reviewjournal.com or 702-387-2914. Follow him on Twitter @markanderson65.