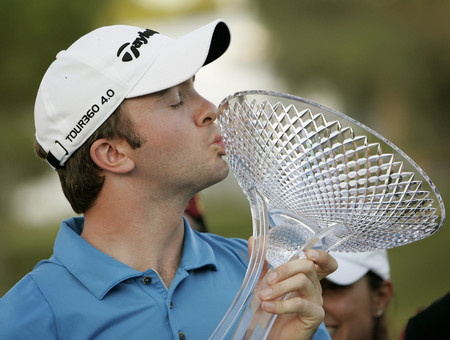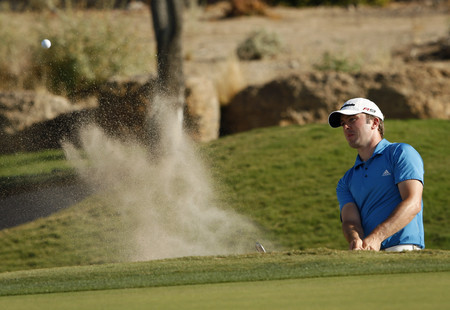 Fort Collins, Colo., now can claim something other than being the home of the "Balloon Boy" and his egomaniacal father.
Former Colorado State golfer Martin Laird brought the town some positive publicity as he won for the first time on the PGA Tour, capturing the Justin Timberlake Shriners Hospitals for Children Open on Sunday.
Laird beat Chad Campbell and George McNeill in a three-way sudden-death playoff at TPC Summerlin after all three had finished regulation at 19-under-par 265. His 12-foot birdie putt on the par-4 No. 18, the third playoff hole, ended the drama.
"I was standing there thinking, 'Is this really happening?' " said Laird, who earned $756,000 and a two-year exemption on the tour. "You're out here every week trying to win. But I like this golf course. It sets up well for long hitters like myself."
Laird, a native of Glasgow, Scotland, who attended Colorado State from 2000 to 2004, became the fifth straight player to make Las Vegas his first tour win. A year ago, he had to sweat it out just to avoid Qualifying School. The top 125 on the money list are exempt for the following year and Laird was the last one in at No. 125 in 2008.
He had begun his week at No. 134 on the money list and was in danger of missing the cutoff. Now, Laird can enjoy the remainder of the 2009 season, thanks to his ability to deliver in the playoff. He handled the pressure of Sunday well, even though this is only his second year on the tour and had never been in a playoff.
"It's strange. When I got in the playoff, I kinda chilled out," Laird said. "I relaxed a little bit."
The playoff began at the par-4 No. 18 and after everyone made par, it was onto the second hole, the par-3 17th.
Campbell was the first to fall as he took bogey. The former UNLV star missed a 7-foot par putt after chipping from the back slope following his tee shot that failed to hold the green.
"I had hit the same shot in regulation," Campbell said of his tee shot at 17. "I didn't play well today, but I was able to hang around.
"I didn't drive the ball very well. I had to play a little more cautious because I was missing so many fairways."
McNeill, who had played his way into the playoff with a great 17-foot putt on No. 18 — his last hole of regulation — had a chance to win with a 20-footer for birdie at 17. But he missed, while Laird chipped to within 18 inches and made par.
So it was Laird and McNeill, and back to No. 18 as the playoff continued for a third hole.
Laird's tee shot was short of the fairway bunker on the left side. However, McNeill was in worse shape as he once again hit his tee shot to the right. This time, he was directly behind a tree.
His second shot barely stayed in play at the edge of the water hazard, but he had virtually no room to take his normal stance.
So McNeill took off his shoes, rolled up his pant legs, stuck his right leg in the water and chipped on.
"I didn't really have much choice," McNeill said. "I was lucky that the shot stayed up."
But he was still far away — 28 feet — following the chip. His par putt lipped out, giving Laird a bit of a cushion.
"I wasn't swinging it great all day," said McNeill, the 2007 Las Vegas champion who finished tied for second with Campbell. "I had been bailing out and I'm still adjusting to the changes I made in my swing. Some days, it doesn't go well for you."
Laird fared far better. His drive was in front of a fairway bunker on the left side and his approach landed 12 feet from the hole. He drained the birdie putt and became the latest to use this tournament to break through on the tour.
Laird had come close to winning earlier this year. In August, he finished tied for second at the Legends Reno-Tahoe Open. Now, he has found success in Las Vegas.
"My coach said, 'You should move to Nevada,' " Laird said.
Scott Piercy, the former Bonanza High School star who was the co-leader with Campbell going into Sunday's final round, couldn't keep up down the stretch. He imploded with a double bogey at the par-3 17th and another double bogey at the par-4 18th.
Both times, Piercy found the water. So frustrated was Piercy with his second shot at 18 that landed wet, he broke his club into two pieces.
It was a horrific end to what had been a terrific week. Piercy became a father for the third time Thursday and was looking to win for the first time on the tour. Instead, he finished in a tie for 14th place with his 2-over 73 Sunday.
"I'm obviously disappointed in my finish," Piercy said. "It would have meant the world to me to get my first tour win out here this week. But I will learn from my last two events and hopefully take advantage of these situations in the future."
But while Piercy and the others try to figure out how it got away from them Sunday, Laird always will remember what a special week this was.
"We're definitely going to celebrate big," he said. "I'd been driving the ball great all week. That's what made me win the tournament."
Contact reporter Steve Carp at scarp@reviewjournal.com or 702-387-2913.
Slideshow