Second-half surge lifts Clark over Coronado
December 2, 2013 - 11:38 pm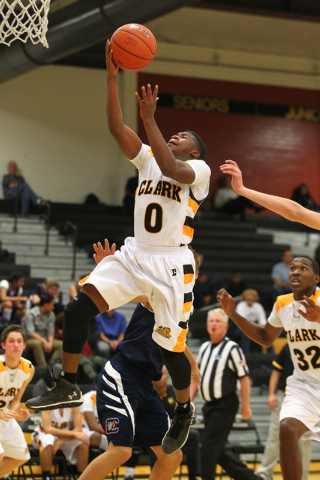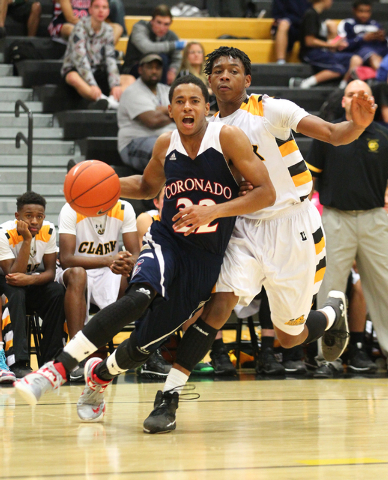 Clark boys basketball coach Chad Beeten didn't have to scream at senior forward Diontae Jones after a subpar first half Monday night.
The coach was pretty sure Jones would provide all the motivation himself.
Beeten was right, as Jones scored all 18 of his points in the second half to help the Chargers to an 83-65 home win over Coronado in the season opener for both teams.
"I didn't really say much to him, because you don't need to say much to him," Beeten said. "He's the kind of kid that knows what's going on. He knows he didn't have a great game the first half, and he knew what he had to do.
"He woke up. But I've been around Diontae for a long time, so I know what we're going to get."
The 6-foot-6-inch Jones took just three shots in the first half, and all were 3-pointers. But the Chargers got him the ball on the block to start the second half, and Jones was dominant inside from there. He was 7-for-9 from the field in the second half, and didn't take a shot outside of 15 feet.
"We said, 'Let's get him back to the bread and butter, let's get him back to what he does,'" Beeten said. "Once we did that, we were a different team."
Jones also had 11 rebounds and four steals. He had eight rebounds and three steals in the second half.
Jones wasn't the only one who changed his approach in the second half. The Chargers got the ball inside consistently in the second half in extending their 34-31 halftime advantage.
"We just took too many perimeter shots in the first half," Beeten said. "It's not that we don't want to shoot perimeter shots, because we've got a lot of good shooters. We just want them to be after everybody gets touches."
Senior Sherron Wilson carried the offense in the first half, scoring 14 of his team-high 22 points. Point guard Colby Jackson added 14 points and nine assists.
Freshman Deshawn Wilson came off the bench to add 15 points and six rebounds in his first varsity action for Clark.
"I was pretty much expecting it," Beeten said. "He's been doing it all preseason. The kid gets better and better every day. Sometimes I don't even remember he's a freshman."
Coronado senior Eddie Austin did his best to keep the Cougars in the game. Austin scored 32 points, including 13 in the fourth quarter. His 3-pointer with 3:21 to play cut the lead to 69-63, and Clark turned the ball over on the ensuing possession.
Trey Austin was fouled, but missed both free throws, and Jones converted a 3-point play on the other end to push the lead to nine and end the threat.
Austin Morgan added 12 points for the Cougars.
Contact prep sports editor Damon Seiters at (702) 380-4587 or dseiters@reviewjournal.com. Follow @DamonSeiters on Twitter.