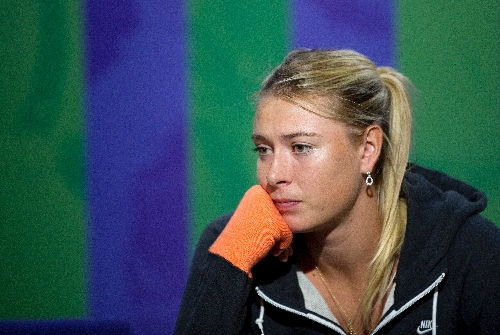 WIMBLEDON, England – All at once, there was a frenzy of activity at a wet and windy All England Club early Monday afternoon.
No. 1 seed and 2004 Wimbledon champion Maria Sharapova, a big hitter in her own right, was overpowered in a 6-4, 6-3 loss to No. 15 Sabine Lisicki. Four-time title winner Serena Williams was locked in a three-set tussle against a wild-card entry from Kazakhstan who is ranked 65th, but is responsible for the only perfect set in women's professional tennis. Defending champion Petra Kvitova was trying to come back after dropping her opening set.
Oh, and over on Centre Court, there was the not-so-insignificant matter of 16-time Grand Slam champion Roger Federer's medical timeout to get treatment for his aching back.
The start of Week 2 at Wimbledon has been dubbed "Manic Monday," because it's the only major tournament that schedules all 16 fourth-round singles matches on one day.
It sure lived up to that moniker this year, even if rain prevented five of the eight men's matches from finishing.
The most newsworthy result was the abrupt end of Sharapova's bid to become the first woman since Williams in 2002 to win the French Open and Wimbledon in the same year. Less than a month after completing a career Grand Slam in Paris to return to No. 1, Sharapova bowed out against someone she had beaten the three other times they met. She will be replaced atop the rankings next week.
"Nothing is easy. Certainly not a Wimbledon title," Sharapova said. "So I don't know if it's easier or tougher now than it was years ago, but I don't think it's ever easier."
Federer, seeking a seventh trophy at the grass-court Grand Slam, beat Xavier Malisse 7-6 (1), 6-1, 4-6, 6-3 to reach a 33rd consecutive major quarterfinal, adding to his record. After the seventh game, Federer got help from a trainer for his back. When he returned, his play didn't appear to suffer all that much, other than slower-than-usual serves. On the other hand, Federer capped the match with a 122 mph ace.
"Honestly, I'm not too worried. I've had bad backs over the years. I've been around. They go as quick as they came," he said. "But, of course, I have to keep an eye on it now."
Federer now faces No. 26 Mikhail Youzhny, a 6-3, 5-7, 6-4, 6-7 (5), 7-5 winner over Denis Istomin. Federer is 13-0 against Youzhny, who chose to look on the bright side, saying: "I have one more chance."
The only other man assured a spot in Wednesday's quarterfinals is No. 1 Novak Djokovic. The defending champion improved to 12-1 against Viktor Troicki, his doubles partner for Serbia at the upcoming London Olympics, by winning 6-3, 6-1, 6-3 under the Centre Court roof.
Two men's matches never started, and three were suspended: No. 4 Andy Murray leads No. 16 Marin Cilic by a set and a break; No. 10 Mardy Fish took the first set against No. 5 Jo-Wilfried Tsonga, and they're tied 1-all in the second; and No. 31 Florian Mayer leads No. 18 Richard Gasquet, 6-3, 2-1.
The women's quarterfinals are set for today: No. 6 Williams vs. No. 4 Kvitova, who came back to beat No. 24 Francesca Schiavone of Italy, 4-6, 7-5, 6-1; Lisicki vs. No. 8 Angelique Kerber, who ended the soon-to-retire Kim Clijsters' last Wimbledon, 6-1, 6-1; No. 2 Victoria Azarenka vs. Tamira Paszek; and No. 3 Agnieszka Radwanska vs. No. 17 Maria Kirilenko.
Azarenka, the Australian Open champion, has lost only 14 games so far. The most interesting aspect of her 6-1, 6-0 win over 2008 French Open champion Ana Ivanovic? The pigeon feathers that slowly floated down to the grass after a bird collided with the roof.
"Sometimes it can be annoying when somebody is chewing chips right when you're serving. Doesn't really matter; you just have to stay focused on your game. Whatever is going on around is going on around. It's out of your hands," Azarenka said. "But the feathers? It was fun."
In the third round, Yaroslava Shvedova won every single point – 24 of 24 – in the first set against French Open runner-up Sara Errani, the first "golden set" by a woman in the 44-year Open era. And she opened against Williams by taking the first point.
Williams still rolled in the first set, but then had to hang on for a 6-1, 2-6, 7-5 victory, winning the match's final three games after trailing 5-4 in the third.
She'll play Kvitova in a quarterfinal between the only past Wimbledon champions left in the women's draw. Williams is 2-0 against Kvitova, both straight-set victories in 2010, at the Australian Open and Wimbledon.