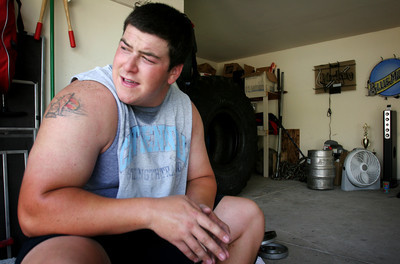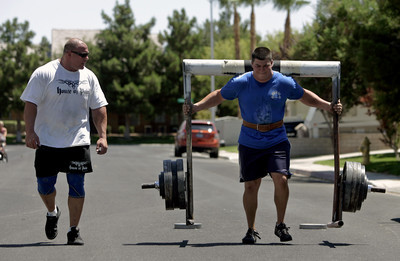 Foster Parnell weighed a tad over 200 pounds when he graduated from Centennial High School at age 16.
That didn't stop him from earning second-team all-state defensive honors as a two-way tackle in his senior season with the Bulldogs football team.
Today, the 19-year-old Parnell carries a solid 265 pounds on his 6-foot-1-inch frame but maintains the agility that helped him outmaneuver bigger linemen in high school.
A year after graduating in 2007, Parnell gained nearly 50 pounds "by eating everything I could," he says.
That's the diet, Parnell hopes, of a professional Strongman.
After winning the title of "America's strongest teenager" at the North American Strongman Teen National Championships in July, Parnell will try to become the youngest ever to earn a pro Strongman classification on Saturday and Sunday in Provo, Utah.
"He's got a legitimate shot," says Nick Best, a Las Vegan who coaches Parnell and is ranked fourth nationally by Strongman.
"I like everything about it," Parnell says of Strongman events. "It's more like real-world strength."
Instead of hitting tackling dummies on a football field, he now practices for his sport by wearing a yoke across his shoulders with 800 pounds hanging from it as he quick-steps a 60-foot dash.
Instead of high-stepping in and out of car tires to build agility, he flips an 800-pound tire along a 60-foot course.
Instead of pushing opposing linemen, he pulls trucks.
Strong and athletic
"Since the 11th grade I've wanted to be a Strongman," Parnell says. "I didn't have the implements (to practice Strongman events) or know how to make them. I started powerlifting and then I met (Best)."
Parnell recalls being a sixth-grader when he watched in awe as Best bench pressed 600 pounds in a local gym. A few years ago, they ran into each other at a body-building show, a meeting that led to Parnell's pursuit of Strongman training.
Best, 39, was the 1996 world powerlifting champion at 275 pounds and the national champ the following year. He held numerous Nevada powerlifting records.
"In Strongman, you have to be strong and athletic," Best says. "In powerlifting, you just have to push up the bar. In Strongman, you have to be strong, have endurance and more athleticism. You have to be able to move."
Powerlifting with weights on a narrow bar is challenging until weighed against the complexity of Strongman events.
Some of the vein-bulging workouts with muscle-ripping contraptions include rapid presses of a 295-pound steel contraption called the Log Roll; each hand carrying at least 275 pounds along a 60-foot course in the Farmer's Walk; traversing the same distance with a bar carried across the shoulders with several hundred pounds hanging close to the ground in the Yoke Walk; and flipping an 800-pound used tractor tire down the street.
To simulate the "truck pull," the massive tire is dragged about 60 feet.
Strongman competitions are more popular in Europe but have developed a following in the United States, where events are televised on ESPN and other cable outlets.
Only a calloused handful make a living at it. Top international competitions can pay the winner $20,000 — unless the promoter absconds with the funds, as Best says has happened to him.
Parnell doesn't care. He just wants to be the world's strongest man someday.
He always has been a strong teen; he once held the Nevada high school bench press record of 415 pounds.
This weekend in Provo, Parnell will compete in the heavyweight division for those weighing 231 pounds or more.
He has backed off in his workouts the past week to get ready for Provo.
His normal routine includes at least three hard workouts in a gym each week with standard weights and machines. But the biggest and most challenging day of the week for him is Sunday mornings at Best's home on an otherwise quiet street in northwest Las Vegas.
'trying to become superman'
Maybrook, a narrow street near Tenaya Road, transforms for a few hours into a training course for some of Southern Nevada's strongest athletes. Best's neighbors quickly came to accept the mid-morning cacophony of grunts and groans after he moved there in December.
Occasional wails along with the clang of 50-pound metal plates dropping on pavement have become as common as barking dogs.
"When you're inside, it sounds like a thunderstorm sometime until you remember it's Nick and his friends," says Vicki Cox, who lives a few houses down from Best. "It's no problem at all."
She yells encouragement when Best and Parnell are quick-stepping down the street with the "yoke."
"All the way to the Lincoln, Nick. Come on. All the way to the Lincoln," she yells. "It's really fun watching them try to become Superman."
Cox and other neighbors have become accustomed to Sunday workouts.
And anyway, who would complain to Best, who stands 6 feet 2 inches and weighs just over 300 pounds. That's about 100 pounds more than he weighed when he graduated in 1986 from Clark High School, where he played football.
competing drug-free
The second-most asked question of Parnell and Best — after the ubiquitous "What's the most you've ever lifted?" — is whether they use performance-enhancing drugs.
"I won't take anything that's a felony for me to possess," says Best, a sales supervisor for Coors of Las Vegas. Parnell said he complements his robust diet with protein supplements and nothing else.
Competing drug-free has put them at a disadvantage at times in a sport that does not drug test.
To compensate for occasionally facing "juiced" competitors, they say they just work harder and focus on technique as much as or more than strength.
Best, who doesn't have a major competition until early next year, and his coach, Callie Marunde, are mentoring Parnell.
They encourage — actually goad — Parnell during Farmer's Walk practice.
"Quick feet, quick feet, quick feet," Best yells. "Don't you drop it."
Marunde, 28, pushes Parnell with another reminder about his footwork.
"Foster is special because he listens," Best says. "And it's his inner drive. He wants to be the best, and he can be. He wants to learn, and that's two-thirds of the battle."
As intimidating as Best can be, he doesn't match the level of Marunde, a two-time national strength champion.
She understands their pain and proves it with a dozen 100-pound Log Rolls in rapid succession using every one of the thick muscles on her 5-foot-2-inch, 120-pound frame.
Then, for good measure, she flips a 400-pound tire used in women's competition end over end down Maybrook.
Just another day in Best's normally quiet neighborhood.
Contact reporter Jeff Wolf at jwolf@reviewjournal.com or 702-383-0247.
ON THE WEB Video HEAVY SCHEDULE Las Vegan Foster Parnell, 19, will have a busy weekend in Provo, Utah, in his quest to become the youngest man ever to earn professional status for Strongman competitions. Here's his agenda: SATURDAY Log Roll: Pressing 280 pounds over his head as many times as he can in 60 seconds. Tire Flip: Flipping an 800-pound tire over and over for 60 feet. Yoke Walk: Carrying a yoke-like device weighing 800 pounds across his shoulders for 60 feet. Farmer's Walk: Carrying 325 pounds in each hand over 60 feet. Stone Over Bar: Lifting 360-pound "stone" over a 52-inch high bar as many times as he can in 60 seconds. SUNDAYPress Medley: Without stopping he must carry 120-pound dumbbells, clean and press a 250-pound keg, press a 2-inch diameter axle weighing 270 pounds and press a 300-pound Log Roll. Car Dead Lift: Lift the side of a car with a 14-inch handle as many times as he can in 60 seconds. Block Load/Truck Pull Medley: He must carry a 275-pound metal block over 30 feet and place it on a 48-inch high platform, then repeat with a 315-pound block; and pull a sled (used to simulate a truck) over 60 feet.