Silverado scraps back, takes title
November 8, 2008 - 10:00 pm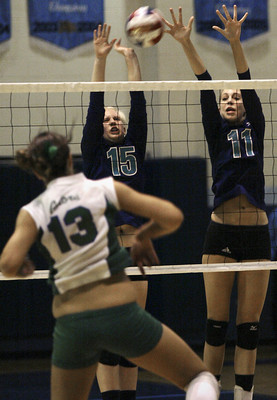 Whenever the Silverado girls volleyball team scrimmages, one side begins with a six-point lead to work on coming back from a deficit.
So when Green Valley took the first game of the Class 4A Sunrise Region championship game on Friday, it was no big deal for the Skyhawks. And when the Gators led 19-14 and threatened to extend the match to a deciding fifth game? Been there, done that, too.
Silverado dug itself out of those two holes behind junior Taylor Richard and senior Patti Flagg and went on to a 17-25, 25-18, 25-14, 26-24 win over the Gators at Centennial to capture its third consecutive regional crown.
The defending state champion Skyhawks (29-5) will play the winner of today's Northern Region championship between Bishop Manogue and Reno in the state semifinals at 8:40 p.m. Friday at Damonte Ranch in Reno.
"We spend a lot of time practicing coming from behind," Silverado coach Jennifer Boeddeker said. "We try to build the mentality that no matter what the score is, keep our side and do what Silverado knows how to do."
Richard led the Southeast No. 2 Skyhawks with 20 kills and 10 digs, while Flagg stepped up with 17 kills and 11 digs.
Green Valley (27-11), which split its two matches earlier this season with Silverado, opened the match on a 10-2 run and won the first game, but couldn't maintain the momentum. The Skyhawks led by as many as eight points in the second game and raced to an 18-7 lead before taking the third game.
The Southeast No. 1 Gators answered in the fourth game as Sydney Brozovich (eight kills) won a joust to put Green Valley on top 11-6 and the lead swelled to 19-14. After a Silverado timeout, though, the Skyhawks scored five straight points to tie the game. Green Valley then fought off three match points before a kill from Richard and a Gators hitting error ended it.
Siga Appelgate finished with 12 kills and Jena Chavez handed out 25 assists for Green Valley.
SUNSET REGION
• Durango 3, Bishop Gorman 2 — Senior Hayley Spelman finished with 40 kills and the Trailblazers ensured out-going coaches Kelly O'Quinn and Bob Kelly one more trip to the state tournament as they knocked off the Gaels 25-18, 21-25, 16-25, 25-20, 15-4 in the Sunset Region championship.
Durango (25-11), the defending state runner-up, will meet the loser of the Bishop Manogue-Reno match in the state semifinals at 7 p.m. Friday at Damonte Ranch.
O'Quinn and Kelly were honored before the match in an emotional ceremony and it appeared their careers would end when Southeast No. 1 Gorman (28-8) won the second and third games. But that's when Spelman, a Stanford recruit, took over.
After Durango used a 9-2 spurt to win the fourth game, Spelman had 10 kills and two aces in the fifth. She also had the final 11 service points as the Gaels couldn't slow down the 6-foot-6-inch left-hander.
"What a place to end it, at state," O'Quinn said.
NevadaPreps.comIn-depth high school sports coverage