Sister's memory inspires Clark star Floyd
December 17, 2014 - 10:40 pm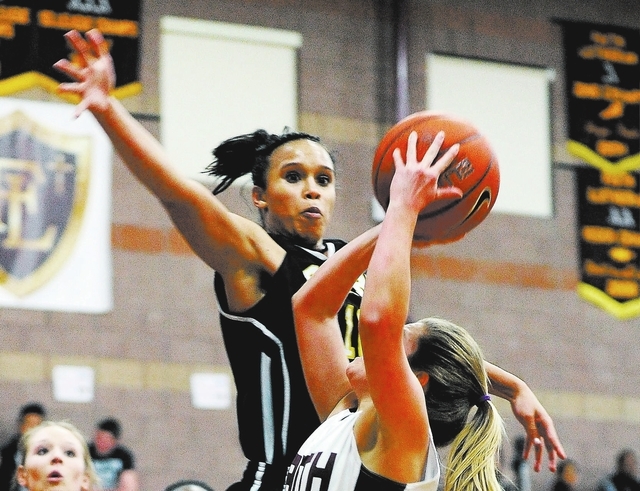 Bobbi Floyd's week was all planned out, and she couldn't wait.
First up for the Clark girls basketball senior standout was a birthday party on Dec. 7 for her 2-year-old nephew, Kash, followed two days later by a news conference at the school to celebrate Floyd signing a letter of intent last month with Delaware State. Next was the Chargers' season opener at Pahrump Valley on Dec. 10, with games also scheduled for Friday and Saturday.
But what was supposed to be a joyous time for Floyd instead turned somber early in the morning on Dec. 8.
"It was 2:28 to be exact," Floyd said.
Floyd's older sister Monique Gittens died unexpectedly at age 24, just hours after attending her son's birthday party. Floyd said Gittens died of cardiac arrest en route to the hospital, though the cause of death is pending, according to the Clark County coroner's office.
Floyd, who grew up idolizing her sister, said this week she is dedicating the season to Gittens.
"I looked up to her more than probably my parents," Floyd said. "Everything she did, I wanted to do. Everything she wore, I wanted to wear. She was my best friend, just like she was my sister. We always had each other's back.
"My whole senior year is for her. Before I play, I always sit down and think. I talk to her through myself. She's my main focus, regardless of a win or a loss. It's all about her right now. I feel like she'll always be with me regardless of where I go, what I do or how I play."
Gittens, who also went to Clark, regularly attended her sister's games. During Floyd's sophomore season, Gittens even made the eight-hour trip to Reno to watch the Chargers compete in the Silver State Slam tournament a little more than two weeks after Kash was born.
Floyd, a 6-foot-1-inch wing player, was overcome with emotion on several occasions at her signing celebration, which came a day after Gittens' death. During warmups before the start of Clark's game at Pahrump Valley, Floyd broke down at the free-throw line when she touched the initials of her sister that are written on her shoes.
"Before the game, she was being extremely strong, but I could see she was ready to lose it," Clark coach Mike Moulchin said. "I didn't want her to break down in the gym … and I told her team, 'I'd rather have her break down back here (in the locker room) with family. Take care of her.' "
Floyd got a tattoo last week that is an exact replica of one Gittens had — it reads, "It was Monique" — and missed Saturday's game against Valley to attend her sister's funeral. Floyd played in Monday's loss to Spring Valley, scoring nine points, but was rested by Moulchin for most of the second half.
"The team, they support me," Floyd said. "They know what I went through. They understand maybe I'm not at 100 percent right now, but they're like, 'We'll always be there for you. We're always going to help you.' They're my family."
Floyd, who was a cheerleader like Gittens until she joined the basketball team at Cashman Middle School in eighth grade, was the Division I-A Southern Region Most Valuable Player as a junior after averaging 19.8 points and 14.7 rebounds. She said her goals this season are to average 24 points (Gittens' age) and 15 rebounds (Gittens' birthday was Jan. 15).
"The coaching staff, players, they've always been that shoulder right there that whenever I need something or something is on my mind I can go to them," Floyd said. "My whole support system is just strong. Maybe some people might not be able to deal with what's going on if they're in my shoes, but I feel like losing her made me become a stronger person."
Contact reporter David Schoen at dschoen@reviewjournal.com or 702-387-5203. Follow him on Twitter: @DavidSchoenLVRJ.