Skyhawks hold off Spartans in opener
December 3, 2008 - 10:00 pm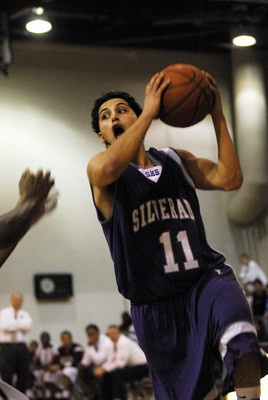 Sometimes an early season basketball game is all about lessons learned.
Silverado coach Ron Childress hopes his team learns from Tuesday's season opener.
The Skyhawks turned the ball over eight times in the fourth quarter but held on for an 80-74 road win over Cimarron-Memorial.
"I'll attribute our bad performance to the first game of the season," Childress said. "We will clean it up.
"It's got to be our worst game of the year. First and worst."
The Skyhawks led 63-51 after three quarters, but the turnovers helped Cimarron pull back into the game.
The Spartans got as close as five after a Kevin Olekaibe 3-pointer with 12 seconds to go. Olekaibe scored 18 of his game-high 33 points in the fourth quarter.
"You can't play late into the season not taking care of the ball, because you play better and better teams every day," said Silverado senior forward Wade Collie, who had a team-high 29 points with 13 rebounds and seven assists. "A better team would have won this game."
Silverado senior point guard Ali Sabra added 25 points, 14 rebounds, seven assists and four steals.
"Ali rebounded very well today," Collie said. "He outrebounded me. But as a team, we didn't rebound well at all. It's something we've got to go back and work on."
Even though Collie and Sabra combined for 54 points, 27 rebounds and 14 assists, Childress said the senior duo can perform better.
"I expect more out of Wade and Ali," Childress said. "It's the leadership of the seniors. If they're not doing it, we can't expect anybody else to do it."
Brayden Quackenbush added 22 points for Cimarron.
Contact Prep Sports Editor Damon Seiters at dseiters@reviewjournal.com or 702-380-4587.
NevadaPreps.comIn-depth high school sports coverage
TUESDAY'S HIGHLIGHTS BOYS Mojave's Anthony Marshall had 15 points, 11 assists and 10 rebounds in the Rattlers' 66-41 win at Rancho. Liberty's Milos Knezevic had 23 points and 21 rebounds to lead the Patriots to a 72-63 home win over Arbor View. Desert Oasis' Cameron Jefferson had 16 points and 20 rebounds to help the Diamondbacks defeat Del Sol 72-66 for their first varsity win. GIRLS Boulder City's Caiti Forrester had 38 points and five steals in a 61-34 road victory over River Valley (Ariz.). Liberty's Daynice Cochran had 15 points and 23 rebounds as the Patriots beat visiting Arbor View, 52-37. Foothill's Mercedes Starr hit six 3-pointers and scored 22 points in a 60-27 home victory over Cheyenne.