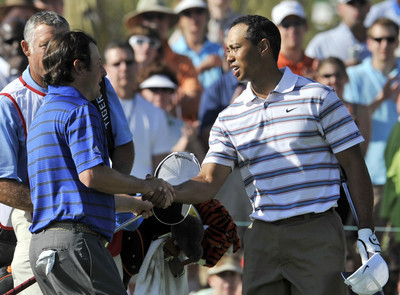 MARANA, Ariz. — The plane was a nice touch, even if it was a day late. It circled lazily above the Arizona desert as Tiger Woods made his way around the front nine, towing a banner welcoming the greatest player of his time back to the game that has missed him so much.
There didn't seem any need to rush. Woods showed the day before that his game was as good as ever, and nothing in either the swing or attitude of a South African who never has won on the PGA Tour indicated he would end up as anything but another hapless victim as Woods continued his triumphant return to golf.
Tim Clark looked like the guy who might be buying a beer in front of you at the concession stand instead of battling Woods on the fairways. If a caddie carrying a big bag with his name on it didn't follow him closely, the marshals clearing the way for Woods between holes might have stopped him and given him a lecture about trying to sneak inside the ropes.
Beat Tiger Woods? Clark stood a better chance of getting his autograph.
The beauty of golf, though, is that anything can happen. Woods has been saying it for years, even if we didn't always believe it.
Because until Thursday it hardly ever happened to him.
Clark changed that with the round of his life, shocking Woods with a back-nine barrage of birdies that short-circuited what was expected to be a five-day celebration of all things Tiger amid the pristine fairways and giant saguaro cactuses north of Tucson. As Woods left, so did the fans, streaming from the course by the thousands even while other matches went on at the Accenture Match Play Championship.
One of the most anticipated returns in sports ended 16 holes into its second day, much to the dismay of tournament organizers and network executives. The buzz generated by Woods' first competitive rounds since limping his way to victory in the U.S. Open eight months ago had provided a stimulus the sport desperately needed, though it was short-lived.
Clark was feeling pretty good about things, And, almost surprisingly, so was Woods.
His exit was untimely, but his knee felt great. He lost but thought he hit the ball as good as ever.
And green jackets aren't given out in Arizona anyway.
"I was very pleased that walking down the cart paths and obviously playing, getting some rhythm of playing, that I have no soreness, no pain," Woods said. "Now it's just a matter of getting back and playing and playing more rounds."
Those rounds likely will take place in Florida over the next month or so as Woods prepares himself for the Masters, though he purposely was vague about his future plans. Typically, though, he plays at Doral and at Bay Hill to begin sharpening his game for Augusta National, and nothing indicates he'll do anything differently this time around.
By then, the frenzy that surrounded his return largely will have subsided. It already seemed that way on Thursday, when the crowds and the media mob weren't nearly as large as they were the day before when Woods beat Brendan Jones.
The story line will change, too, as it shifts from Woods' surgically repaired left knee to speculation about whether he can add to his 14 major championship titles and surpass the record of 18 set by the great Jack Nicklaus. If Woods can add even one or two majors to his collection this year, he'll not only close in on a childhood goal but inch closer to winning the consensus, if mythical, title of greatest golfer ever.
His peers already acknowledge him as such, talking about him in reverential terms, always careful not to say anything that will trigger his long memory. Clark was no exception after a round played so beautifully that he couldn't recall a shot he didn't hit where he wanted to.
"I put a lot of iron shots pretty close, and I think perhaps he wasn't expecting that," Clark said. "But I don't think I'm ever going to intimidate Tiger, let's put it that way."
Usually it's Woods who is doing the intimidating, though on this day the 5-foot-7-inch player with a bit of a belly struck a blow for the hopes of challengers everywhere by doing what most thought he had no chance of doing. Even more shocking, perhaps, was how easy it seemed and how quickly it ended.
Woods seemed to want to get away even quicker, taking a few questions before leaving a course that suddenly didn't look nearly as welcoming as it did a few days earlier.
Thirty-two holes into his comeback, he had some plans he hadn't anticipated waking up on this morning.
Asked what he would do next, Woods didn't waste any words.
"Go to the airport," he said.
Tim Dahlberg is a Las Vegas-based national sports columnist for The Associated Press. Write to him at tdahlberg@ap.org.