Sparse crowd sees Las Vegas Locos roll over Omaha
October 3, 2012 - 11:09 pm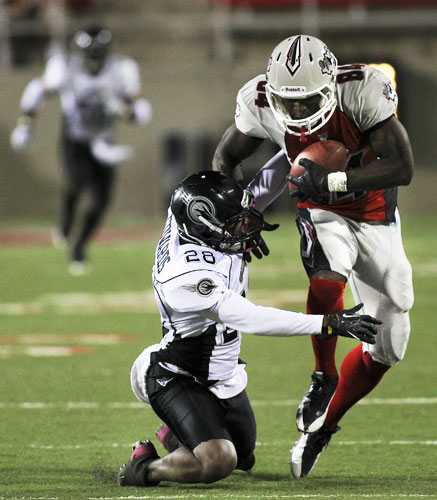 If a train whistle is blown at 36,000-seat Sam Boyd Stadium each time the Locomotives score and no one is around to hear it, does it make a sound?
We're not sure, but the whistle emanating from the miniature locomotive inside the stadium was heard loud and clear Wednesday night by the several hundred fans who turned out to witness Las Vegas' dominant 41-6 victory over the Omaha Nighthawks.
The crowd wasn't announced, but a Locos spokesman said it was 601 at kickoff, and it was probably less than that.
When the United Football League game started at 6 p.m. – coinciding with the start of the first presidential debate – there were nearly as many people on the sidelines as in the stands.
"Obviously I want a bigger crowd, and I know it will always be a late-arriving crowd," Las Vegas coach Jim Fassel said. "I don't know how much the presidential debate (affected it), but we haven't marketed it. We haven't been able to, but we will now, and the fans that are there are awesome."
As for the game itself, there was no debating which was the better team. The Locos (2-0) scored two defensive touchdowns in the first 5:11 en route to a 24-0 lead after the first quarter.
On Omaha's first play from scrimmage, Kenny Cameron caught a pass from quarterback Jason Boltus near the sideline, but Las Vegas cornerback Wale Dada ripped the ball away and sprinted 58 yards for a score.
The Locos made the score 14-0 a few minutes later when Jack Williams intercepted Boltus at midfield and returned it for a touchdown.
"Our defense was outstanding," Fassel said. "When you get turnovers and turn them into touchdowns, that's huge."
Las Vegas, which finished with three sacks and three interceptions, has outscored its first two opponents, 60-12.
"This may be our best team," said Fassel, who has led the Locos to two UFL titles and an appearance in last season's championship game.
Titus Ryan had a big first half for the Locos, with three catches for 159 yards and a score. He made a 53-yard catch to set up Clint Stitser's first-quarter field goal and reeled in a pass from Chase Clement at midfield in the second quarter before shedding Nighthawks cornerback Dovonte Edwards on his way to a 94-yard touchdown.
Clement completed 8 of 15 passes for 230 yards and a touchdown with an interception.
"Chase threw the ball extremely well, and we made some big plays," Fassel said. "This is the best receiving corps we've had, for sure."
Hakim Hill scored on a 24-yard run for the Locos, and Nic Grigsby scored from 5 yards out.
Boltus completed 16 of 34 passes for 200 yards for the Nighthawks (1-1), and G.J. Kinne was 6-for-15 for 53 yards and two interceptions.
Las Vegas, the league's lone unbeaten team, will play its next three games on the road before hosting Omaha on Oct. 31.
Contact reporter Todd Dewey at tdewey@reviewjournal.com or 702-383-0354.
LAS VEGAS – 41
OMAHA – 6
KEY: The Locos scored two defensive touchdowns in the first 5:11 and led 24-0 after the first quarter.
NEXT: Locos at Sacramento, 6 p.m. Wednesday, Raley Field