Derek Jeter returns to site of (ahem) hole-in-one
Updated April 19, 2017 - 5:09 pm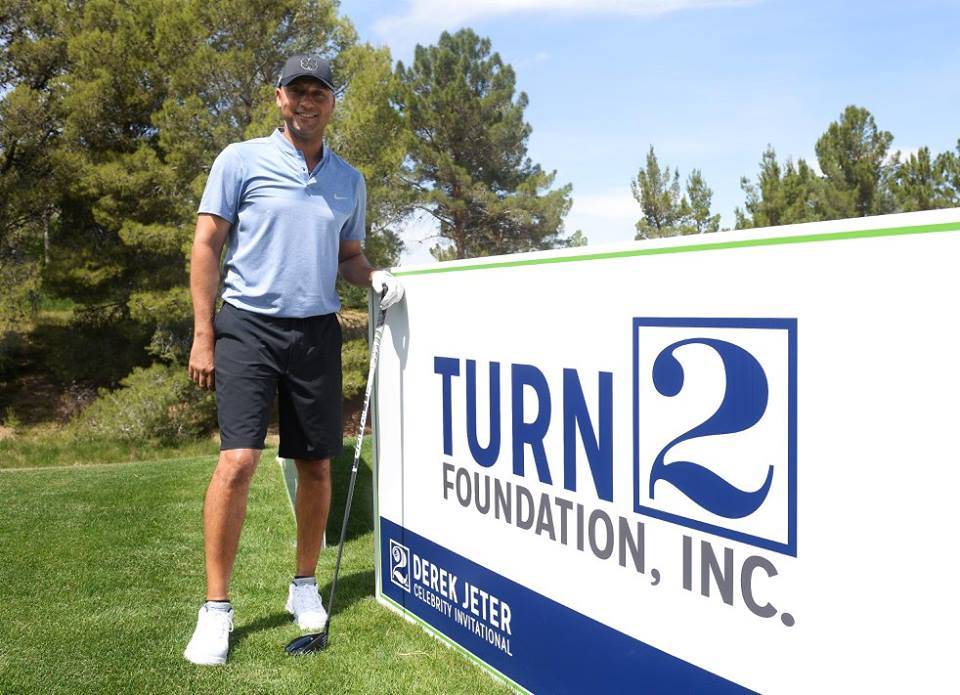 A year ago, Derek Jeter made a hole-in-one on the par 3, 17th hole at Shadow Creek during the annual celebrity invitational he hosts to raise funds for his Turn 2 Foundation.
Or did he?
In a social media video that went viral, Jeter is shown celebrating with members of his foursome and others gathered on the tee box. Jeter even posed with the SUV he "won" for making the ace.
It was clear the video was staged, and Jeter, who is hosting the event at Shadow Creek this week, admitted as much during an appearance on "Late Night with Seth Meyers" shortly after last year's tournament.
"I hadn't hit a good shot all day, and we had the Player's Tribune video crew following us during the tournament," Jeter told Meyers. "So I told my group, 'Now, we're in Vegas, and this is a Vegas golf tournament. No matter where I hit this shot, just act like it's a hole-in-one.'
"Actually, it was the best shot I hit all day, and I was thinking, 'Hey, that might have a chance.' Some people in the group started cheering a little early, but we played it off pretty well."
Some of Jeter's friends scheduled to play in the tournament, which starts Thursday, are Marcus Allen, Ray Allen, Anthony Anderson, Brandi Chastain, Don Cheadle, Ken Griffey Jr. and Ivan Rodriguez. The stars enjoy supporting Jeter's foundation, but Las Vegas is always a key ingredient in attracting a high-profile field.
"The tremendous support that we continue to receive from so many celebrities and athletes is a huge reason why we are returning to Las Vegas for another year of this special event and have the opportunity to continue this tradition for the next two years," Jeter said.
Like many who take up golf, Jeter is hooked. He started playing seriously in 2015.
"I'm obsessed," Jeter said in a Golf Digest article in November. "It's frustrating. It's probably the most frustrating thing I've done because the ball's not moving. I should be able to hit it. I can hit it, but it doesn't go where I want it to go. I'm addicted to trying to improve."
Junior opening day
The start of the PGA Junior League is 10 a.m. Saturday at TPC Las Vegas. Any junior can attend and watch trick shot artist Dennis Walters and enjoy other events.
Do you have short game?
The inaugural Southern Nevada Golf Association Short Game Championship is April 28 at Desert Willow Golf Club, an executive course with 12 par 3 and six par 4 holes. The tournament is open to all golfers, and championship and net divisions will be included. Each par 3 hole will feature a closest-to-the-hole prize.
Register at SNGA.org.
Be a Rebel
Membership is open for the UNLV Men's Golf Foundation, and entries are being accepted for the Race to Hawaii promotion. Depending on the level, memberships include a spot in Rebels Golf Day at Las Vegas Country Club, Rebels gear and a short game clinic with coach Dwaine Knight.
The Race to Hawaii Birdie Challenge gives golfers the chance to guess how many birdies and eagles the team will make during the 2017-18 season. The winner receives a trip with the team to Hawaii. Visit UNLVMensGolf.com for details or call 702-895-1081.
Deal of the week
Play in the TaylorMade Golf Experience eight-week Tuesday night league starting April 25 for $150 and get nine holes with cart and range balls weekly, plus a free round upon registration.
Stars on, off course
UNLV sophomore Harry Hall, who is from Hayle, England, will represent Europe in the Palmer Cup from June 9 to 11 at Atlanta Athletic Club. He is the eighth player or coach from UNLV to participate in the event.
The golf notebook appears Thursdays. Freelance writer Brian Hurlburt is a two-time author who has covered golf in Las Vegas for more than two decades. Story ideas can be sent to bhurlburt5@gmail.com.
Calendar
Thursday: Nevada Broadcasters Association Tournament, Las Vegas National
Thursday: SNJGA Benefit Clinic, Desert Willow
Thursday-Saturday: Derek Jeter Invitational, Shadow Creek
Friday-Sunday: UNLV men's golf, Mountain West Championship, Tucson, Ariz.
Saturday: Nothing Bundt Cakes SNGA Social Series, Rio Secco
Saturday: PGA Junior League Kick-Off, TPC Las Vegas
Sunday: Golfweek Amateur Tour, Aliante
Tuesday: TaylorMade Golf League, TaylorMade Golf Experience
Wednesday: National Golf Day, various courses
April 28: SNGA Short Game Championship, Desert Willow
April 30: Golf Channel Mountain Classic, Mountain Falls
May 2: SNGA Social Series, Los Prados
May 6: Henderson Police Charity tournament, Legacy
May 6, 7: SNGA Nye County Amateur, state qualifier, Mountain Falls
May 6, 7: Southern Nevada Junior Golf Nye Classic, Mountain Falls
May 7: Golfweek Amateur Tour, Reflection Bay
May 8: U.S. Open Qualifier, TPC Summerlin
May 13: Golf Channel Southwest Open, Rhodes Ranch
May 15: Annual United Way tournament, Red Rock Country Club
May 19: U.S. Golf Classic Qualifier, Royal Links
May 19, 20: Tiger Jam, Shadow Creek
May 20: A Level Playing Field charity tournament, Bear's Best
May 20, 21: IMG Junior World Qualifier, Wildhorse
May 25: SNGA Tour, State Qualifier, Chimera
June 13: HELP of Southern Nevada Golfer's Roundup, Cascata
Pro schedule
PGA Tour
What: Valero Texas Open.
When: Thursday, Friday, 12:30-3:30 p.m. (Golf Channel). Saturday, Sunday, 10-11:30 a.m. (Golf Channel); noon-3 p.m. (KLAS-8).
Where: TPC San Antonio, AT&T Oaks Course (7,435 yards, par 72), San Antonio
Purse: $6.2 million (First place: $1,116,000).
Defending champion: Charley Hoffman.
Last week: Wesley Bryan won the RBC Heritage.
Next week: Zurich Classic.
PGA Tour Champions
What: Bass Pro Shops Legends of Golf.
When: Friday, 9 a.m.-noon (Golf Channel). Saturday, Sunday, 2-4 p.m. (Golf Channel).
Where: Buffalo Ridge Springs (7,026 yards, par 71); Top of the Rock Par 3 (2,840 yards, par 27), Ridgedale, Mo.
Purse: $2.4 million (First prize: $230,000 each).
Defending champions: Michael Allen and Woody Austin.
Last week: Stephen Ames won the Mitusbishi Electric Classic.
Next tournament: Insperity Invitational, May 5-7.
LPGA Tour
What: No tournament this week.
Last week: Cristie Kerr won the LPGA Lotte Championship.
Next week: Volunteers of America Texas Shootout.