Las Vegan Max Marsico overcomes injuries to make Web.com Tour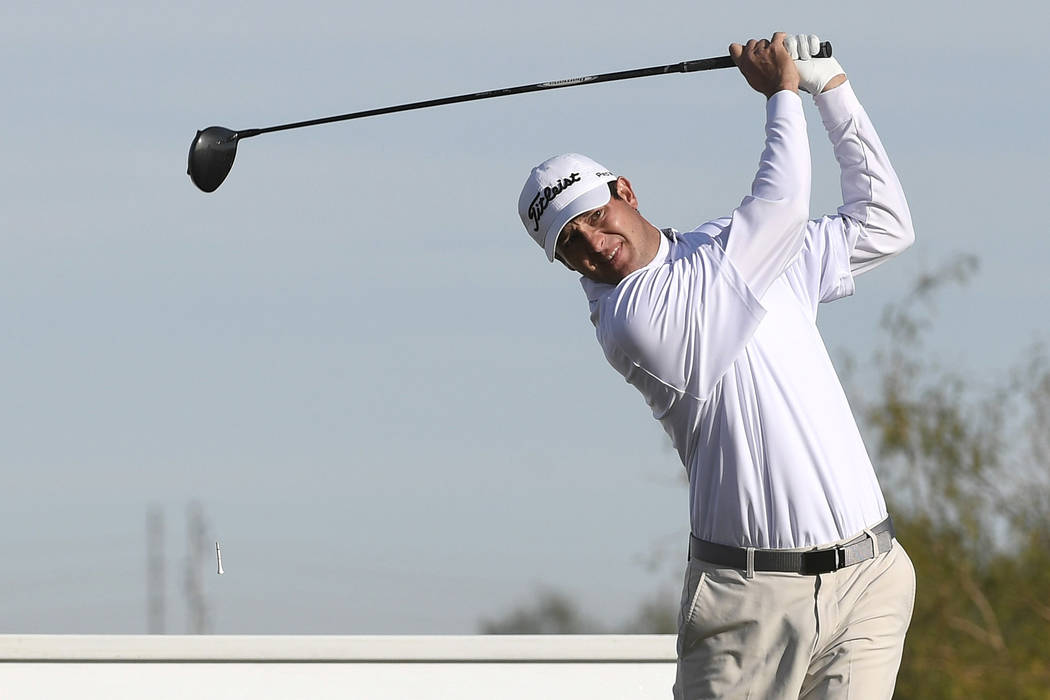 Las Vegas resident Max Marsico is living his dream of playing professional golf, but family and friends would have understood if he had given up after suffering a vertebrae fracture at age 15.
Or if he had put his clubs away for good a few years later when he was sidelined for 18 months with a mysterious injury. Life was miserable during that stretch in 2013 and 2014.
"I was misdiagnosed for a long time," said Marsico, who plays on the Web.com Tour. "I kept going through rehab, but when I had some improvement, the pain would return. I finally went to Tom Boers, a physical therapist in Georgia, in 2014. He immediately told me I had a locked facet joint.
"At the end of three days, he took me to the range and I was able to hit balls. During the previous 18 months, I could barely practice putting. The first morning I woke up and noticed it, I pretty much couldn't get out of bed. It had locked up my entire left side. I couldn't turn, and my body was completely shut down. He fixed my posture and how I stood over the ball. Since then, I haven't had an issue."
The 26-year-old estimates he has missed four years of competitive golf, but despite the setbacks, he had a terrific amateur career and appears to be just getting started as a professional.
Marsico graduated from The Meadows High School, but played mostly junior golf tournaments as opposed to high school golf and won 50 times. He won three tournaments at the University of Penn. He graduated from Penn's Wharton School of Business in 2014.
He then returned home and won the 2014 Southern Nevada Golf Association Championship and the 2015 SNGA Tournament of Champions before turning professional.
Marsico earned exempt status on the 2018 Web.com Tour in December by finishing 10th at the qualifying tournament at Whirlwind Golf Club in Chandler, Arizona.
Two weeks ago, Marsico finished a career-best 11th at the Savannah Golf Championship in Georgia. He has made the cut in three of seven tournaments and is 78th on the money list with $15,625.
"I've learned a lot, and it is funny how golf cliches like 'one shot at a time' and others are so incredibly accurate about what a pro golfer experiences on a shot-to-shot, round-to-round, week-to-week, month-to-month basis," Marsico said. "You can't let anything get you too far down."
Juniors to play Reflection Bay
The American Junior Golf Association Las Vegas Championship will be played May 26 to 28 at the Jack Nicklaus-designed Reflection Bay Golf Club at Lake Las Vegas. The event will feature some of the nation's top male and female golfers from ages 12 to 19.
A benefit junior-am will be May 25. Teams of four paired with a junior are $500. Contact Eric Dutt at edutt@reflectionbaygolf.com for more information.
Stars on, off course
LPGA Tour players Danielle Kang, Michele Wie and Allison Lee took over social media promoting the MGM Resorts International M Life. They were shown enjoying room service in bed and eating at Lago at Bellagio, among other staged scenes.
The golf notebook appears Wednesdays. Freelance writer Brian Hurlburt is a two-time author who has covered golf in Las Vegas for more than two decades. He can be reached at bhurlburt5@gmail.com or @LVGolfInsider.
Local schedule
Saturday, Sunday: UNLV men, The Thunderbird, Phoenix
Sunday: Legacy Challenge, Golf Channel Tour, Legacy
Monday: SNGA Social Series, DragonRidge
Tuesday: SNGA Tour, Nevada State Qualifier, Aliante
Tuesday: UNLV Football Foundation Tournament, Spanish Trail
April 16-18: UNLV women, Mountain West Championships, Rancho Mirage, Calif.
April 18-21: Derek Jeter Celebrity Invitational, Shadow Creek
April 20-22: UNLV Men, Mountain West Championships, Bremerton, Wash.
April 21: PGA Junior League Kick-Off, TPC Las Vegas
April 21, 22: IMG Junior World Qualifier, Wildhorse
April 21, 22: SNGA Nye County Championship, Mountain Falls
April 28, 29: RecruitLook Sunrise Junior Championship, Club at Sunrise
April 29, 30: Wish Upon a Par 24 Hour Marathon, Angel Park Cloud Nine
May 5: Reflection Bay AJGA Qualifier, Reflection Bay
May 5, 6: SNGA Boulder City 4-Ball, Boulder City Golf Course
May 7: U.S. Open qualifier, Canyon Gate
May 10: SNGA Tour (state amateur qualifier No. 2), Chimera
May 14, 15: Women's SNGA Senior Amateur, Chimera
May 18, 19: Tiger Jam, MGM, Shadow Creek, Topgolf
May 19, 20: Girls/Boys Junior America's Cup qualifier, Legacy
May 25: AJGA Junior-Am Fundraiser, Reflection Bay
May 26-28: AJGA Las Vegas Championship, Reflection Bay
May 28-31: Mesquite Amateur, CasaBlanca
June 5, 6: Big I Junior qualifier, Boulder Creek
June 11: United Way Benefit, Spanish Trail
Pro schedule
PGA Tour
What: RBC Heritage.
When: Thursday, Friday, noon-3 p.m. (Golf Channel). Saturday, Sunday, 10-11:45 a.m. (Golf Channel), noon-3 p.m. (NBC Sports).
Where: Harbourtown GL, Hilton Head Island, S.C.
Defending champion: Wesley Bryan.
LPGA Tour
What: Lotte Championship.
When: Wednesday-Saturday, 4-8 p.m. (Golf Channel).
Where: Ko Olina Golf Course, Kapolei, Hawaii.
Defending champion: Cristie Kerr.
PGA Tour Champions
What: Mitsubishi Electric Classic.
When: Friday, 9-11:30 a.m. (Golf Channel), Saturday, Sunday, noon-3 p.m. (Golf Channel).
Where: TPC Sugarloaf, Duluth, Ga.
Defending champion: Stephen Ames.