Mesquite to host professional long drive event in June
Updated March 9, 2017 - 12:27 am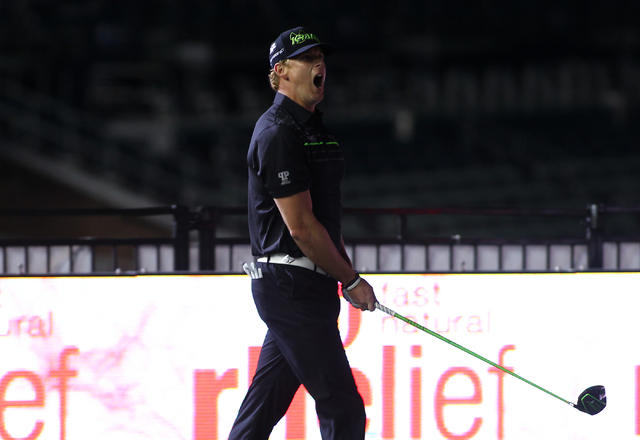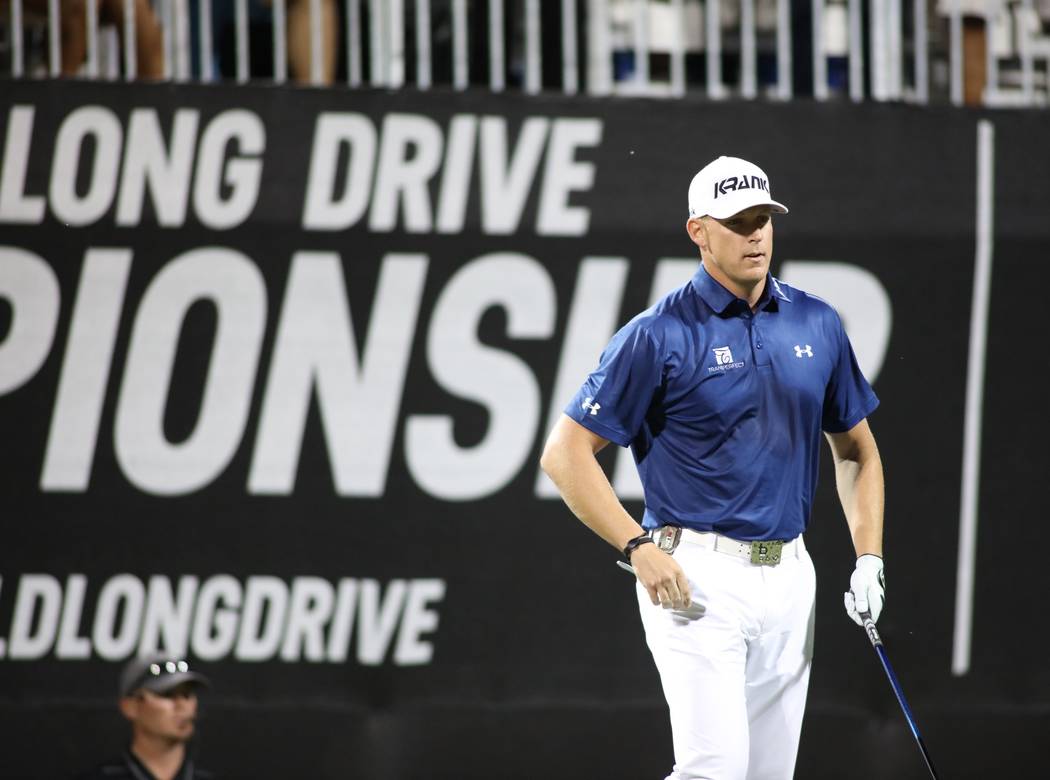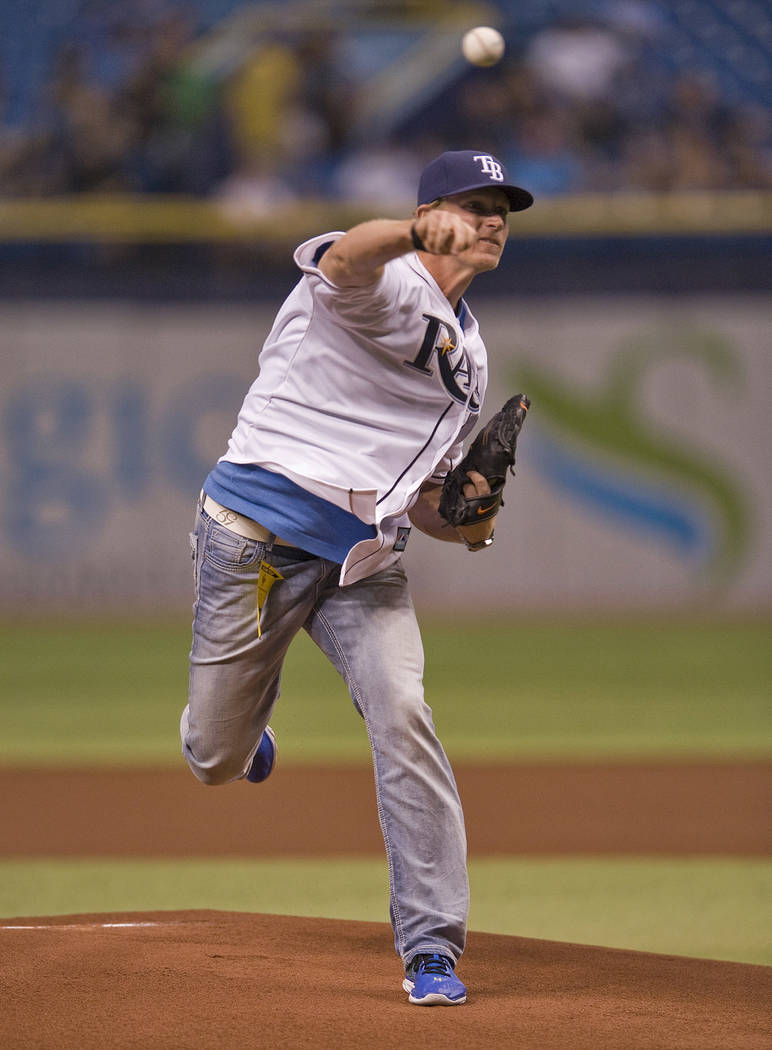 Professional long drive is returning to Mesquite this year with the "Clash in the Canyon."
The event, scheduled for June 3-6 at the Mesquite Regional Sports Complex, will be televised live by The Golf Channel. Mesquite is widely regarded as the unofficial home of professional long drive.
The new tournament is the first of three long drive events scheduled to air live and in prime time on the Golf Channel this year, the first time multiple events are to air on live TV in the same year. The women's division also will air live on the Golf Channel for the first time.
The annual RE/MAX World Long Drive Championship was in Mesquite from 1997 to 2012. From 2008 to 2012, the finals were at the regional sports complex, a facility built to serve as the event's official home. The finals moved to Las Vegas Motor Speedway in 2013 and now are at WinStar Resort in Oklahoma.
The new Mesquite competition is one of eight qualifying events before the $270,000 finals in September. The Mesquite prize purse for the open division will be $50,000, and the women's purse is $15,000. A masters division featuring 16 legends also will have a $15,000 purse.
"Mesquite is a location that for many years has maintained a deep connection to long drive, so it's fitting that the creation of this new event in partnership with Golf Mesquite Nevada will return the sport to such a familiar place in its history," Golf Channel senior vice president of programming Phil Piazza said.
Two-time world champion Tim Burke, a former University of Miami pitcher from Orlando, Florida, plans to be in the field of 32 in Mesquite.
"The gorgeous grid in the canyon glowing under the lights is the first thing that comes to mind when I think about hitting in Mesquite again," Burke said. "It's the best grid we hit on, and live shows like this are going to help elevate the sport to the next level. Going back to Mesquite also reminds me of coming in second by a few yards in 2012. I feel like I should have three world titles right now."
The Golf Channel purchased the rights to the world long drive championship from Las Vegas Golf Hall of Fame member Art Sellinger last year.
DEAL OF THE WEEK
Dynamic pricing is available at Siena and Arroyo golf courses. That means the sooner tee times are reserved online — within a 14-day window for locals — the lower the rates.
PGA JUNIOR LEAGUE
Teams are being formed for the PGA Junior League. Young golfers play in a team environment, and local PGA of America and LPGA teaching professionals provide coaching. The first day is scheduled for April 22 at TPC Las Vegas, but registration ends March 31. See pgajlg.com for more information.
POLICE HONOR GUARD EVENT
The sixth annual Henderson Police Department charity tournament to benefit the Henderson Police honor guard is scheduled for May 6 at Legacy Golf Club. To reserve a team, email friendsofhpd@gmail.com.
HALL OF FAME SCHOLARSHIP
Applications from graduating high school golfers are being accepted for the annual Las Vegas Golf Hall of Fame Bill Walters Scholarship. The scholarship is for $5,000, and an application can be downloaded from lvjga.org or nevadacf.org.
STARS ON, OFF COURSE
Mike Davis, who has won several instructor of the year awards, will be inducted into the Pacific Northwest Golf Association Hall of Fame this year. He played college golf with fellow Las Vegas Hall of Famer Jack Sheehan at Oregon.
The golf notebook appears Thursdays. Freelance writer Brian Hurlburt is a two-time author who has covered golf in Las Vegas for more than two decades. He can be reached at bhurlburt5@gmail.com.
CALENDAR
Friday, Saturday: UNLV men's golf at Jackrabbit Invitational, Siena
Friday-Sunday: UNLV women's golf at Mountain View Invitational, Tucson, Ariz.
Saturday, Sunday: SNGA Summerlin Amateur, Golf Summerlin
March 18, 19: UNLV men's golf at the Thunderbird, Tempe, Ariz.
March 22: Women's SNGA Mountain Falls Fun Day, Mountain Falls
March 25: Golf Channel Spring Classic, Highland Falls
March 25, 26: Recruit Look Junior North Las Vegas, Aliante
March 26,27: Golf to a Cure Golf Classic, DragonRidge
March 29: SNGA Tour, Wildhorse
April 1, 2: SNGA Sunrise Throwback, Club at Sunrise
April 4: UNLV RAF Scholarship Golf Classic, Southern Highlands
April 5: Women's SNGA, Desert Willow
April 11, 12: Recruit Look Boulder City Junior Championship, Boulder City Golf Club
April 15: Golf Channel March on Concord, Revere
April 15, 16: Future Champions Golf Tour, Primm Valley
April 19: UNLV Football Foundation Tournament, Spanish Trail
April 19: Women's SNGA Black Mountain Invitational, Black Mountain
April 19-22: Derek Jeter Invitational, Shadow Creek
April 22: PGA Jr. League Kick-Off, TPC Las Vegas
April 26: National Golf Day, various courses
April 28: SNGA Tour, Desert Willow
May 6: Henderson Police Charity tournament, Legacy
May 6, 7: Southern Nevada Junior Golf Nye Classic, Mountain Falls
May 19: U.S. Golf Classic Qualifier, Royal Links
May 19, 20: Tiger Jam, Shadow Creek
May 20, 21: IMG Junior World Qualifier, Wildhorse
May 20: A Level Playing Field charity tournament, Bear's Best
June 13: HELP of Southern Nevada Golfer's Roundup, Cascata
PRO SCHEDULES
PGA TOUR
What: Valspar Championship.
Where: Innisbrook Golf Resort, Copperhead Course (7,340 yards, par 71), Palm Harbor, Florida.
When: Thursday, Friday, 11 a.m.-3 p.m. (Golf Channel). Saturday, Sunday, 10 a.m.-noon (Golf Channel), noon-3 p.m. (KSNV-3).
Purse: $6.3 million (First prize $1,134,000).
Defending champion: Charl Schwartzel.
Last week: Dustin Johnson won the WGC-Mexico Championship.
Next: Arnold Palmer Invitational, March 16-19.
EUROPEAN TOUR/ASIAN TOUR
What: Hero Indian Open.
Where: DLF Golf and Country Club (7,004 yards, par 72), New Delhi, India.
When: Wednesday, 9:30-11:30 p.m. (Golf Channel). Thursday, 1-4 a.m., 9:30-11:30 p.m. (Golf Channel). Friday, 1-4 a.m., 9:30-11:30 p.m. (Golf Channel). Saturday, 11:30 p.m. (Friday)-4 a.m. (Golf Channel). Sunday, 12-4:30 a.m. (Golf Channel).
Purse: $1,750,000.
Defending champion: Shiv Chawrasia.
Last week: Dean Burmester won the Tshwane Open.
Next: WGC-Dell Technologies Match Play, March 22-26.
LPGA TOUR
What: No tournament this week.
Last week: Inbee Park won the HSBC Women's Champions in Singapore.
Next: Bank of Hope Founders Cup in Phoenix, March 16-19.
PGA TOUR CHAMPIONS
What: No tournament this week.
Last tournament: Fred Couples won the Chubb Classic.
Next: Tucson Conquistadors Classic, March 17-19.