A whiteout love affair between a town and its Winnipeg Jets
Updated May 13, 2018 - 6:39 pm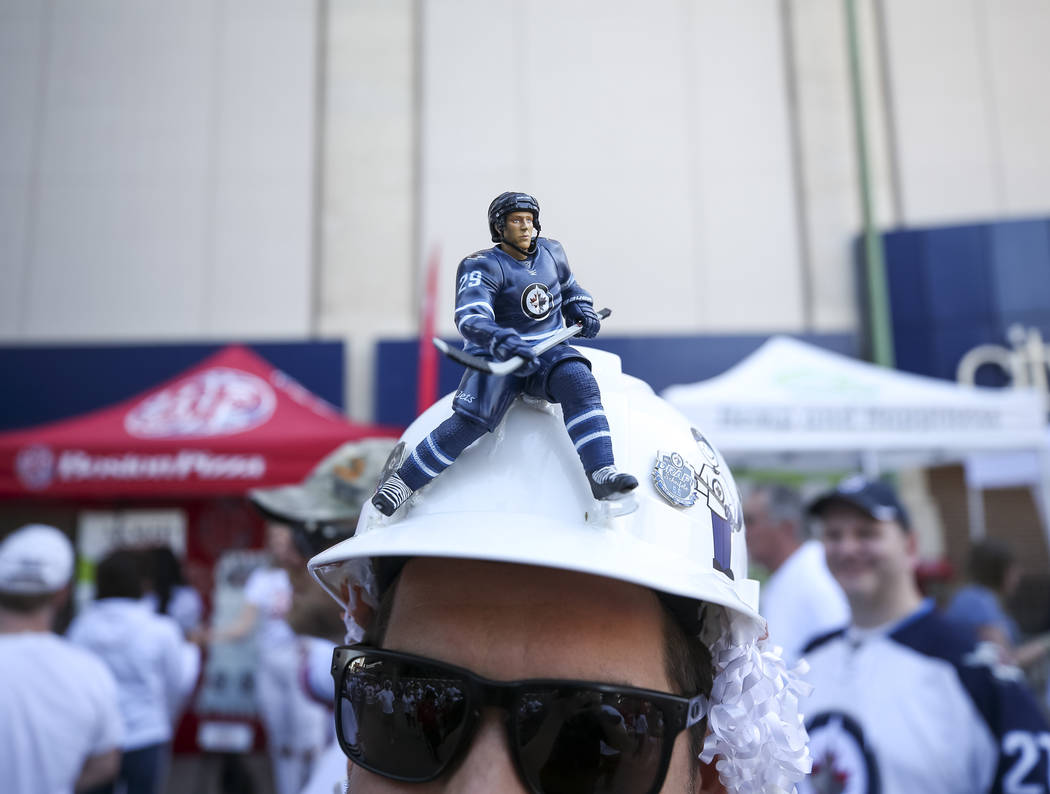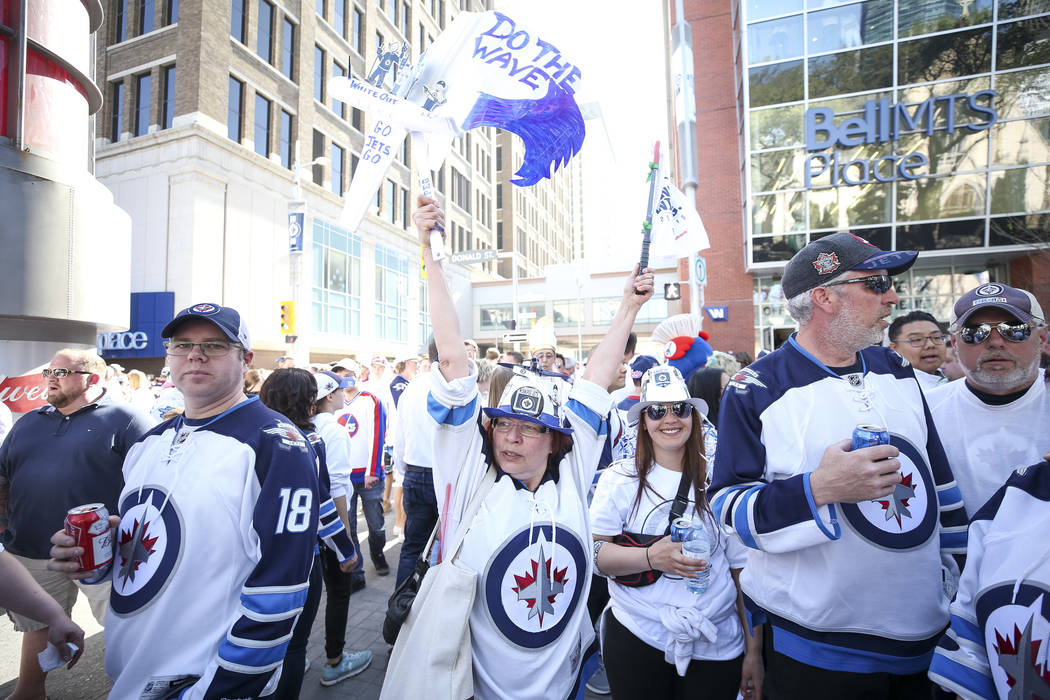 WINNIPEG, Manitoba — The dark sunglasses couldn't hide those tears welling in his eyes, 74 years young and having fallen in love all over again, his voice cracking with emotion and nostalgia.
Trevor Berry stood alone among tens of thousands Saturday, a singular figure on the edge of the largest white sea this side of the Russian coast.
He made the three-day drive from his home on Vancouver Island, inspired each mile by both the remembrance of hockey stories past and those which are now being created by his beloved Winnipeg Jets.
"I wanted to see this, needed to see this," Berry said. "This is a miracle. I think everyone understood the reasons behind them leaving — it was the most heartbreaking of things — but then they came back. I never thought that would happen.
"To me, this is carpe diem — what the hell, let's go get it."
The similarities between Winnipeg and the Golden Knights each making their first Western Conference final begin and end there, Vegas having produced the most historic of expansion seasons and the Jets having returned to this prairie province in 2011 since relocating to Arizona following the 1995–96 season after years of hemorrhaging cash and searching for an arena deal.
The scene outside Bell MTS Place for Game 2 on Monday will assuredly equal or perhaps even upstage the four-block madhouse of a party that welcomed the hockey world here Saturday, especially given Winnipeg beat Vegas 4-2 to take a 1-0 lead in the best-of-seven series.
The idea of whiteouts was born more than three decades ago, when Winnipeg was playing Calgary in a first-round playoff series and desired a concept to counter the opposing C of Red.
Now, the city is again an abyss of colorless passion.
White beards. White suits. White hair. White hats. White towels. White beer holders (they drink a bit here).
It is a town awash in Jets flags atop buildings and flying from cars, of coffee shop banter about power plays and all things Connor Hellebuyck, of We Are Winnipeg merchandise featured in seemingly every storefront window.
It's one thing to lose your team. It's another to get it back. It's another to get it back and have it be this close to hoisting the Stanley Cup. It's another to be a Canadian franchise and have all of that happen.
It's something entirely different to actually exist within such bedlam, among some of the most knowledgeable and polite and easygoing hockey fans the game knows.
The Jets returned not from Arizona, but rather Atlanta, where new owners in True North Sports and Entertainment chose to relocate the Thrashers back to a place where the original Winnipeg team won three World Hockey Association titles in the 1970s before being absorbed into the NHL.
Do you want to know how deeply folks here love their team?
When it was first thought the city could lose it to another, a local radio station raised more than $13 million in five days to support a local public-private plan.
Kids, parents, local shops, prisoners from jail (yes), all donated.
It wasn't enough.
"I was at the final game before they left and remember standing there crying," said 67-year old Winnipeg native Carl Martz, a season-ticket holder dating to those WHA days. "It was brutal. And then when I heard they were coming back … words can't describe it. We never got our chance at the Cup before, but this might be it. This might be our time."
They closed down the intersection of Portage and Main following a Game 7 win at Nashville in a second-round series Thursday, and what seemed like the entire town danced and partied well beyond 3 a.m., local police not interfering in the revelry because, well, this is carpe diem and, what the hell, they're going for it.
It was 2015 when Hockey News penned an article entitled "Meet Your 2019 Stanley Cup Champions, the Winnipeg Jets," a nod to how well the team had been drafting and developing players in the salary cap era, and how most within the NHL had forecast a bright future for the team because of it.
They might actually be a year early, depending on how this series against Vegas plays out and who would emerge from Tampa and Washington in the east.
But even mention the possibility of such a playoff run ending with Winnipeg being the last team skating, of their favorite players kissing and hugging that particular trophy, and those so intently faithful to the Jets struggle to find the words.
"It would be an even better miracle," said Berry while standing alone among tens of thousands on the edge of the large white sea.
His voice cracked and tears began to well.
Not even dark sunglasses could conceal the fact he had fallen in love all over again.
More Golden Knights: Follow Golden Knights coverage at reviewjournal.com/GoldenKnights and @HockeyinVegas on Twitter.
Contact columnist Ed Graney at egraney@reviewjournal.com or 702-383-4618. He can be heard on "The Press Box," ESPN Radio 100.9 FM and 1100 AM, from 11 a.m. to 2 p.m. Monday through Friday. Follow
@edgraney on Twitter.