Jets beat Golden Knights 4-2 in series opener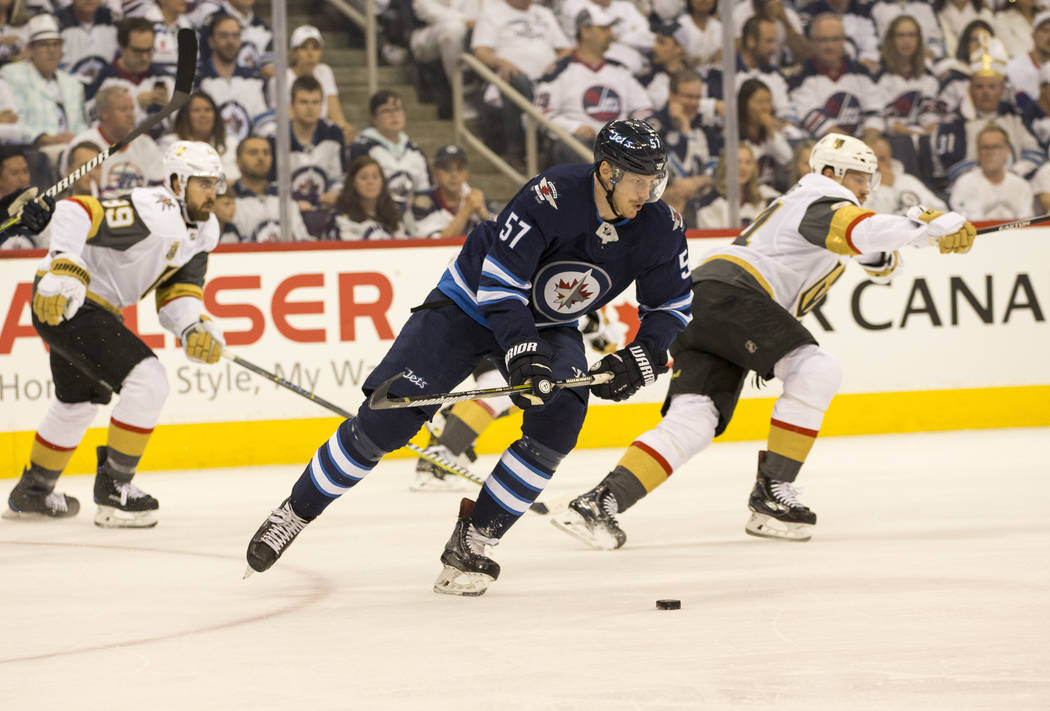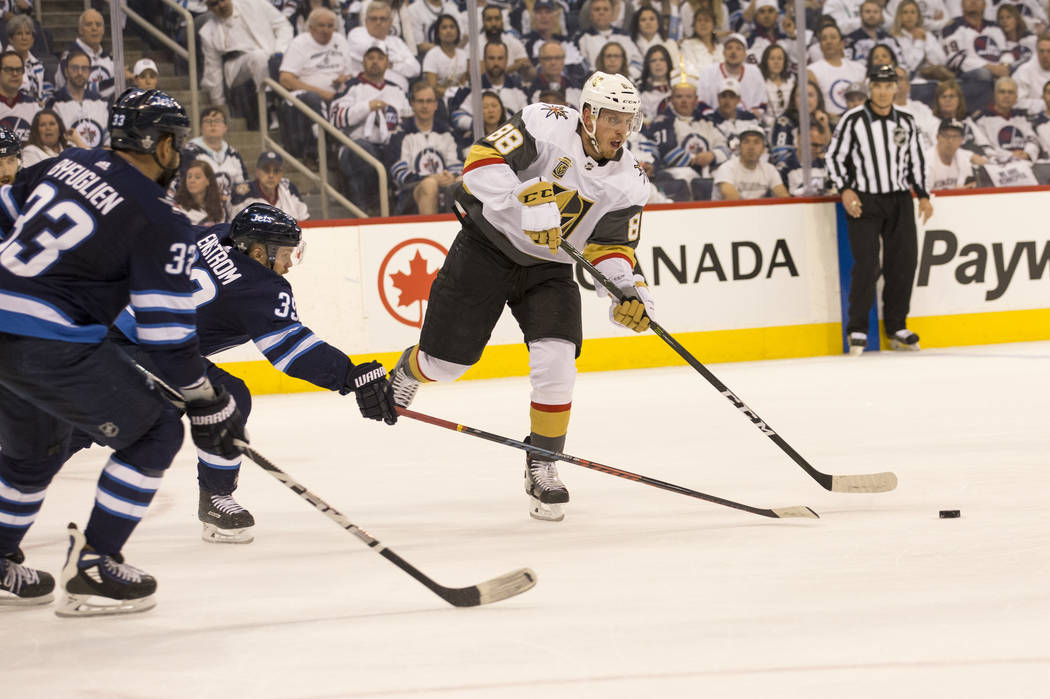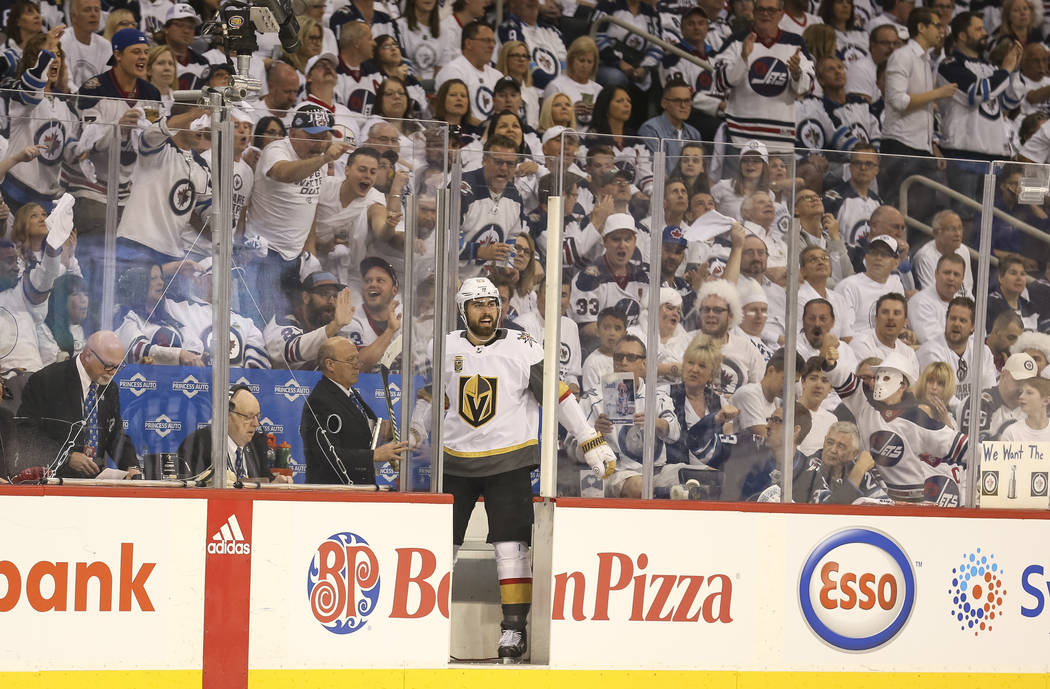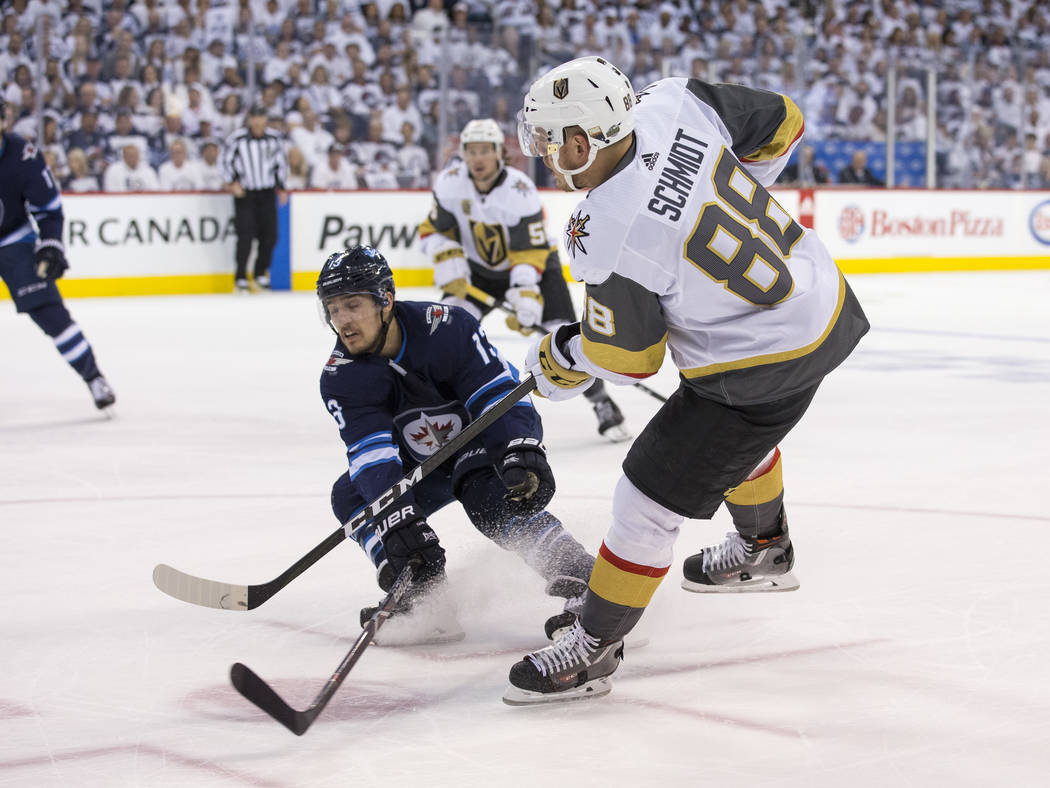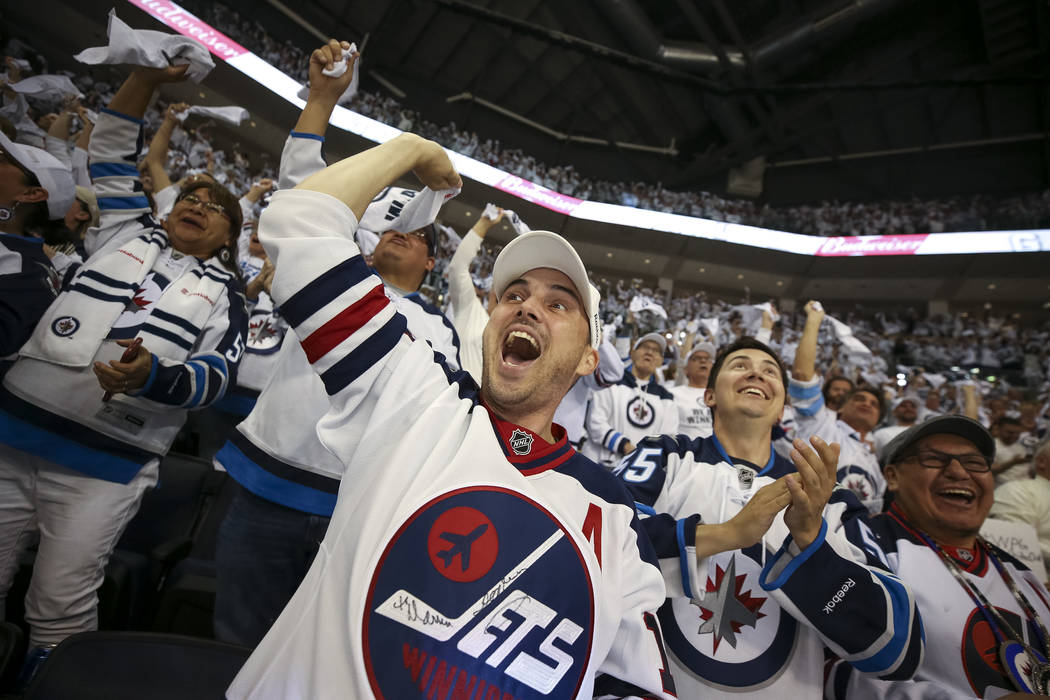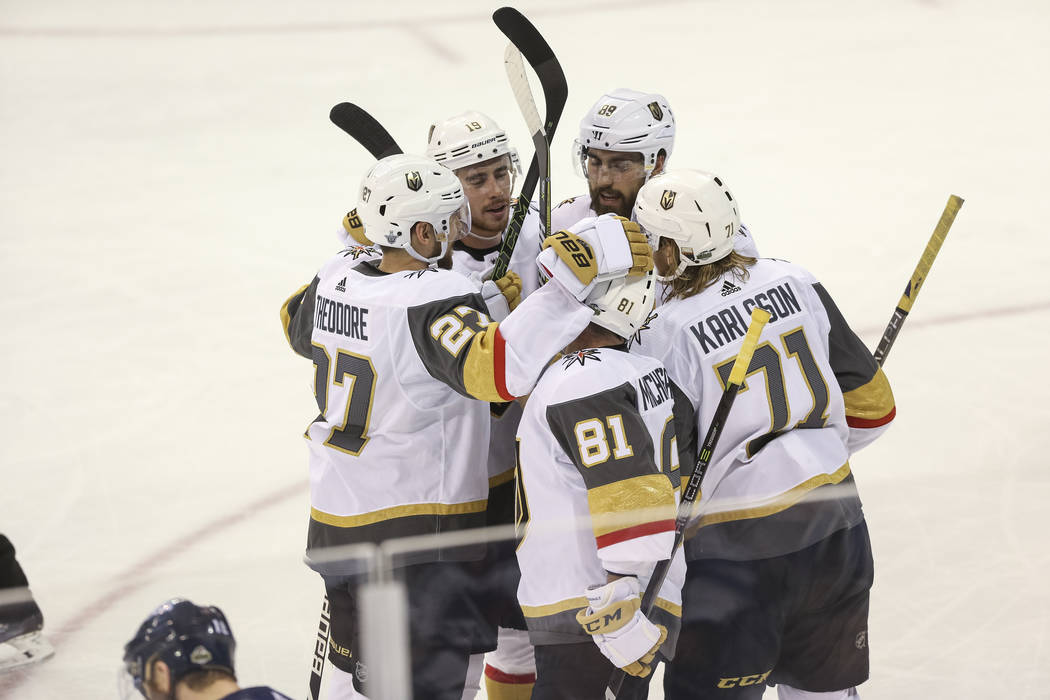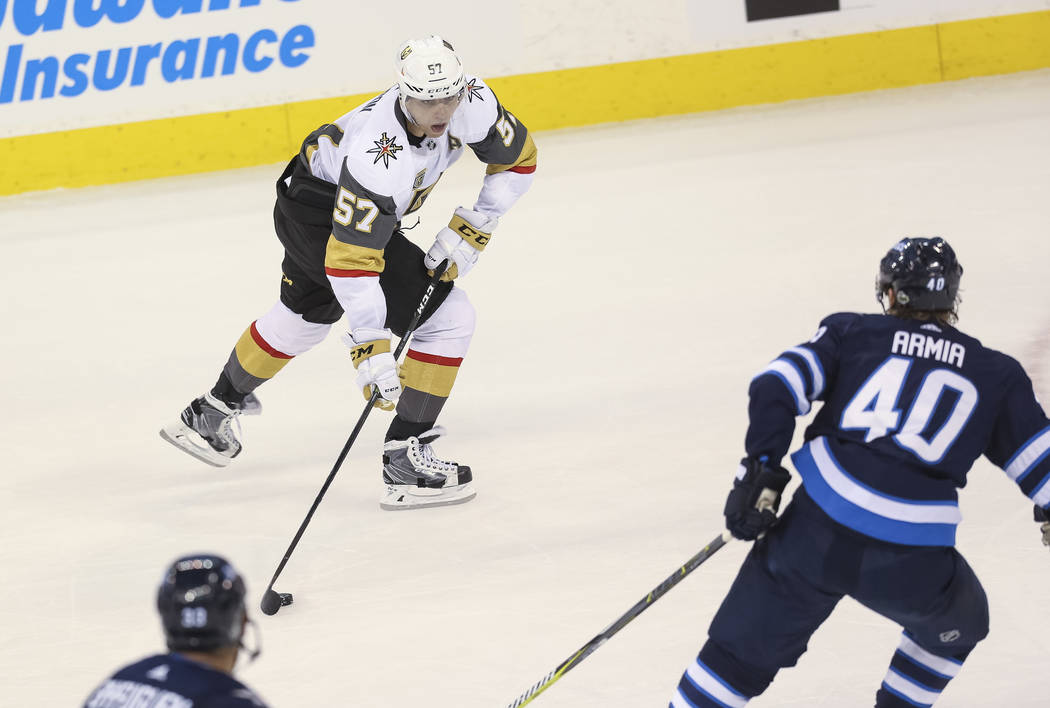 WINNIPEG, Manitoba — Hockey coaches tend to talk about having too many passengers when their team is on the wrong end of a poor effort.
Golden Knights coach Gerard Gallant said that in so many words following the Knights' 4-2 loss to the Winnipeg Jets Saturday in Game 1 of the Western Conference Final.
"They outworked us. That's why they won the hockey game," Gallant said after his team was outplayed in front of a frenzied, white-clad sellout crowd of 15,321 at Bell MTS Place. "We have to compete harder. We got to battle harder.
"When we win, we have 20 guys going. We didn't have all 20 going (Saturday)."
Game 2 of the best-of-seven series is 5 p.m. Monday in Winnipeg.
It took 65 seconds to realize that this round of the Stanley Cup playoffs is going to be different than the previous two rounds, which saw the Knights sweep Los Angeles and eliminate San Jose in six games. The Jets are big. They're fast. They're smart. They were also well-prepared and energized despite the fact 48 hours earlier they had eliminated the Nashville Predators in a tough seven-game series.
"We were still in game mode," said defenseman Dustin Byfuglien, who scored the first Jets goal. "It was just a matter of coming out, playing our game, keeping it simple. We got moving our feet right away, the ice opened up so we got to move the puck."
The Jets went up 2-0 as Patrik Laine scored a power-play goal off a perfect setup from Blake Wheeler that Marc-Andre Fleury had no chance to stop. Winnipeg made it 3-0 on a controversial goal by Joel Armia at the 7:35 mark, which was initially disallowed after the puck had deflected off his skate. But the play was reviewed by NHL officials in Toronto, and after the goal was ruled good, the Knights challenged that Armia interfered with Fleury in his crease.
The challenge was not upheld and Winnipeg had a 3-0 lead.
"We were chasing the game all night," Gallant said.
The Knights pulled within two goals twice — 3-1 when Brayden McNabb scored in the first period, then 4-2 after Winnipeg's Mark Scheifele and the Knights' William Karlson traded second-period goals.
But the Jets controlled the third period and the Knights struggled to mount any kind of serious attack. They went through an eight-minute stretch where they failed to get a shot on goal and finished with just 21 total.
"Yeah, we just couldn't generate much," defenseman Deryk Engelland said. "They don't give up a lot. We've got to fight for ice and get more pucks to the net."
The Jets forechecked well and bottled up the neutral zone. They also didn't turn the puck over much. The Knights managed just one takeaway while the Jets had 10 takeaways.
"We knew their team speed is pretty intimidating, so the key with that is you want to limit their time and space, allow our defensemen to have tight gaps," Wheeler said. "To do that our forwards need to get back and get over the puck. That was an emphasis for us. I thought we did a pretty good job allowing those guys to be aggressive."
For the Knights, there's not a lot of time to hit the reset button. The team will practice Sunday, then play Game 2 Monday as they try to regroup after falling behind in a series for the first time.
"If we start the right way, we will be fine," forward Jonathan Marchessault said. "Good (offensive) zone shifts, puck management and bring a little more shots to the net and we will be fine. But the next game is no excuse. Everybody has to come in and be ready to play our best game of the playoffs."
More Golden Knights: Follow all of our Golden Knights coverage online at reviewjournal.com/GoldenKnights and @HockeyinVegas on Twitter.
Contact Steve Carp at scarp@reviewjournal.com or 702-387-2913. Follow @stevecarprj on Twitter.
Three takeaways
1. Jets' best showed up. Whether it was Dustin Byfuglien, Mark Scheifele or Patrik Laine, Winnipeg's best players flourished in Game 1. All three scored and they kept the pressure on the Knights from the opening faceoff.
2. Hellebuyck's quiet night. The Knights made life easy for Winnipeg goalie Connor Hellebuyck, taking just 21 shots and creating few quality scoring chances. Credit the Jets' forwards for coming back and helping their defensemen.
3. Reaves' big hit. Ryan Reaves tried to give his team some momentum with a big first-period hit on Blake Wheeler. Reaves sent Wheeler head-over-skates into the Knights bench. Wheeler obviously didn't appreciate the play and neither did the rest of the Jets. But Reaves sent a message that the Knights were not going to allow themselves to be pushed around.
Steve Carp Las Vegas Review-Journal