Crowd gets an assist in Knights' win in first playoff game
Updated April 11, 2018 - 11:51 pm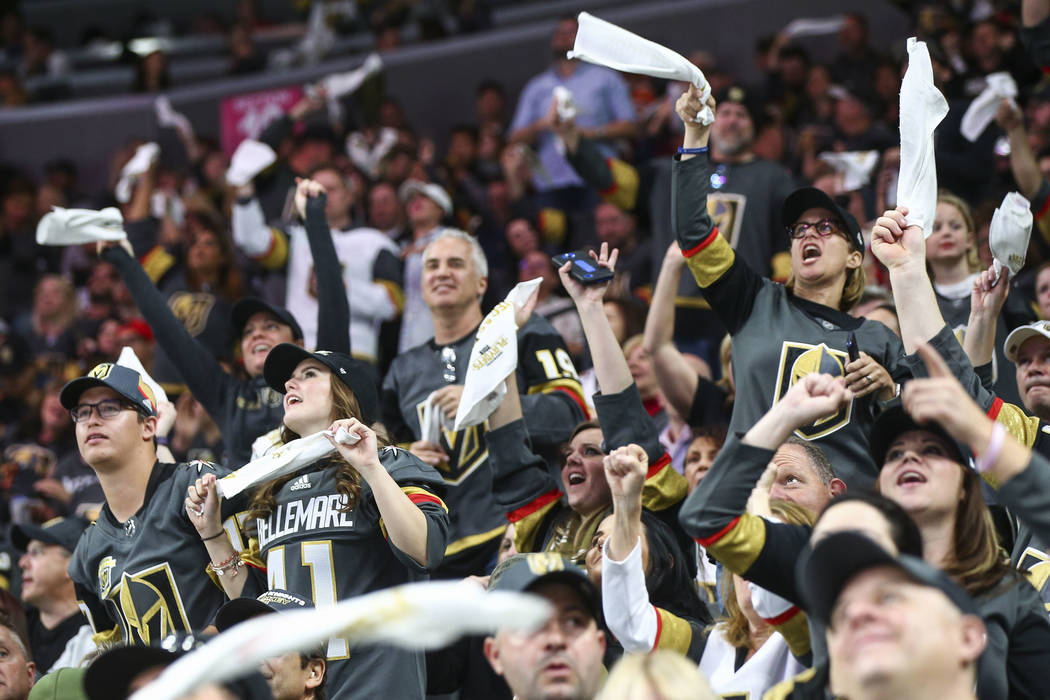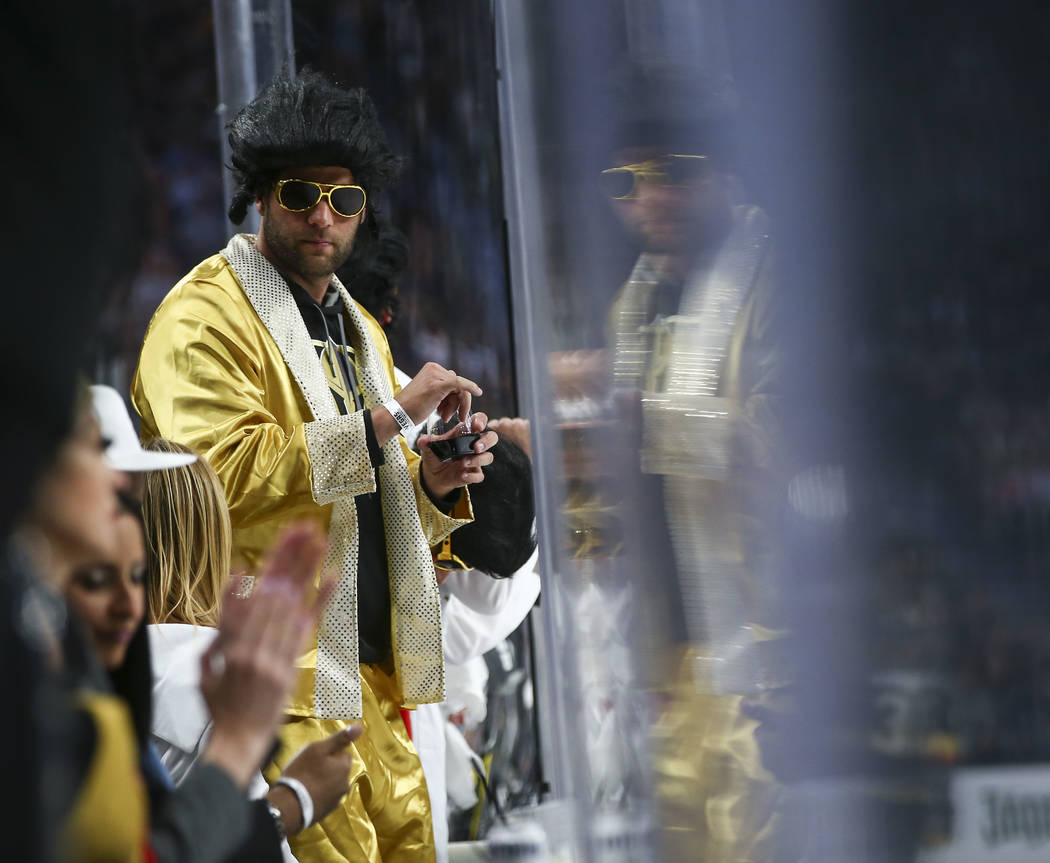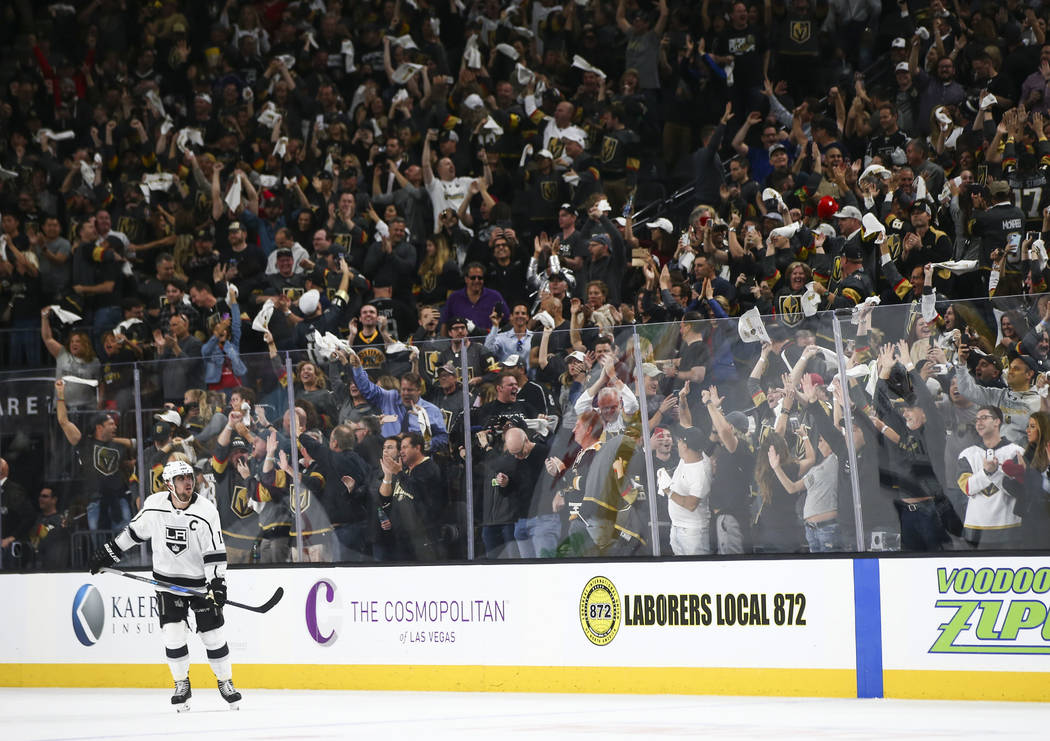 The thousands of white towels waved in unison before a puck was dropped, and then into the night, a pregame sword ceremony altered a bit to include skating flag bearers holding aloft symbols of seven Western Conference playoff teams of the NHL.
Then a Golden Knight, representing the eighth, entered to slay all such foes.
Then the real Golden Knights offered about as solid an all-around effort as any side could hope in this big a moment.
A season's worth of history made its latest stop Wednesday when the first playoff game for a major professional sports franchise in Las Vegas played out before a season-high announced gathering of 18,479 at T-Mobile Arena, where the Knights defeated the Kings 1-0 in the opener of a best-of-seven series.
It's just the beginning — Game 2 is here Friday night — and yet if the pace and style present for much of Wednesday holds to form, we're in for a string of games defined by big hits and the highest caliber of goaltending.
If the forecheck of Vegas remains this good, Los Angeles is in some trouble.
The Knights have for some time now discussed among themselves the importance of not chasing deficits, of putting together 60 minutes of precise execution, and if you saw their forwards finishing checks and playing angles and getting back, and their defensemen cleaning things up for Marc-Andre Fleury and how superb the three-time Stanley Cup champion goalie was, you understand how well Vegas played.
"That's the hardest we have played," Knights defenseman Nate Schmidt said. "That's playoff hockey for you. Things tighten up this time of year. I thought (the atmosphere) was incredible. There were times when you couldn't even hear the guy standing next to you."
That moment when the @GoldenKnights won their first ever #StanleyCup playoff game! 🙌 #VegasBorn pic.twitter.com/DZyuiwGPAP

— Las Vegas RJ Sports (@RJ_Sports) April 12, 2018
Playoff excellence is almost always defined by how those in net perform, and Fleury and Jonathan Quick of the Kings more than displayed the skills that have allowed them to combine for five championships. They stopped all but one of 58 shots.
Let the record books show the first playoff goal in Golden Knights history came at even strength and via a wrist shot from Shea Theodore at 3:23 of the first period.
It was then you really saw the level of home-ice advantage Vegas held.
Crowd does its part
A pre-playoff pledge from the organization was called a Knights Vow, which basically offered full season-ticket holders a reduced price for tickets if they forfeited the ability to sell them on the secondary market. It worked.
If there were Kings sweaters in the house, they were mere pieces of lint scattered across a long, thick, heavy, gold winter coat.
Few times in a sport of any level has a fan base so quickly and intimately connected with a team as Southern Nevada did to the Knights, proven yet again by the electricity that immersed T-Mobile for Game 1.
They played a hockey game and yet Giants-Dodgers and Celtics-Lakers broke out in the stands, with chants of "Beat L.A.! Beat L.A.!" raining down at different times throughout the game.
It was loud. It was intense.
It was everything you thought it could and should be.
Remember when they said Las Vegas wasn't a hockey town? LISTEN TO THIS CROWD! #VegasBorn  #StanleyCup pic.twitter.com/hxgZW9DXsr

— Las Vegas RJ Sports (@RJ_Sports) April 12, 2018
The series was cast as fast vs. physical, as the speed of Vegas against the toughness of the Kings. But a funny thing happened on the way to such labels proving true: The Knights came out and refused to be bullied.
William Carrier missed a substantial amount of time with injury this season, but his 10 hits in 8:49 of ice time before being whacked in the head by an elbow (cheap shot) from Drew Doughty set a tone that Vegas was not only here to try to skate past the Kings but also stand up to them.
"It's the playoffs," Knights forward Pierre-Edouard Bellemare said. "You won't get away with anything by cheating your way through, and you won't get away by playing only 20 or 30 or 40 minutes."
Vegas played 60 terrific ones Wednesday, which is why they struck first in the series.
And as the clock wound down, thousands of souls rose and began waving those white towels in unison.
History made another stop.
For openers, the Golden Knight played his pregame role by slaying the other guys.
Then the real ones put on an even better show.
More Golden Knights: Follow all of our Golden Knights coverage online at reviewjournal.com/GoldenKnights and @HockeyinVegas on Twitter.
Contact columnist Ed Graney at egraney@reviewjournal.com or 702-383-4618. He can be heard on "The Press Box," ESPN Radio 100.9 FM and 1100 AM, from 11 a.m. to 2 p.m. Monday through Friday. Follow @edgraney on Twitter.