Ex-drug addict completes journey, makes NFR for 1st time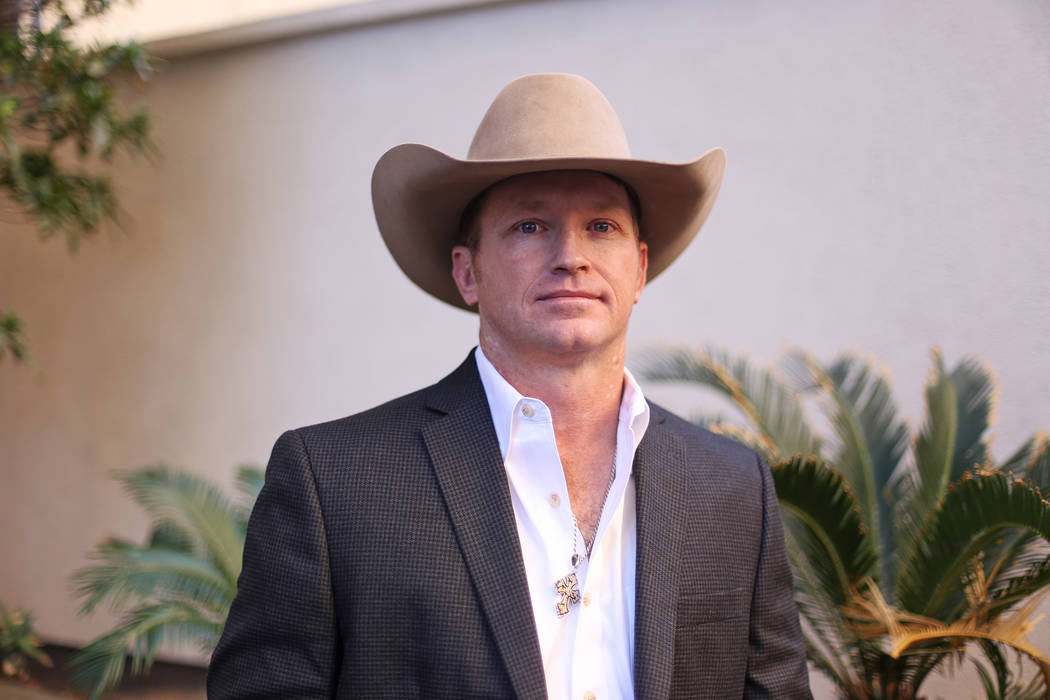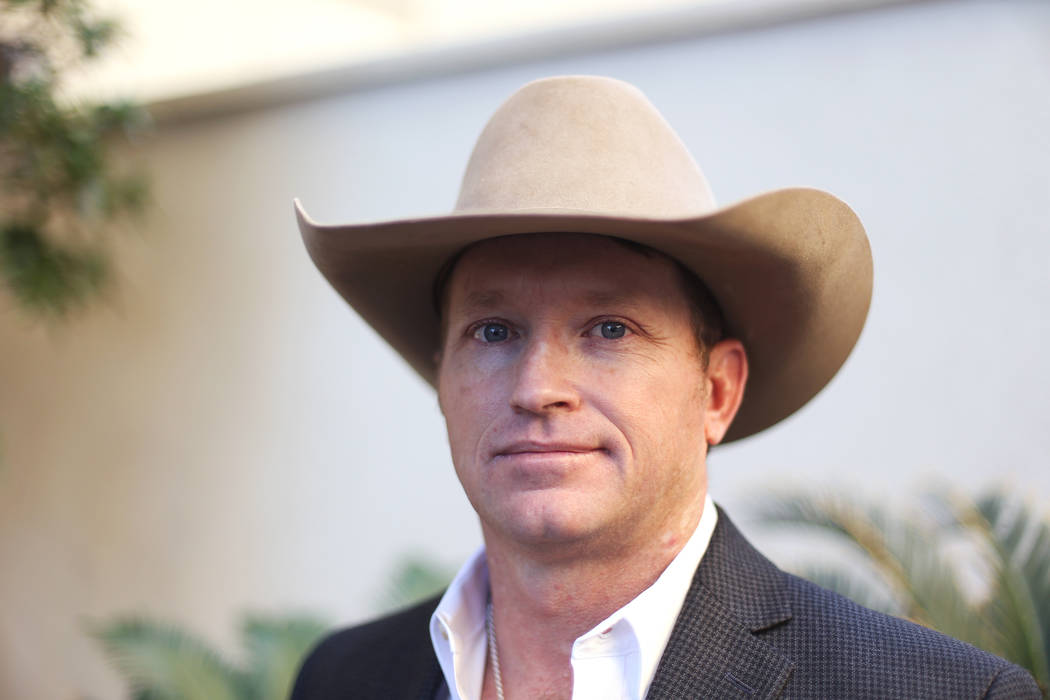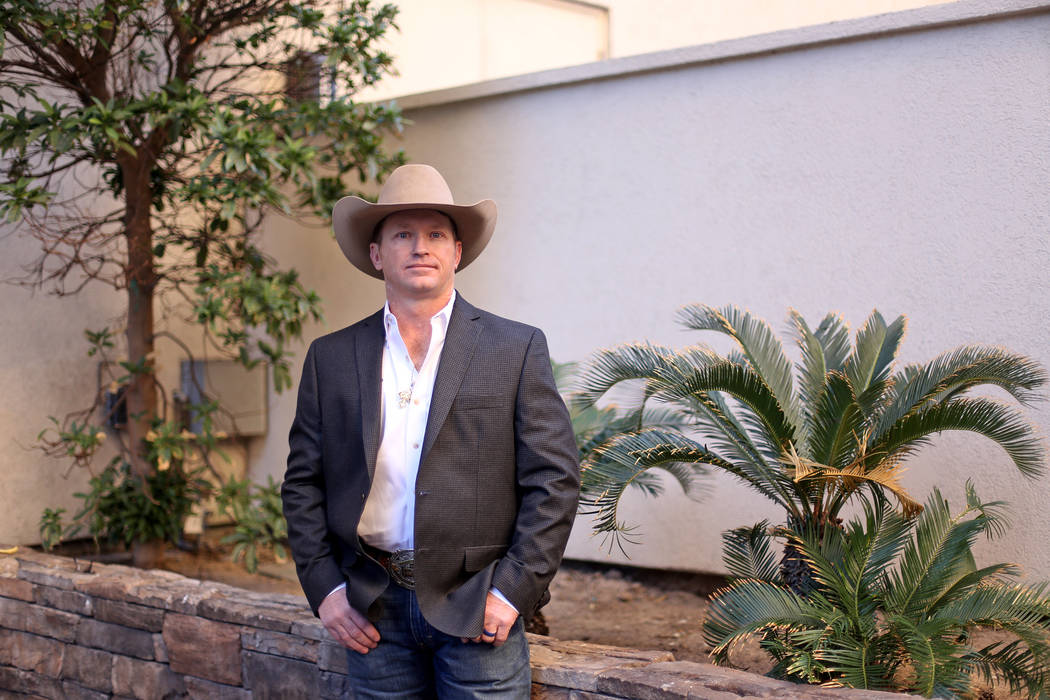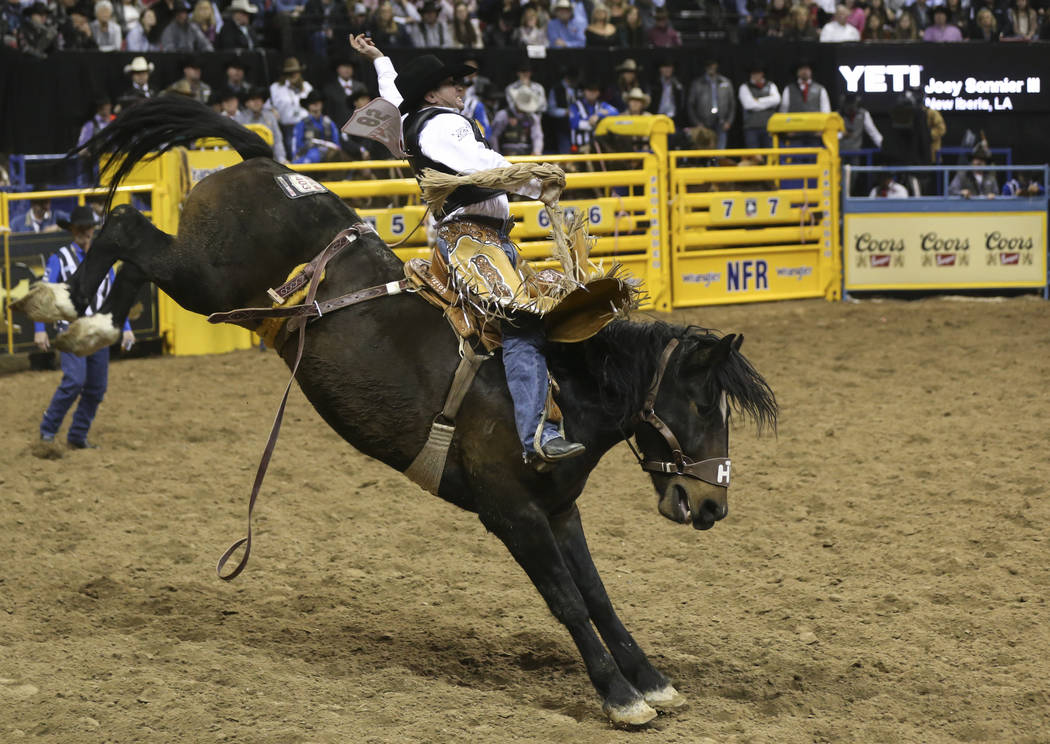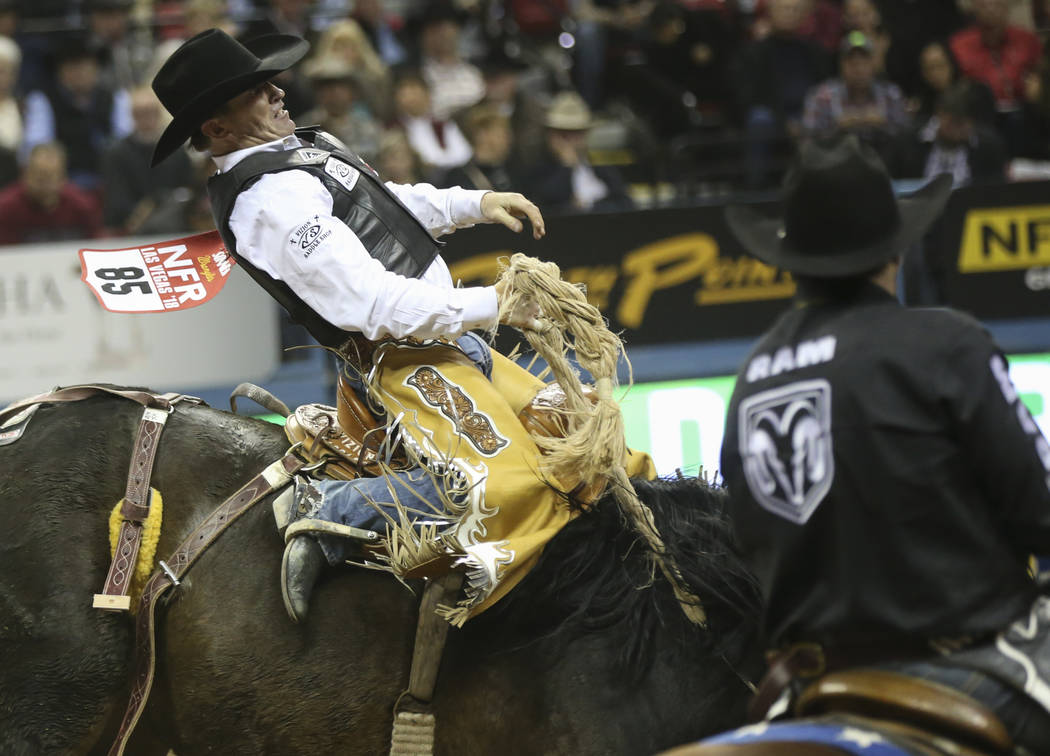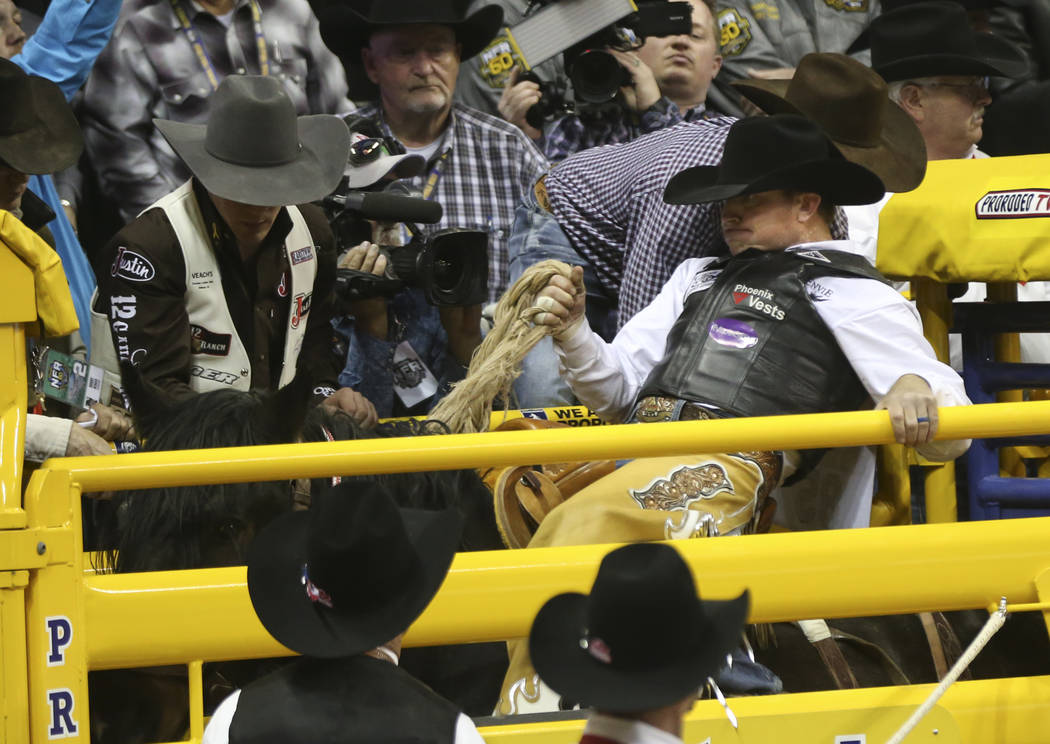 He believes a higher power intervened that July afternoon in 2013, that there is a reason his wife returned home from work early, that while he was facing federal charges for conspiracy in regard to a methamphetamine addiction and the thought of taking another breath seemed desperately senseless, he just couldn't shake a haunting image.
"I saw her pulling into our driveway and seeing me hanging from a rope in the barn," Joey Sonnier said. "I knew then things had to change, so I turned myself in to the law the next day."
If what cowboys say is true and there is no better place to heal a broken heart than on the back of a horse, perhaps also there is no better road to travel when accepting redemption than that between Omaha and Stephenville, from Nebraska to Texas, somewhere deep in the loneliness of Kansas, where the profound darkness on this particular evening was not meant to frighten but rather forgive.
Sonnier was driving that open stretch a few months back, one where the moon acts as a rodeo cowboy's compass between events, his two traveling partners asleep in the truck, when his tears could fill a bucking chute.
A friend who was awfully good at math had earlier confirmed via text that the numbers were sound, that, at age 39, the cowboy from Louisiana who had fought more demons in 10 years than most men over a lifetime had indeed qualified for his first National Finals Rodeo.
It wasn't the only time Sonnier cried over all of it.
Shoot, it wasn't the hundredth.
That he is here at the Thomas & Mack Center, a saddle bronc competitor who finished 13th in the regular-season standings, is a testament to his faith and the strength of a family that never gave up on him as he so often wanted to himself.
Sonnier began using meth at 19 as a way to stay awake between rodeos while driving those dark back roads. And like a good saddle might when the horse is bucking and the rider is holding on with one hand while not touching the animal with his other for all of eight long, exasperating seconds, well, now, it just stuck.
"I made it drug free until I was almost 20," he said. "And then, for the next 10 years, there were more days I used than when I didn't. I traded rodeo for meth, and things just spiraled."
He worked away from home shoeing horses at racetracks, where he could support his addiction making $1,000 a day while hiding it from wife Michelle.
He would lie and tell her that he was clean. She knew better. So did his mother.
But they stood beside him, because as sturdy as the cowboy is depicted in movies and books, the women in his life are the real strength from which he survives.
"I'm not here without them," Sonnier said.
Drugs turned to gambling, and gambling turned to debt, and the law got involved. Sonnier was facing five to 10 years in prison when he couldn't shake that haunting image of his wife arriving home to see him hanging from a rope in the barn.
He instead would spend 2½ months in jail, enter rehab and be sentenced to five years probation. He did so well in his recovery and responsibilities that his probation was cut in half.
Then, in January 2015, having gained 50 pounds and weighing 225, out of shape and broke, he agreed to attend a local rodeo with his family.
Riding again
In the darkness, a light was shined upon the chute as a way to open the competition, and suddenly, an announcer's voice was talking about the cowboy and his dreams and those values for which he lives. The tears streamed down Sonnier's face and he just knew: He hadn't been on a bucking horse in 10 years but would ride again.
He would lose the weight and set some reasonable goals, and things progressed as Sonnier made his way back to the rodeo circuit, along the way having a dream about the perfect saddle and actually building it well enough to have now started his own side business.
His family is here: Michelle, son Kade, a baseball player at Nicholls State, younger daughters Kenley and Kylie, along with many others who lived the dark and stormy journey alongside him, overcoming one failure at a time.
Sonnier has yet to cash after two go-rounds.
"You know, I made a lot of promises to God along the way, that if he could just get me out of something, whether I was in handcuffs or sitting on the side of a road having run out of gas, that I would change and give up drugs," he said. "I never held up my end. But now I've made a promise that I won't break, and that is any time I have a chance to tell this story, I will.
"A lot of people have asked me if I'm nervous being in (the NFR). I'm not. I feel blessed to be here. I'm going to leave the arena each night with my head held high. However this shakes out, that's how it was planned all along."
He made another drive this week, coming around the Grand Canyon and eventually winding his way into the north side of Las Vegas, where in the distance he could see the lights of a lifelong dream realized, and through it all those demons came rushing back again.
"I teared up pretty good," the cowboy from Louisiana said. "It was an amazing feeling."
One so good that he would never return to his drug of choice?
"Not today," he said. "Not today."
More NFR: Follow at reviewjournal.com/nfr and @RJ_Sports on Twitter.
Contact columnist Ed Graney at egraney@reviewjournal.com or 702-383-4618. He can be heard on "The Press Box," ESPN Radio 100.9 FM and 1100 AM, from 7 a.m. to 10 a.m. Monday through Friday. Follow @edgraney on Twitter.
Saddle bronc rider sets second go-round record
Cort Scheer knew a few things about Hi Lo ProRodeo's Larry Culpepper before Friday night: Scheer would have to stay under the rein and that fellow rodeo pro Bradley Harter could have scored a 90 on the horse in Albuquerque, New Mexico.
That, simply, Scheer received a darn good draw.
Scheer won his second straight go-round in saddle bronc riding at the National Finals Rodeo at the Thomas & Mack Center, scoring a 92.0.
It's a Round 2 record, breaking the mark of 90 by Dan Mortensen in 2003.
"You want to win every round and keep building off it, and then take that momentum and just have fun," Scheer said. "It was all horse again. The chips are falling for me."
Scheer, from Elsmere, Nebraska, is third in the world standings with $164,304.20.
He's first in aggregate, having already earned $62,461.54 at the NFR.
The other go-round winners were: Tilden Hooper, Carthage, Texas, in bareback riding (87.5 points); Tyler Pearson, Louisville, Mississippi, in steer wrestling (3.8 seconds); Kaleb Driggers, Hoboken, Georgia, and Junior Nogueira, Presidente Prudente, Brazil, in team roping (4.0 seconds); Marty Yates, Stephenville, Texas, in tie-down roping (7.6 seconds); Lisa Lockhart, Oelrichs, South Dakota, in barrel racing (13.65 seconds); and Joe Frost, Randlett, Utah, in bull riding (90.0 points).
— Ed Graney Review-Journal