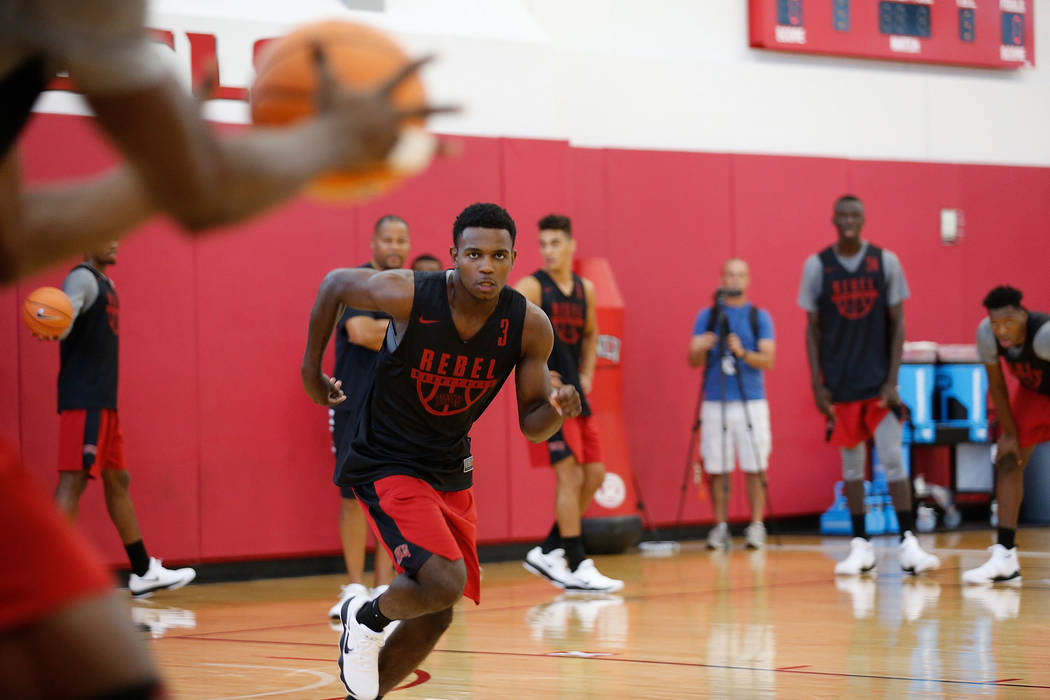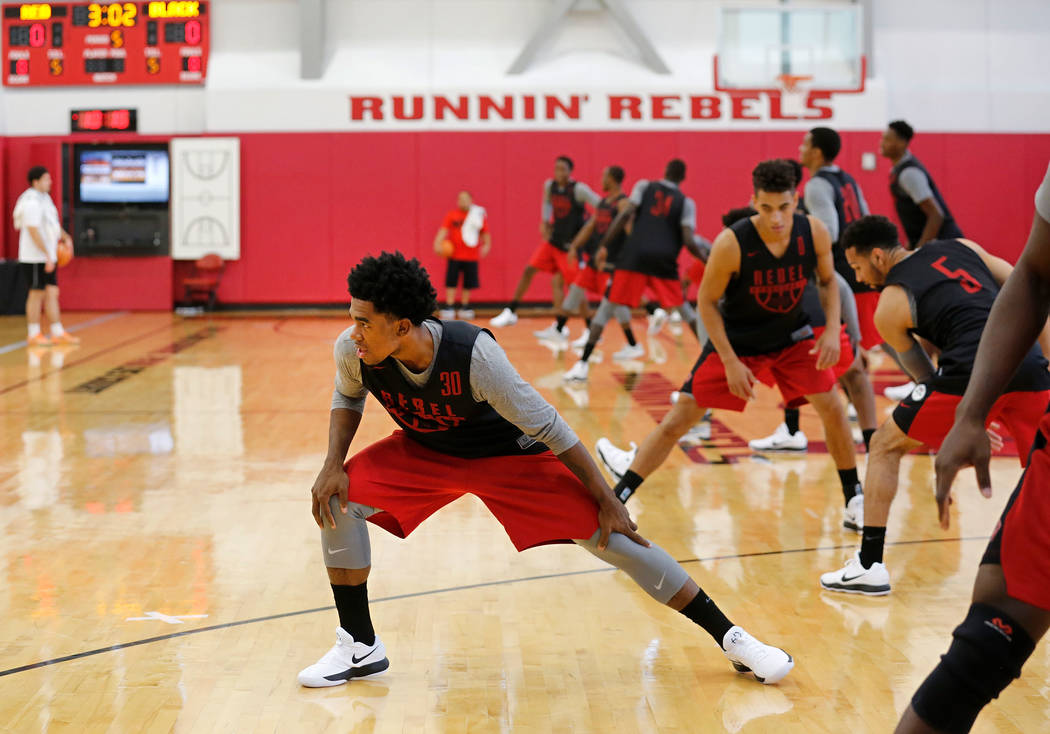 It's not known where an FBI case that this past week sent college basketball coaches spinning on their collective heads will lead, but one thing has been made clear from the indictment and accompanying statements via federal agents:
No one is above suspicion.
No coach.
No program.
Not a soul in the NCAA's filthiest sport.
Practice has begun across the country amid the stain of 10 individuals, including four assistant coaches, being arrested on federal corruption charges in regard to taking bribes.
UNLV, whose prospects for vastly improving from an 11-win season appear bright under second-year coach Marvin Menzies, began its journey Saturday.
It's no surprise Menzies opened his comments by speaking on the probe, given he has deep connections to two coaches who didn't escape either the FBI's wrath or its fallout.
As an assistant at San Diego State, Menzies recruited Tony Bland, and the latter often has referred to Menzies as a mentor and close friend. Theirs is an extremely close relationship.
Bland, the Southern California assistant, was arrested for allegedly taking bribes to steer players to agents and facilitated payments of $9,000 to the families of two unidentified Trojans players. He's also accused of accepting $13,000 during a meeting in Las Vegas with an undercover FBI agent and cooperating witness.
Menzies also worked at Louisville from 2005 to 2007 under coach Rick Pitino, and there hasn't been a head position Menzies landed or pursued since that time where Pitino wasn't among those calling athletic directors on his behalf.
Pitino was essentially fired Wednesday — he has been placed on unpaid leave until receiving due process — after it became clear the FBI indictment alleges Louisville worked with Adidas to send $100,000 to McDonald's All-America guard Brian Bowen.
Menzies also knows UNLV has hardly escaped NCAA troubles during its history and, perhaps as much as any other non-Power Five program in recent years, has landed five-star and McDonald's All-America players while beating several more successful and elite teams on such recruits.
Like it or not, fair or not, those coaching relationships and signings are considered red flags nationally.
The FBI made it so this past week.
"Tony Bland played for me and I love him," Menzies said. "He's a great human being. I know he's going through a lot, and our prayers are with him and his family.
"I can't speak to what's going on at (Louisville) now. I will say my time with Coach Pitino was very, very good for me in my professional growth. I have a lot of love for Coach. In my time there, he was conscientious of us doing things the right way and being very ethical.
"People are going to assume whatever they're going to assume. I can't tell you what someone else is going to think. I know how we do things and how I do things. I'm very, very confident we have nothing to worry about here. A lot of good people on the planet make mistakes."
There it is again.
The dreaded M word.
However the legal process plays out, should any of the 10 arrested or others who follow be proven to have committed crimes of which they are accused, theirs was a choice to do so.
You choose to be dirty.
You don't accidentally fall into it.
This stuff is as much a mistake as Tom Brady is a bad quarterback.
In terms of UNLV, first-year athletic director Desiree Reed-Francois seems to be taking an aggressive stance on ensuring her program understands the seriousness of such a case.
It's a good thing, because any athletic director nationally who didn't immediately reach out to his or her head basketball coach following the FBI announcement should be reprimanded or worse for either being too arrogant or ignorant.
"There's no room for it in college basketball or college sports at all," Reed-Francois said. "It's deeply disturbing. We talk about our core values, and it's unanimous that integrity has got to be a core value and is a core value. Right now, we have no reason to believe that any of our folks are involved. But like every one of my colleagues across the country, we are actively monitoring the situation."
None of this is good for any school, for the game, for what we have always known to be reality finally being unearthed, a systematic issue defined by greed and born from the courts of AAU basketball and those shoe companies and agents and dirty coaches who define them.
"I'm not surprised at (the FBI findings)," UNLV senior point guard Jordan Johnson said. "I knew what was going on (in AAU). I wasn't one who took (money) …"
But you saw enough?
"Yeah."
Of course he did.
They all have.
It just took the FBI to show everyone else.
Contact columnist Ed Graney at egraney@reviewjournal.com or 702-383-4618. He can be heard on "The Press Box," ESPN Radio 100.9 FM and 1100 AM from 11 a.m. to 2 p.m. Monday through Friday. Follow @edgraney on Twitter.
Related
UNLV's Marvin Menzies, on FBI investigation: 'We have nothing to worry about here'
FBI report on college basketball scandal details Las Vegas meetings
Louisville head coach Rick Pitino placed on unpaid leave
USC assistant basketball coach allegedly received cash in Las Vegas hotel
4 college coaches, Adidas exec charged in bribery case