Golden Knights continue implausible start in NHL
October 24, 2017 - 11:42 pm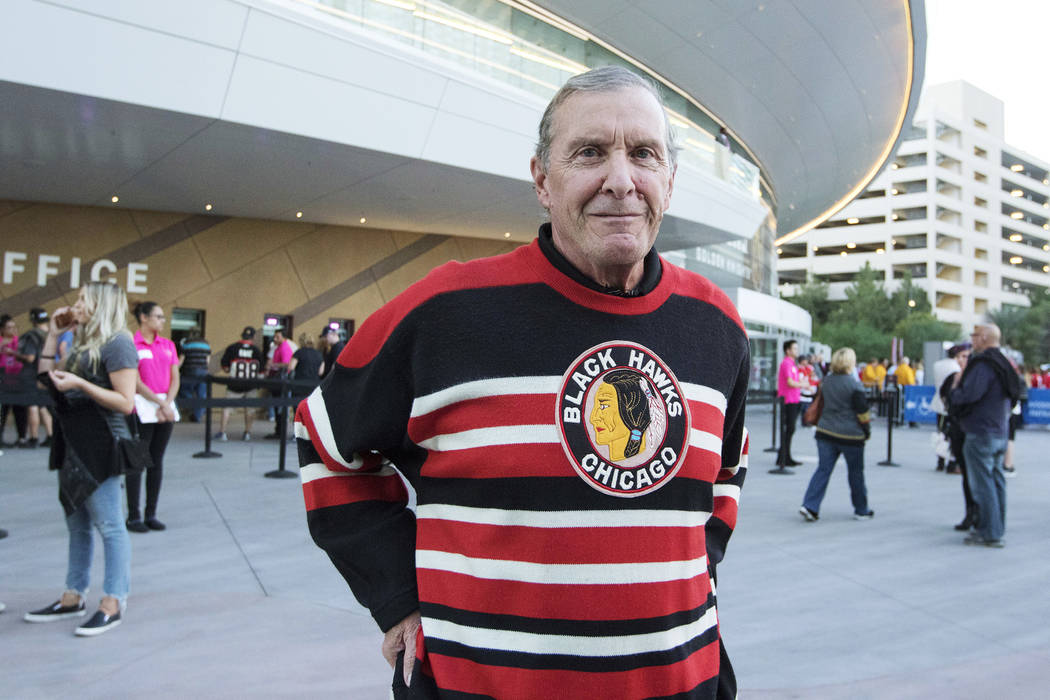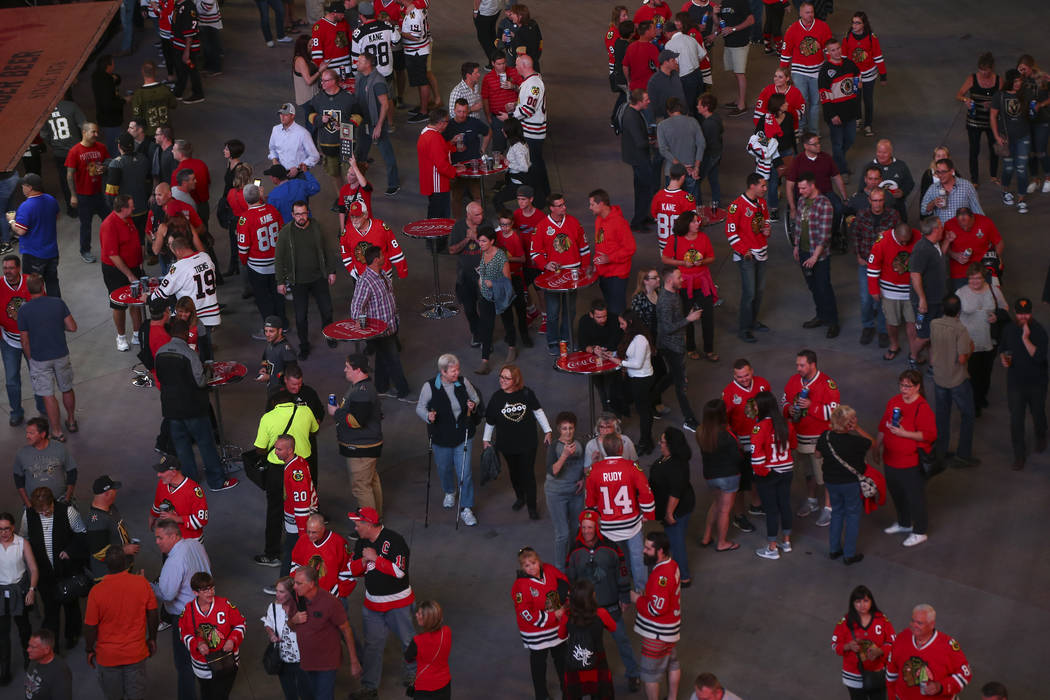 The sweater is a replica of ones worn in the 1930s, back when his old man was winning a Stanley Cup for the Chicago Blackhawks and making a cool $5,000 for the season, his just reward for all the bumps and bruises and concussions that were treated with makeshift ice packs of a towel and clump of snow.
"Hey, you could buy a few beers with that much money," Peter MacKenzie said.
The reality of fans from an Original Six franchise taking over T-Mobile Arena occurred again Tuesday night.
Someone just forgot to tell the Golden Knights about playing their expected part.
Back-to-back against the Blues and Blackhawks.
This is getting a little crazy.
The Knights are 7-1 to begin their inaugural season and playing at a level no one who wasn't five or six shots into the Patron bottle could have seriously forecast, having continued their implausible and historic start with a 4-2 victory against Chicago.
OK, so maybe owner Bill Foley would have believed it, but only because Army guys don't concede an inch.
"A lot of people weren't expecting us to win this game," Knights coach Gerard Gallant said. "Chicago has a hell of a hockey team. But we played a confident game. We really played hard. Our guys wanted the challenge.'
There is a surprising outcome, and then there is beating an elite team with a minor league goalie making his first career NHL start.
And yet Oscar Dansk did just that in stopping 29 shots for the Knights, outplaying one of the league's best in counterpart Corey Crawford.
"Completely surreal," Dansk said.
That's one way of putting it.
It was around the time Jonathan Marchessault scored a power-play goal for a 4-1 margin with 9:40 remaining that those fans wearing Knights gear officially drowned out the massive Chicago contingent.
There's no way around it: Of the 18,108 in attendance, there was a ton of red in the place.
It's to be expected, those who root for the NHL's most historic teams descending on the home of an expansion franchise. It happened earlier this homestand with Detroit and Boston, but nothing yet has matched the presence of those Blackhawks logos from all eras dominating the stands Tuesday.
MacKenzie wore one, his father's name — Bill MacKenzie — scrawled on the Stanley Cup twice, once when Chicago beat Toronto in 1938 and another five years earlier, when he was loaned to the Rangers from the eventual champion Montreal Maroons during the season.
Someone forgot to take his name off the Montreal roster, so he was included in the final list of champions.
It's that sort of history, rich and cavernous in scope, that makes major league professional sports so fascinating.
That sort of crazy and wonderful kind of stuff.
That and an expansion team being 7-1.
Some who play the games are versed in such traditions and zany stories of the past, and some couldn't tell you which team won it all the previous season.
Colin Miller played for an Original Six in the Bruins, a Knights defenseman who came to understand how serious and devoted folks are to those initial franchises. It's definitely not something to disregard.
"In Boston, you would see a lot of the old veterans around, and it was a pretty cool thing to be wearing the same sweater as they once did," Miller said. "I also think we're building something special here. We're writing a little early history ourselves.
"It's a little hit-and-miss around a locker room when it comes to which guys know the most (hockey history). I don't want to go to the old Canadian-American thing here, but Canadians as kids would have grown up around it more."
How is his Miller's knowledge, a native of Ontario …
"Don't test me."
Hockey stories are the best at any level. Like the time Peter MacKenzie played in two national championship games for North Dakota and then became an assistant coach while also handling color commentary for radio across the Grand Forks area.
"We'd climb up a ladder into this little box at the old barn we played in when it was 30-below inside," said MacKenzie, 73, of Las Vegas. "We'd turn on a small heater and pull out the Schnapps and away we'd go.
"Hockey has all kinds of great stories, and they will develop here in Las Vegas over time."
It seems a particular one has already begun to take form.
Eight games into their first season, the Golden Knights are 7-1, and a 23-year old goalie named Oscar Dansk who was destined for a minor league season has wins against the Blues and Blackhawks.
Original Six that one.
Contact columnist Ed Graney at egraney@reviewjournal.com or 702-383-4618. He can be heard on "The Press Box," ESPN Radio 100.9 FM and 1100 AM, from 11 a.m. to 2 p.m. Monday through Friday. Follow @edgraney on Twitter.