Graney: Big 12 could be best Power Five landing spot for UNLV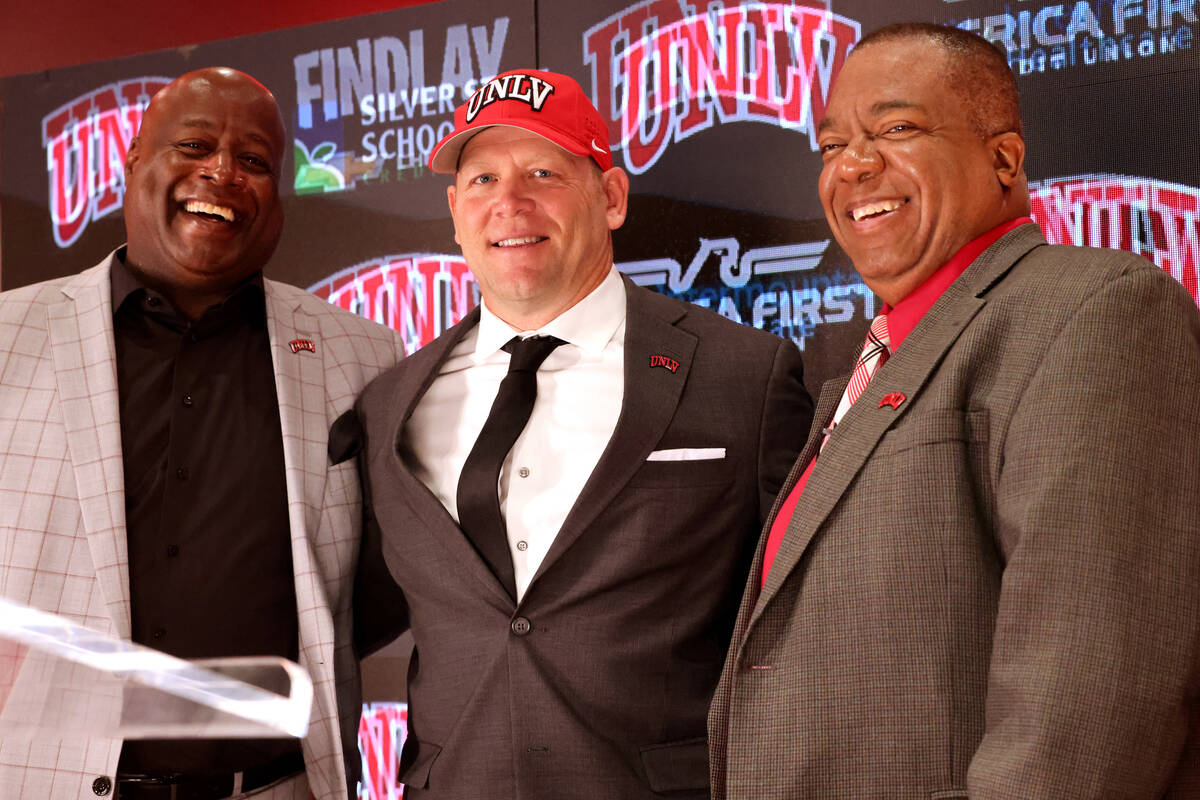 It was early last college football season when Big 12 commissioner Brett Yormark told reporters this in relation to expansion:
"Going out west is where I would like to go, entering that fourth time zone. A program that has national recognition. One that competes at the highest level in basketball and football, stands for the right things, is a good cultural fit."
You would think UNLV would be hurt by a few such criteria — football has been historically bad and basketball hasn't been to the NCAA Tournament since 2013 — but that's not to suggest the Rebels couldn't offer other positives to override such factors.
They need to keep forging ahead, keep up to date on things, keep propping up the resume.
Conference realignment and expansion aren't over, and it's the charge of a program like that of UNLV to position itself in the best possible light once things begin to again shift within Power Five leagues.
And who's to say the Big 12 isn't the best option?
Come on. Southern California and UCLA are headed from the Pac-12 to the Big Ten. How is that for geographical weirdness?
Expansion in the Pac-12 is highly likely, and yet San Diego State and Southern Methodist appear to be leading the race on ultimately being extended invitations. The conference has visited both universities.
A major reason for any such expansion is inventory, those networks (or perhaps eventually streaming services in the case of the Pac-12) as part of media rights deals needing teams and games to telecast.
Big 12 option?
The Big 12 has already added Brigham Young, Central Florida, Cincinnati and Houston for 2023.
But to hear Yormark talk of it, the league isn't done.
"I'm always paying attention," UNLV athletic director Erick Harper said. "You have to keep an eye on it to see what's going on. You take some of it with a grain of salt as well. You just keep an eye on things.
"Nothing new at this point. Obviously, we hold true to the (Mountain West), the conference we're in now. At the same time, we hold true to living in Las Vegas and the Sports Capital of the World and the things we bring to the table as a very attractive institution."
Harper actually has deep ties to the Big 12. He's from Texas and played at Kansas State when the league was the Big Eight. He was then an assistant athletic director at the university when expansion arrived in 1994.
He also worked in the Pac-10 and saw that league transition into the Pac-12. His contacts are countless.
He isn't overly worried about the insinuation that UNLV and a Power Five league wouldn't marry due to the school's not-so-successful football program, citing its attractive facilities in the Fertitta Football Complex and Allegiant Stadium. The Rebels also have a new coach in Barry Odom, who won some at a major college level when at Missouri.
"We are a high research (institution) with a medical school and highly regarded law school, and our student-athletes have done very well academically," Harper said. "I thing we bring some things to the table of what it means to be in a major conference."
This stuff can go so many ways. The Big 12 has also reportedly considered approaching current Pac-12 members, which could essentially leave openings in the latter conference for a school like UNLV.
There have also been reports of Mountain West sides Fresno State and Boise State perhaps being Big 12 targets.
Far from over
So for now, UNLV sits and waits and works behind the scenes to best position itself. To sell the country's 40th-ranked market as one capable of bringing enough interested eyes to the equation.
As one in an ever-growing professional sports town.
As one prepared for such a jump.
"You hear speculation," Harper said, "but nothing concrete."
Keep propping up the resume.
Realignment and expansion are far from over.
Ed Graney is a Sigma Delta Chi Award winner for sports column writing and can be reached at egraney@reviewjournal.com. He can be heard on "The Press Box," ESPN Radio 100.9 FM and 1100 AM, from 7 a.m. to 10 a.m. Monday through Friday. Follow @edgraney on Twitter