Graney: Door cracks open for UNLV in conference realignment race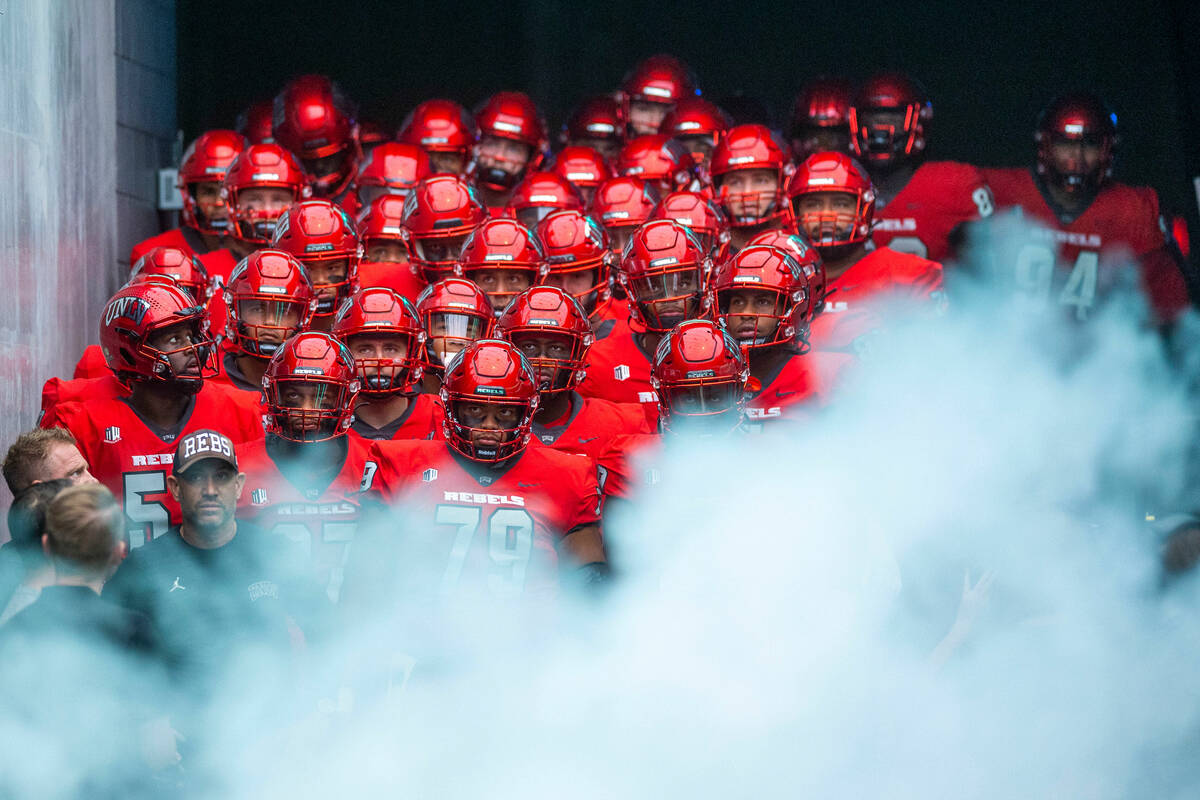 The Big 12 this week did more than add Colorado. The league is clearly trying to end the Pac-12 as we know it. It's a potential first step.
That is significant in Las Vegas because it also cracked the door open for UNLV to perhaps join a Power Five conference.
The first point: There is a finite pot of money for television revenue in college sports, and distributing it among four power leagues would mean more cash than for five.
See what the Big 12 is trying to do here?
The race is for it to be a clear No. 3 behind the Southeastern Conference and Big Ten. A race to beat out the Atlantic Coast Conference for that spot.
Sneaking into picture
By taking Colorado and amid reports more teams like Oregon and Washington and Arizona might follow, the Big 12 has put the Pac-12 in a precarious position.
Which is where the Rebels sneak into the picture.
The absolute best case for UNLV to join the Pac-12 is if the conference, soon to be at nine teams with Colorado's departure, chooses to increase its number by three.
Then, even if the league would invite San Diego State and Southern Methodist, those mentioned most as Pac-12 targets, a third position would be available.
The Rebels would have to fight others for it, but a cracked door is better than a closed one.
"I'm always paying attention," UNLV athletic director Erick Harper said in February. "You have to keep an eye on it to see what's going on. You take some of it with a grain of salt as well. You just keep an eye on things.
"Nothing new at this point. Obviously, we hold true to the (Mountain West), the conference we're in now. At the same time, we hold true to living in Las Vegas and the Sports Capital of the World and the things we bring to the table as a very attractive institution."
Harper's tenure will be judged by many factors, but none more important than if the Rebels find their way into a power league under his watch. In a time of continuing expansion and realignment, it's imperative UNLV jumps on such a train before all have left the tracks. It's on Harper to do his absolute best to ensure that happens. It's his biggest task.
Here's a potential issue: Depending on how many programs would depart the Pac-12 for the Big 12 or another power conference, it could leave the former with several Group of Five schools as members.
It could leave it as the Mountain West 2.0.
A league composed of, say, Oregon State and Washington State and Cal and Stanford and several Mountain West institutions, wouldn't garner the type of television money that traditionally comes with being a power league. It wouldn't be one, in fact.
Remaining relevant
Maybe the Pac-12 stays together, adds just one team like San Diego State, and the Big 12 chooses to expand with Group of Five schools. Maybe that's another way UNLV has a chance of securing a seat on one of those power trains.
It owns positives, a research institution with a medical school and highly regarded law school. It has Power Five facilities. It also has a football program that hasn't won in forever and a men's basketball program that last made the NCAAs in 2013.
But what the news of Colorado departing for the Big 12 did this week was at least get UNLV back in the public discussion, included on lists of those schools that power leagues might be interested in landing.
What it did was allow the Rebels to remain relevant in the conversation.
For now, that's significant.
Ed Graney is a Sigma Delta Chi Award winner for sports column writing and be reached at egraney@reviewjournal.com. He can be heard on "The Press Box," ESPN Radio 100.9 FM and 1100 AM, from 7 a.m. to 10 a.m. Monday through Friday. Follow @edgraney on Twitter