Graney: Raiders must take advantage of winnable game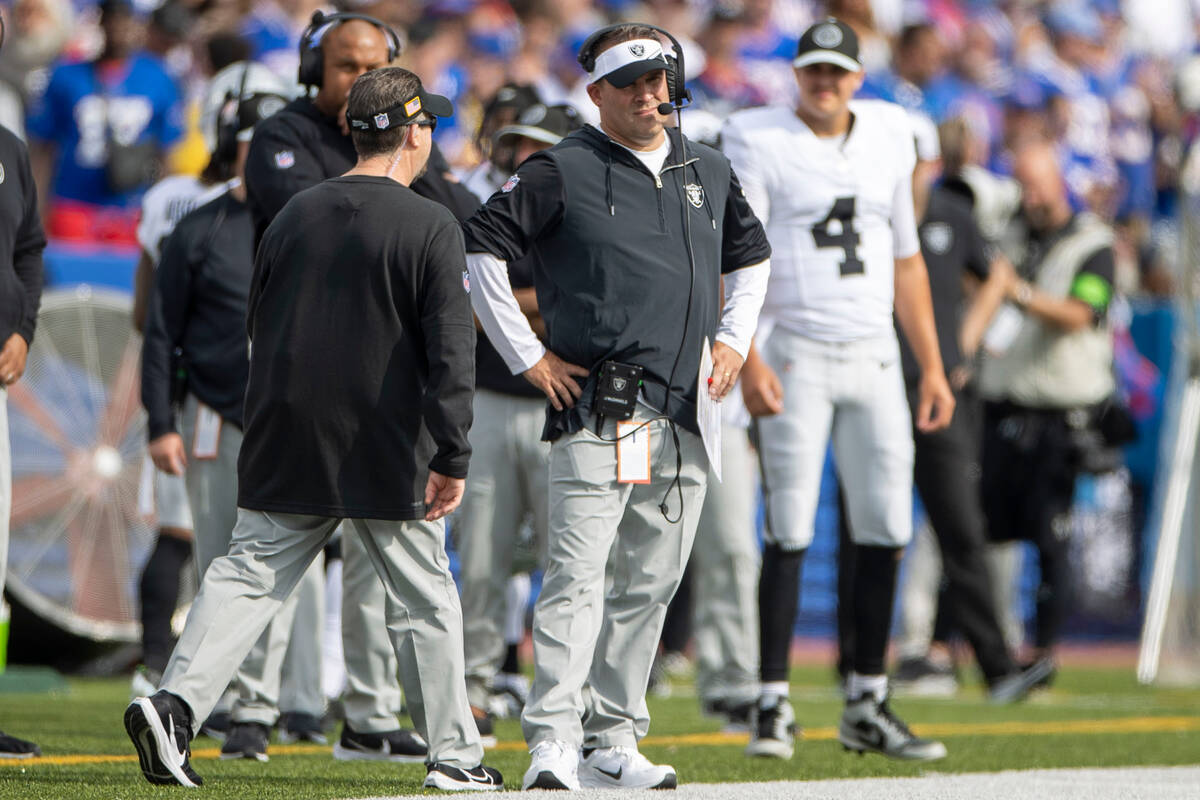 It's only No. 3 of 17, so there is more football left to be played than Chandler Jones has bizarre tweets. But given what we saw the last time Josh McDaniels' team took the field, this is more than just another game for the Raiders.
They need to win for several reasons.
They host the Steelers on "Sunday Night Football" at Allegiant Stadium with memories of a 38-10 shellacking in Buffalo still clear in the minds of most. The Raiders didn't do much of anything well against the Bills. Outplayed, outcoached, out-everything.
The Raiders finished last season 6-11 under McDaniels. They're 1-1 right now facing a winnable situation in their home opener. If they have any hopes of stacking enough victories to actually contend for a playoff spot, these are the ones you can't lose.
But slippage is also a real thing, and falling enough early in the season can cause things to go awry fast. Nineteen games into McDaniels' coaching tenure with the Raiders, there has been no consistency. No stacking. Just sort of existing.
Roller-coaster ride
"We try to win every week," McDaniels said. "If I came in here and said (one week was more important), what would that mean for next week? That we let our guard down and not try as hard or anything like that. I understand the question, but we try to win every week.
"We do everything we can, the players do, put in as much time as they possibly can. The coaches do. We don't want to make one game bigger than the next because it then has an up-and-down affect on the season."
That's the problem with his teams. Way too much of a roller-coaster ride.
If you saw the beatdown in Buffalo, this game against Pittsburgh is bigger than it should be this soon in the schedule. But it is. And yet for the Raiders to find success, there isn't an area besides the kicking game that doesn't need improvement. Some vastly so.
The defense that had to be much better for the record to improve from a year ago took a major step backward in Buffalo after the season-opening win at Denver, with a handful of players ranked near the bottom of their individual position groups by Pro Football Focus across the NFL.
Edge rusher Maxx Crosby (13), safety Marcus Epps (13), linebacker Divine Deablo (16) and cornerback Nate Hobbs (17) are ranked in the top 20. But no other defender is better than 58th, and seven defensive linemen are from 89th to 117th.
If things really begin up front, and they do, what was thought to be a preseason strength of a defensive line hasn't come close to expectations.
Sure. It's a small sample size. All of this is. But it's also important bad patterns don't develop.
They haven't run successfully, but have done an admirable job protecting quarterback Jimmy Garoppolo. Possessions have been scarce. It feels as if the Raiders have hardly had the ball through two games. Couldn't for the life of themselves get the Bills off the field.
Prime time
The Raiders are 2½-point favorites Sunday, a serious opportunity to put that Buffalo shellacking far into the past tense.
"Hell, yeah — I mean, Sunday night and Monday night games, those are the ones you get a little different feeling no matter how long you've been playing — 10 years, 15 years, five years," wide receiver Davante Adams said. "Whatever it is, I mean, you get a different feeling. I know I do. It's just something about being the only game on TV. So you always get a little special feeling when you're the one in that prime-time game."
They are definitely unique. So, too, is this one for the Raiders, even though it's just No. 3 of 17.
Have to take advantage. Need to win.
Ed Graney, a Sigma Delta Chi Award winner for sports column writing, can be reached at egraney@reviewjournal.com. He can be heard on "The Press Box," ESPN Radio 100.9 FM and 1100 AM, from 7 to 10 a.m. Monday through Friday. Follow @edgraney on X.