Graney: UNLV can't finish what it starts in overtime loss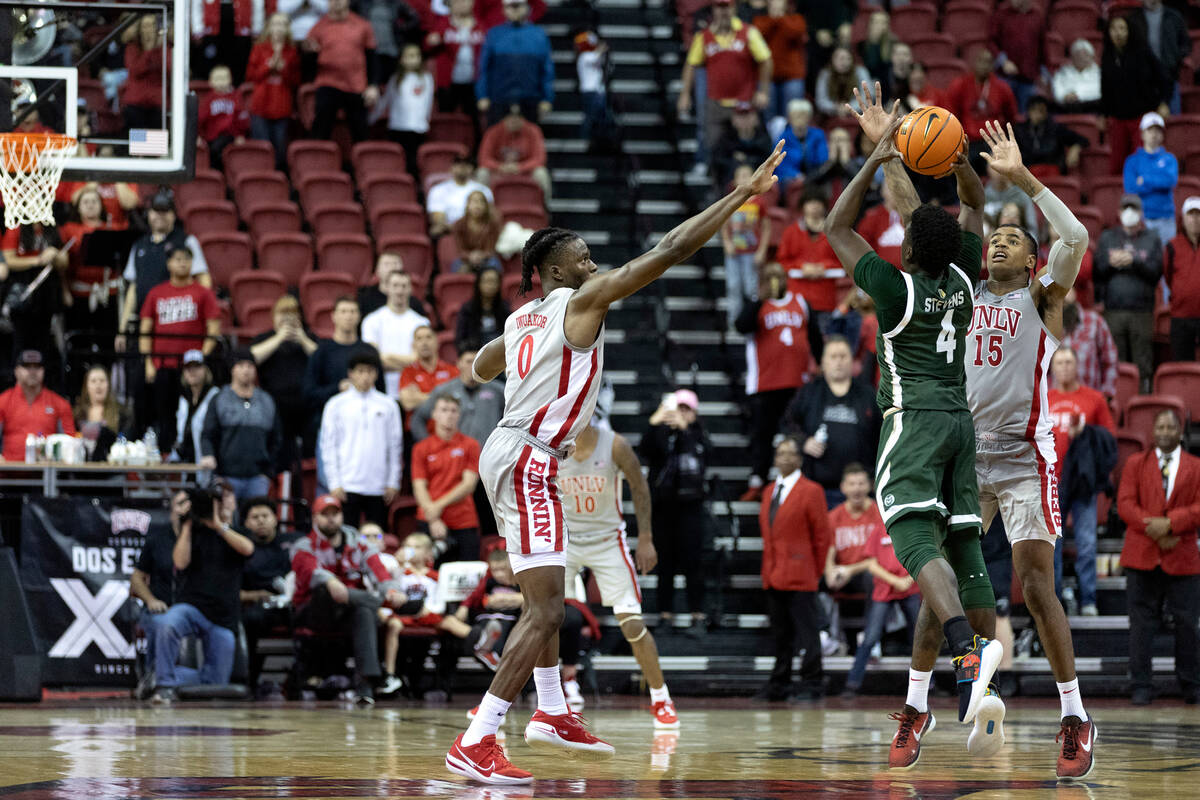 UNLV's basketball team on Saturday fell to Colorado State 82-81 in overtime at the Thomas & Mack Center, a defeat the Rebels can place squarely on their shoulders.
What you call this latest defeat: Deserved.
It isn't happening right now for UNLV. The defense that so well defined what was a 10-0 start to the season hasn't been near as stout since Mountain West play began.
"It stings a little bit," Rebels coach Kevin Kruger said. "I thought there was much better intent, much better effort from Wednesday."
That's when the Rebels fell here to Boise State 84-66.
UNLV is 12-5 overall. It's 1-4 in league.
Brother, it's going the wrong way.
Look. Colorado State makes shots better than most in conference. It's how the Rams stay in games, because to this point in league they haven't been able to guard me.
But you still can't allow them to make 51 percent of their attempts and go for 44 percent on 3s in your house. You can't let a terrific player like Colorado State guard Isaiah Stevens score 33 while making 8 of 16 3s.
You have to do a much better job. On him. On everyone.
Such games come down to a play or two, and Stevens had both that counted most.
Crazy shot
The first was crazy with a Capital C.
Stevens made a two-handed, over-the-head bank shot from the logo to tie things at 70 at the end of regulation.
He needed to jump, catch, land, dribble and shoot with 2.9 seconds on the clock.
The Rebels (wrongly) chose not to foul him.
And if that's the plan, why contest at all and risk a foul?
"You know, make him throw an overhead 45-foot (shot) is a pretty good look," Kruger said with a hunk of sarcasm when asked how the Rebels wanted to defend the play.
Stevens would strike again, this time with what would be a game-winning 3 with 3.4 seconds left in overtime.
A big-time dagger.
Other things doomed the Rebels. They turned the ball over 15 times while forcing 20. They turned it over on the inbounds play following Stevens' final 3 in extra time. They missed eight free throws via 31 attempts.
Colorado State shot only eight, by the way.
UNLV couldn't close it out. Couldn't finish. Couldn't make stops when needed most.
Put it this way: One of the loudest ovations UNLV received all afternoon went to women's basketball coach Lindy La Rocque speaking to the assembled crowd of 5,802. Deservedly so.
It was a day of halftime celebration, when Dick Calvert had a banner raised in his honor after 52 straight years as UNLV's game announcer. Such a deserving honor.
Calvert is as synonymous with UNLV as anything scarlet and gray, a significant part of the historic fabric that defines Rebels athletics.
His distinctive voice emanating from a loudspeaker was oh so incredibly familiar over those five decades.
And then the current Rebels took the floor for the second half and lost a game they really didn't deserve to win. Not with how they played in critical moments. Not against this opponent at home.
Fighting uphill
"We're not in the spot we want to be," said Rebels guard EJ Harkless, who scored a career-best 33 points. "We're not in the spot we should be. But we're an older team. I know we're going to get ourselves out of it. It's a matter of putting it together right now. … We don't like the spot we're in. We're not comfortable. But we know we can get ourselves out of this hole."
Then they better get back to defending with the 40 minutes of purpose that made all the difference in 10-0 to begin the season. Get back to being consistently desperate at that end.
Can't just do it at New Mexico. Have to do it all the time.
It's how this team wins.
How it's any good.
Ed Graney is a Sigma Delta Chi Award winner for sports column writing and can be reached at egraney@reviewjournal.com. He can be heard on "The Press Box," ESPN Radio 100.9 FM and 1100 AM, from 7 a.m. to 10 a.m. Monday through Friday. Follow @edgraney on Twitter